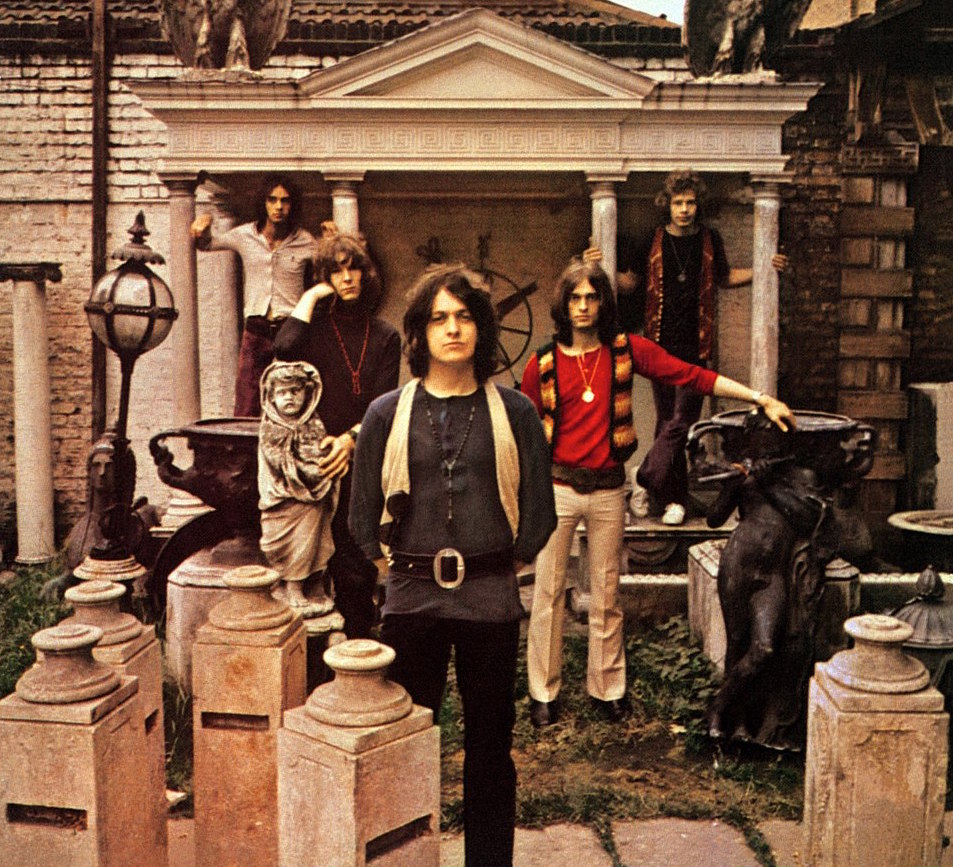 We may never understand the disrespect Jann Wenner's shown for progressive and hard rock since he first began Rolling Stone 50 years ago.
In the words of Jason Lee's character in Almost Famous, Wenner ran the magazine "that trashed 'Layla,' broke up Cream and ripped every album Led Zeppelin ever made."
While the movie is based on director Cameron Crowe's own adventures as a tour correspondent, the fact Rolling Stone sent a teenager on the road with some of these massive bands only emphasizes how frivolous Wenner perceived them to be, despite Crowe's mastery of writing at such a young age.
One of the very first bands Crowe interviewed was his favorite at the time, English progressive rock icons Yes, for an underground newspaper based out of San Diego. When he began writing regularly for Rolling Stone, hitting the road with the English prog outfit was one of his initial assignments, an experience that would help fuel his creation of Almost Famous.
"We toured Southern California together," he wrote in the liner notes to the 2002 Yes box set In A Word (1969-). "It was the first time I'd truly seen how a band operated, the delicate chemistry of a group. There was an utter seriousness about their quest to be truly great, always combined with a humor that flashed just below the surface."
On Friday, April 7, Yes will finally be inducted into the Rock and Roll Hall of Fame.
Sadly, however, after all this time with all five members of the band's classic lineup alive and well and surely game for a reunion performance at the ceremony, the group will be going into the Hall without its intrepid original bassist, Chris Squire, who died of leukemia in June of 2015.
As of press time, the chances of Jon Anderson, Steve Howe, Bill Bruford and Rick Wakeman, along with past members Tony Kaye, Trevor Rabin and Alan White performing at the Barclays Center this weekend in some capacity seem quite probable.
Yet the induction Yes' into the Hall is not without controversy—the powers-that-be are recognizing only the Union era of the band: Howe, Anderson, Squire, White, Bruford, Wakeman and Rabin. This means that, in lieu of the numerous other musicians who have been part of Yes through the years, two of its most important historical components—Trevor Horn and Geoff Downes of The Buggles—will not be accounted for.
It's a true crime, especially if you consider the Drama/90125 lineups of the group to be as important to its timeline as the band who gave us Fragile and Close to the Edge.
Nevertheless, what's most important to the surviving members of the classic Yes lineup and its legions of diehard fans is that they're finally being recognized in this dubious institution, for better or for worse.
"Their music still matters, year in and year out," Crowe concluded in his In A Word liner notes. "Whatever trend was in vogue, you could always still find Yes on any radio dial."
Here are the five most overlooked Yes works spanning the prime years for the band (1969-1989) that prove why they've always deserved a place in the Rock and Roll Hall of Fame, whether its gatekeepers wanted to acknowledge it or not.
5) Anderson, Bruford, Wakeman, Howe (1989) 
[youtube https://www.youtube.com/watch?v=VOYPKRP0sDA&w=560&h=315]
Unable to use the name Yes thanks to a legal entanglement with the 90125 lineup led by estranged bassist Squire and guitarist Trevor Rabin, original members Jon Anderson, Bill Bruford, Rick Wakeman and Steve Howe strung their four last names together and created their eponymous debut for Arista in June of 1989, with Bruford recruiting his King Crimson rhythm buddy Tony Levin for bass.
For fans who soured on the commercial maneuvers that dominated both 90125 and its even-more-mainstream follow-up, 1987's Big Generator, the return of the classic Roger Dean cover art and three- and four-part epics was indeed a most welcome one.
In a funny twist of fate, the album's first single, "Brother of Mine" became a hit on MTV for a brief time. And the thing about Anderson, Bruford, Wakeman, Howe is that listening to it nearly 30 years later, it holds up as the last truly great Yes album, even if it was contractually forbidden to call itself by that name.
4) Drama (1980)
[youtube https://www.youtube.com/watch?v=txrYdjqcJN8&w=560&h=315]
"Yes is a pop band," asserts yesfans.com, one of the many fan blogs designed in honor of the group, championing the brief period where Trevor Horn and Geoff Downes—months removed from revolutionizing new wave as The Buggles—came in and reinvented Yes for the MTV age they ushered in with "Video Killed The Radio Star."
Drama marked the debut of this particular lineup, and served as the quintessential transition between 1979's Tormato, and 1983's commercial breakthrough 90125. It's a record very much in conference with a pair of other classic 1980 LPs—Duke by Genesis and David Bowie's Scary Monsters—in that Drama provided this sturdy bridge from prog complexity to pop sensibility. It's also the only album to feature Horn on lead vocals.
3) Bill Bruford, The Bruford Tapes (1979)
[youtube https://www.youtube.com/watch?v=F7xICXb7jOk&w=560&h=315]
There was always an undercurrent of jazz flowing through the complex structures of Yes, an attribute we have the band's seminal backbone, drummer Bill Bruford, to thank for.
However, pulling double duty as the drummer for both Yes and King Crimson throughout the '70s was simply not enough to satiate his appetite for odd time signatures. In 1978, he set out to record his own proper fusion album under his own name, an instrumental-based extension of the work he was doing in the British supergroup U.K.
Rounded out by the mind-boggling lineup of Eddie Jobson of Curved Air on keyboards and violin, the late, great John Wetton on bass and lead vocals and guitar icon Allan Holdsworth, it's a side project that's far better than that term implies.
But the best way to hear Bruford's side project was to hear it live. The Bruford Tapes, recorded at the infamous Long Island rock venue My Father's Place and originally broadcast on the region's groundbreaking new music station WLIR, is an absolute whirlwind of heavy fusion featuring a scorching set by Bruford and his live band (bassist Jeff Berlin, keyboardist Dave Stewart and guitarist John Clark).
The performances on display prove he could hold his own as boldly as Howe, Fripp and Holdsworth combined despite his status as "The Unknown." In terms of instrumental music from the extended Yes universe, it doesn't get better than this.
2) Relayer (1974)
[youtube https://www.youtube.com/watch?v=A4v1WkzY3gA&w=560&h=315]
Following up on a magnum opus like 1972's Tales from Topographic Oceans was surely no easy feat, especially considering the departure of Rick Wakeman following the lengthy tour in support of the double LP.
But with the inclusion of keyboardist Patrick Moraz, the group followed up with arguably the most direct exercise in the concept of Yes as a hard rock band with Relayer. Featuring not only a grittier organ attack from their Swiss counterpart, the album also displays some of the most energetic interplay between Squire and drummer Alan White. Consider this album the Presence to Tales' Physical Graffiti.
1) Yes (1969) / Time and a Word (1970)
[youtube https://www.youtube.com/watch?v=bsB8v4b_iAQ&w=560&h=315]
Another similarity between Yes and their fellow brothers of the belated Rock and Roll Hall of Fame entry Deep Purple is that the prog band's early, early days are often highly overlooked within the grand scheme of their catalog as a whole.
[youtube https://www.youtube.com/watch?v=dXI2oeKG4UA?list=PLRQKT-Cu2_2QndZjfkRrETBtLbTDozS5q&w=560&h=315]
However, both their eponymous debut and its 1970 follow-up Time and a Word are both deft indications of the group's roots in The Byrds, The Beatles and British folk with a raw sense of purity that got lost in their collective imagination as the years went by.
These embryonic works, featuring original guitarist Peter Banks and keyboardist Tony Kaye, are well worth revisiting.