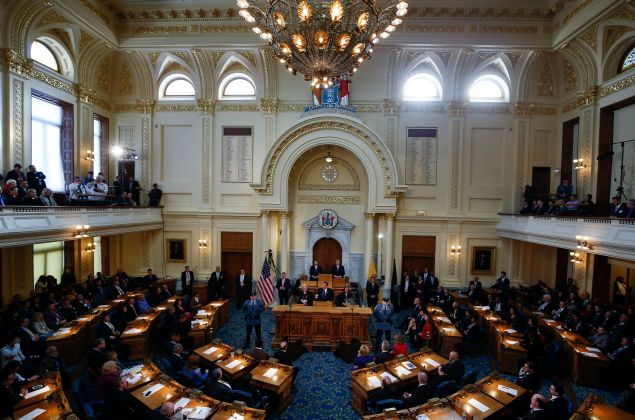 New Jersey and Virginia are holding the only two races for governor this year, and the results will be closely watched nationwide as a political barometer after President Trump's election last year.
The question is how much interest national Democratic groups, which command millions of dollars, will take in New Jersey's election now that it's an open race — and one that gives Democrats a shot at taking back a majority of governorships by the time of 2020's congressional redistricting. Victories at the state level this year and during the 2018 midterms would give Democrats greater sway not just in statehouses but in how states reapportion their congressional maps in three years.
The Democratic Governors Association all but ignored New Jersey's last gubernatorial race between Gov. Chris Christie, who was up for re-election, and state Sen. Barbara Buono. Christie won by a 22-point margin, and former DGA Chairman Peter Shumlin at the time said Virginia was a better investment for a group focused on finding ways to "reelect incumbent Democratic governors and elect Democratic governors where we currently have Republicans serving, where we can win." It paid off. Gov. Terry McAuliffe won and flipped the Virginia governor's mansion from red to blue.
Ben Dworkin, a political analyst at Rider University, said Democrats would have a stronger candidate than Buono in Phil Murphy, the frontrunner for the party's nomination. Democrats also could capitalize on a more favorable standing in public opinion, given Christie's unpopularity. National Democrats may have left New Jersey out in the cold four years ago, but they are unlikely to do so again, Dworkin said.
"You have an unpopular, term-limited Republican incumbent, and the likely Democratic nominee has significant resources and political support," he said. "I'm sure the DGA will do everything they can to make sure the Democratic nominee in New Jersey wins. And if that means they have to put in $100,000, I'm sure they will do it. If it means they have to put in $1 million, then they will find that."
New Jersey also could see heavy spending from national Democratic groups as they develop their ground game in the run-up to 2018's wider gubernatorial field, when 36 states will be holding elections, he added. "From the national level, these races in Virginia and New Jersey set up the partisan narrative for the political landscape in 2018," Dworkin said.
Then again, Murphy, a former Goldman Sachs executive who has loaned his campaign $10 million and has raised money on top of that, brings his own financial firepower and has already been investing heavily in staff and television advertisements.
The DGA did not respond to a request for comment.
Although New Jersey does not give its governor any say in congressional or state legislative redistricting, control of the governor's office comes with an arsenal of political tools and advantages for the party in power. Christie was intimately involved in state legislative redistricting in 2011 and the next governor will be in office for the upcoming redrawing of state legislative districts in 2021.
The DGA gave Buono $7,800 during her campaign, back when Christie was riding a post-Hurricane Sandy and pre-Bridgegate high in approval. The Republican Governors Association and Republican National Committee came out strong for Christie in 2013, loaning staff to his campaign. The RGA also bought an expensive television attack ad targeting Buono, and donated $7.5 million to Christie's first campaign in 2009.
Ingrid Reed, an analyst at the Rutgers Eagleton Institute of Politics, said she expects party leadership on both sides will devote their full resources to New Jersey and Virginia instead of stockpiling their funds for another year.
"I just don't see how you can pass up this opportunity," Reed said. "Maybe in 2013 it wasn't that critical. It should have been, I think, for the Democrats. But I think that what we're seeing is citizen interest and citizen action is really pushing the parties to figure out how they're going to support that activism."
Spokesman Jon Thompson of the RGA—which has already mounted attacks against Murphy for his comments comparing Trump's presidency to Nazi Germany—said that Republicans recognize the importance of holding onto their majority of governor's mansions across the country and that the RGA "is building a strong foundation of resources now so we can compete, win, and ensure Republicans continue to hold a strong majority of governorships."
The DNC telegraphed its intention to become more active at the state level earlier this month when its new chairman, Tom Perez, visited Asbury Park to lend his support to the state Senate campaign of Vin Gopal, a Democrat who is challenging popular incumbent Sen. Jennifer Beck (R-11). Perez's anti-Trump rhetoric and pledge to keep the Affordable Care Act in place signal that the DNC will attempt to make the upcoming contests a referendum on the president.
"It seems likely, though far from guaranteed, that Republicans will lose net governorships during Trump's presidency: That's partially because of history and partially because the Republicans already control a lofty 33 governorships, their highest total in the postwar era," Kyle Kondik of the University of Virginia Center for Politics wrote recently. "Bucking that history is the GOP's challenge heading into this heavy, two-year gubernatorial cycle."
Montclair State University political scientist Brigid Harrison said the claim to state-level redistricting is the real prize as the parties try to energize voters who often tune out politics in non-presidential years.
"It makes perfect sense for them to use these states as not only proving grounds for messaging and tactics, but also the example the national media will glom onto as being a mandate either way on Trump administration policies," Harrison said.
"In Virginia, I think that while in some years it strongly resembles New Jersey, I think there is the possibility it could be a bit more competitive," she added. "But competition aside, it's in the best interest of the DNC and the Democratic Congressional Campaign Committee to keep the kind of passion that started to manifest itself in the various protest movements."
Of Buono's loss, she added, "The reality is that when you look at how the national party behaved in that race, they are partially responsible."