As Nancy Gibbs of Time magazine once observed, "The best mayors in U.S. history have been great characters—showmen and radicals and bullies and rebels. Then again, so have the worst." So, what makes a great big city mayor? And a bad one? It's a challenging question since no two cities are alike, nor are their mayoral offices or the individuals who occupy them.
Fortunately, many of America's largest cities seem to be enjoying a certain renaissance when it comes to their chief executives. Eric Garcetti (Los Angeles), Mitch Landrieu (New Orleans), and Sly James (Kansas City) are just a few mayors making waves for their willingness to lead in a bipartisan fashion to bring innovative solutions into their communities. They use technology and a data-driven approach to create open, equitable, service-oriented governments and business-friendly cities. As such, they enjoy high popularity and are receiving national accolades and peer recognition.
However, there are a few recent cases of big city mayors, such as Detroit's Kwame Kilpatrick or New Orleans' Ray Nagin, who were led into temptation by the trappings of civic power and ended up out of job—or behind bars. Fortunately, such corruption is becoming increasingly rare.
Graft and felonious activity aside, we have ranked the worst-performing mayors of the country's 50 biggest cities. Factors combine hard and soft data, including the rankings of the best-run cities across America, mayoral approval ratings, peer recognition, and the assessments of a panel of political consultants and media pundits of all political stripes. Note that this isn't a list of the worst cities. Some very troubled cities, like Detroit, have solid leadership in the mayor's office.
Consultants and pundits, many of whom requested we keep their identities disclosed, were asked who they thought were the worst mayors. There was quite a bit of consensus among those surveyed.
Rather than focusing on the negative, our experts offered solutions for how these worst-performing mayors can recapture the hearts and minds of their constituents to help the cities they govern flourish.
3. Rahm Emanuel, Mayor of Chicago
Chicago Magazine called Rahm Emanuel the "The Least Popular Mayor in Modern Chicago History." With an approval rating that at one point sunk to 18 percent, the Emanuel mayoralty, now in its second term, has never been able to get on track.
To be fair, the famously foul-mouthed Emanuel, former chief-of-staff to President Barack Obama and brother of Hollywood insider Ari Emanuel, inherited a city already teeming with problems. However, under his tenure, many of those problems have metastasized. The murder per capita has nearly doubled, and his handling of the aftermath of an untimely police shooting death sparked widespread anger. Adding fuel to the fire about policing tactics was the 2015 discovery by The Guardian that the Chicago police department was running a secret black site for interrogation.
Meanwhile, with the pension system billions of dollars underwater and the city's credit rating among the worst in the country, Emanuel has found himself immobilized amid an intractable web of crime and continued financial shortfalls.
With all these problems, Emanuel's aggressive personality has bred a deep-seeded level of mistrust and angst between Chicagoans and their city government.
Emanuel is fortunate that he still has a couple years left to turn his mayoralty around. Despite several well-intentioned but failed initiatives like the curiously-named Get In Chicago program, which aimed to channel funding to non-profits to help mentor street kids, Emanuel seems to realize—correctly—that his success as mayor will be judged by a single metric: the city's murder rate. If he can bring homicide down to even 2009 levels, he will have succeeded. Our experts suggest that Emanuel, who usually possesses finely-tuned political instincts, has to do what must be difficult for a man with a Trump-sized ego: admit failure and take ownership of Chicago's crime epidemic.
Chicago is one of the country's major economic hubs, but a blistering murder rate tarnishes its reputation, even though the lion's share of the murders are concentrated in a few low-income neighborhoods. Emanuel can come out a hero in Chicago by taking full responsibility for the city's crime rate and asking the public and corporate partners to join hands in attacking the issue head-on with more funding, innovative policing technology, big data and community engagement. Humility will be the ace up his sleeve, giving him the popular support, resources and political buy-in he needs to take another crack at solving the city's crime and poverty paradigm. Engaging with the community from a place of partnership is the first step towards transformation. Addressing the underlying socio-economic issues of the city is paramount. Providing technology education at all ages and fostering job retraining programs can help individuals turn around their own fate and will likely will make the streets safer. As Father Gregory Boyle, founder and CEO of Homeboy Industries, famously observed, "Nothing stops a bullet like a job."
2. Betsy Hodges, Mayor of Minneapolis
With a population of just over 400,000, Minneapolis is on the small side of American big cities, but as the cultural and economic hub of the Twin Cities—a seven-county area with a population exceeding 3.5 million—it punches above its weight in terms of regional importance. Democrat Betsy Hodges, elected in 2013 and currently running for re-election, has her share of problems—almost all of her own making. As she prepares for what promises to be a close election with four serious opponents, her mayoralty is under assault from the left and the center. (There is no "right-wing" to speak of in Minneapolis politics.)
Although best known nationally for the #PointerGate meme of 2014 (while posing for a photo with a convicted felon, she unwittingly flashed a hand signal that a local TV station labeled a "gang sign"), Betsy Hodges' Charmin-soft approach to governing has managed to alienate so many factions in her progressive city that her bid for re-election stands on shaky ground. She has taken a weak stance on crime that appears to be based as much on wishful thinking as it is on strategy and tactics. While violent crime in the city continues to climb, Hodges has actually bragged about making fewer arrests. Her mishandling of the Jamar Clark protests, which led to an 18-day stand-off between police and protestors in North Minneapolis, led the US Department of Justice to conclude that "…the apparent strained relationship between Mayor Hodges and [Police] Chief Harteau, and the mayor's unfamiliarity with the implications of the terminology she used when in charge, likely contributed to the inconsistent direction given to MPD personnel and the resulting frustration among officers over poor communication and inconsistent, uncoordinated leadership."
Hodges' missteps aren't limited to issues of public safety and community relations. She has been the point-person on several expensive, never-ending, and unimaginative urban reconstruction projects that have disrupted small businesses and local transportation. Gross mismanagement of public works (a simple downtown pedestrian mall "makeover" under Hodges' stewardship has taken longer to complete than the new state-of-the-art home of the Minnesota Vikings) has been a hallmark of her mayoralty. And when a group of Minnesota businessman got the green light for a Major League Soccer expansion team, Hodges wouldn't even meet with the new owners to discuss a stadium; they went next door to St. Paul where Mayor Chris Coleman welcomed them and their revenue base with open arms.
Hodges appears to genuinely want to better her city, but after four years of subpar leadership, it's unlikely that voters will giver her another shot. If she succeeds, Hodges must win back the popular support of Minneapolitans (yes—that's what they call themselves) by injecting a dose of behavioral psychology into her governing style and aligning incentives and outcomes.
Unlike Emanuel, she has less than a year turn around her troubled mayoralty. Hodges needs to take urgent steps to implement policies that focus on attainable short-term wins that she can realize between now and November. Rewarding on-time and on-budget projects, fighting crime head-on with police officers that mirror the communities they are policing, and focusing on incentivizing new employers to bring jobs to the city would be a good start. Jobs and employment are the lynchpins of any healthy city, and Hodges' ideas have scared the business community—particularly small business owners. Her proposal to raise property taxes—even though the Minneapolis sits on hundreds of millions of dollars worth of tax-payer owned vacant lots and condemned buildings—may be good politics for galvanizing her supporters on the far-left, but it has made her the bête noir among the city's middle class. One of her first moves in her effort to rehabilitate her image might be to re-engage the business community and get a few points on the board by doing some deals with major employers to commit to significant new job creation.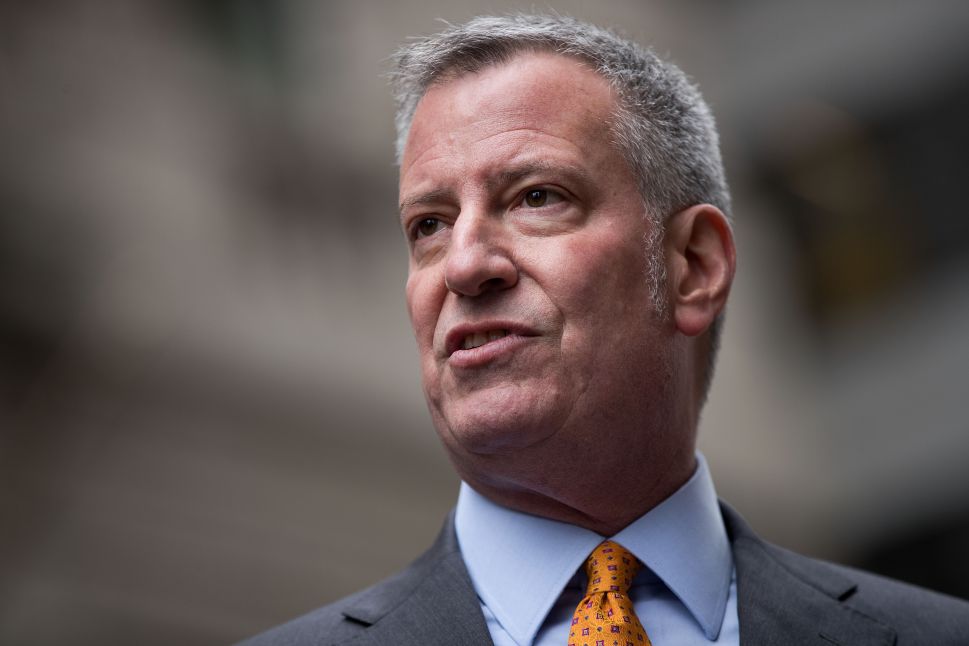 1. Bill de Blasio, Mayor of New York City
It's not easy filling the shoes of Mike Bloomberg, arguably one of New York City's greatest mayors. De Blasio's travails in office over the past three years have been marked by a series of broken promises, missteps, and a maelstrom of corruption allegations. Joon Kim, the acting U.S. Attorney for the Southern District of New York, recently threw de Blasio a life-jacket of sorts when he dropped charges against New York City's chief executive: "After careful deliberation, given the totality of the circumstances here and absent additional evidence, we do not intend to bring federal criminal charges against the Mayor or those acting on his behalf."
Aside from allegations of pay-to-play, de Blasio has been criticized for not mastering the mechanics of running America's largest city and for not investing time in building citywide support for his policies. His critics have accused him of focusing on national issues and the presidential fray more than governing New York City. "This is the hardest working city in America—except for the guy in charge," said Bradley Tusk, CEO of Tusk Strategies and former campaign manager of Mike Bloomberg's 2009 reelection campaign. "When you only work 25-30 hours a week, you can't manage a city this big, this complex. He's going to get re-elected because he's got a grip on the primary, but let's not confuse that with New York City having an effective mayor."
With that said, de Blasio's ails can be fixed by taking a page from his predecessor's playbook: fostering a radical focus on results. Bloomberg was famous for taking his campaign pledges and uploading them into data management applications, tracking the progress, and sharing the results with the public in his year-end report-card. Blasio can follow suit by listing his priorities and tracking the progress of each initiative to ensure they are successfully implemented and achieve the desired results. Being able to point to data driven outcomes will go a long way to rebuilding the bridges that have been damaged over the past few years in office.
Unlike Hodges, who appears to be on dangerously thin ice with her upcoming November election, de Blasio has a relatively easy path to victory ahead of him, and he could make effective use his four additional years in office to redesign his mayoralty.
"America's worst mayors seem to live in an alternate, ego-driven universe," said popular west coast talk radio personality and frequent on-air contributor to CNN and Fox News Ethan Bearman. "Our country's worst mayors fail to capture the basic relationship dynamics between a mayor and a city's populace: when people don't feel safe and fail to see progress, they rightly place blame on their civic leaders. What de Blasio, Hodges and Emanuel really need to do is look at some of their peers across the country to see what's working for mayors in some of the more successful comparable cities and execute clear and trackable plans."
While de Blasio and Hodges face uncertain fates this November, Emanuel still has a few years to rehabilitate his standing with Chicagoans—should he decide to run for re-election in 2019. De Blasio, facing no real primary opposition and now freed from a host of potential indictments, should cruise fairly easily toward re-election. Hodges is the most vulnerable of the group, as she has attracted an array of qualified challengers from her own party.
Ultimately, Americans have a love affair with the structure of the three-act play and the story arc of transformation. Each of these mayors was put in office by an electorate that believed in them, although they now face serious challenges to their political legacies. Yet, each of them has the opportunity to turn around their fates—and their cities—in the final act of their mayoral legacies. All three have a citizenry that wants clear and focused results and by delivering what their constituents need, they can transform their reputations and restore their legacies.
Arick Wierson is a former political and communications adviser to New York City Mayor Michael Bloomberg and currently advises U.S. companies on growing their businesses overseas in emerging markets. You can follow him on Twitter @ArickWierson