[youtube https://www.youtube.com/watch?v=txV3JKDkAUc]
Last night, WWE aired its flagship pro wrestling cluster-butt, WrestleMania, an explosive event that saw an undead wizard enter into blissful retirement, a 47-year-old millionaire come repeatedly close to death for the sake of entertainment and a massive set constructed inside Orlando's Camping World Stadium so garishly over-the-top Prince came back to life to call it "a little much." Pro wrestling is great, is what I'm saying here, even if a large part of the Sunday night pop-culture crowd was busy with more high-brow, realistic fare like The Walking Dead.
Pro wrestling is especially great when the lines between real and (sigh) fake blur into a magical stew of absurdity and spandex. Or, hell, on the magical occasion when someone straight up doesn't get the memo. Case in point: Rob Gronkowski vs. a Camping World Stadium security guard who damn sure deserves a raise.
You may know Gronkowski as the tight-end of the reigning Super Bowl Champion New England Patriots, a frighteningly unstoppable mecha-robot on the field and a somehow more frightening frat star off of it. Last night, during a match on WrestleMania's pre-show, Gronkowski hopped the barricade to confront an antagonist wrestler named Jinder Mahal. Celebrity guests getting physically involved is practically a wrestling staple. Arrow star Stephen Amell fought an alien. One time a demon monster named Kane tried to kill Pete Rose. These things happen. It's part of the show…a fact that, unfortunately, no one told this unidentified employee of the damn year: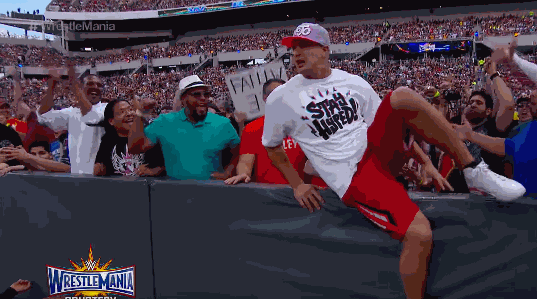 I love this. I love this for many reasons, which I will list in ascending order of perfection:
1) If you keep watching, you can see a horde of WWE-branded personnel swarm the scene, being all like "yeah Rob, don't do it, no" but low-key trying to tell the security guard to let him through.
2) That security guard, who I estimate at 5-foot-9 maximum, was so ready to throw hands with a massive NFL tight end. If you're feeling unsure at work today, be more like the security guard who didn't hesitate a second to straight truck a man twice her size.
3) No really, Gronkowski flew back like a foot. Every single NFL team should study this brief WrestleMania clip like game film.
4) Good Guy Referee Charles Robinson walking over to pat this American hero on the back and, I assume, tell her she is more of a badass than the entire WWE roster, past and present.
5) Imagining the look on Bill Belichick's face as this scene unfolded.