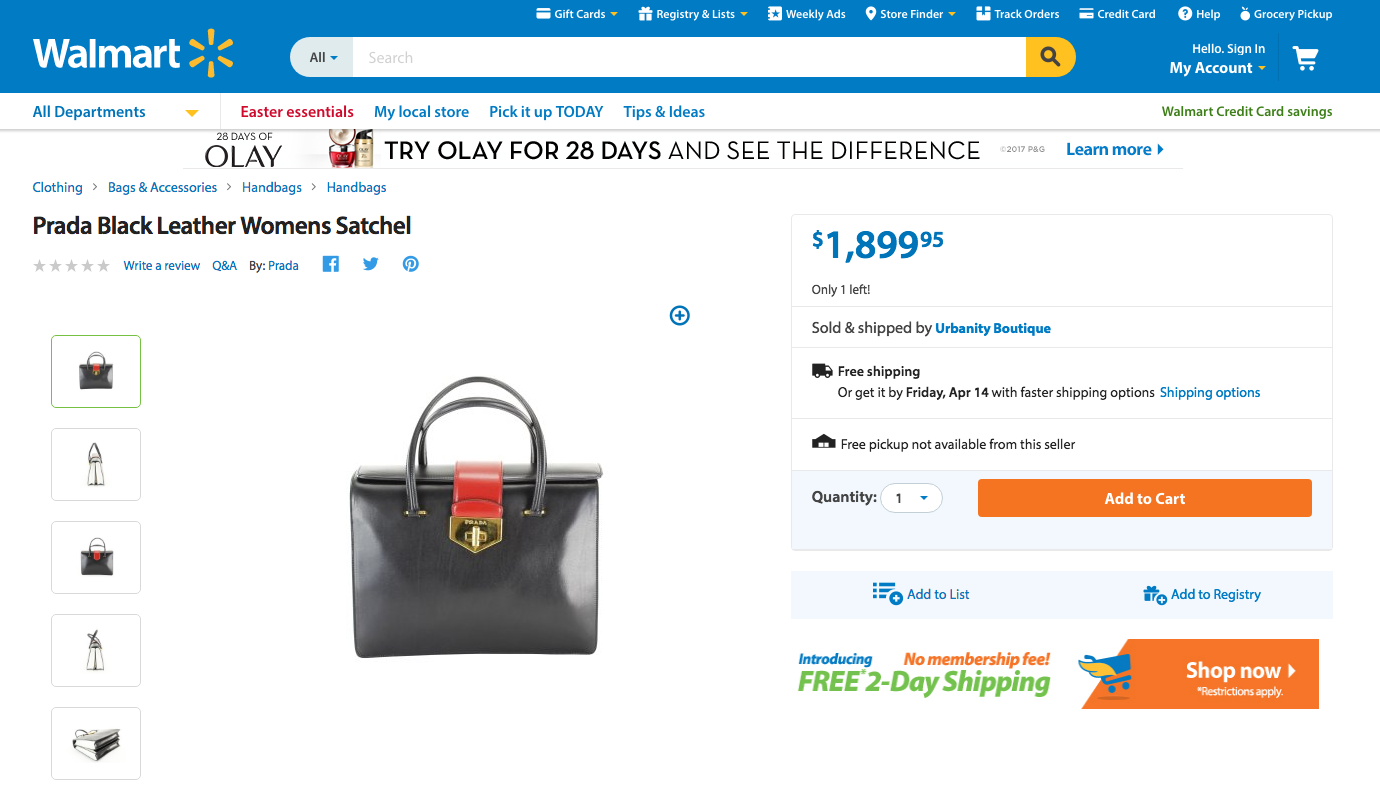 Along with Peeps, Bounty Paper Towels and bags of Flamin' Hot Cheetos, you can also buy a Prada bag at Walmart.com. Yes, for just $1,899.95, plus free two-day shipping, this black designer satchel can be yours.
Prada isn't the only designer label that has popped up on the mass retailer's site, though. You can also stock up on Giorgio Armani evening gowns for $1,714.14 , a Moncler puffer jacket for $2,234.40, a pair of studded Saint Laurent booties for $952, expertly faded Current/Elliot jeans priced at $268 and so on. Though none of the product seems to be in season, some of the items come with a certificate of authentication, just not all of them.
We can assure you that Walmart is not directly selling these high-end products. This is, after all, a retailer that held onto the slogan of "Always Low Prices" for 19 years (it was changed to "Save Money. Live Better." in 2008). The mass retailer is instead partnering with third party vendors who are populating their marketplace; many of these fashion-focused sellers seem to be liquidators or overstock destinations that sell off-season designer goods at a steep discount. One of those sellers is La Dolce Vitae, an online boutique based in Irvine, Ca. that seems to sell the same items on both Walmart and on their eBay page.
When the Observer reached out to a Walmart rep to get some details on all of these designer labels on their site, the PR person was pretty confused about what we were asking about. And understandably so: "We sell more than 35 million on the items…many from marketplace sellers," the publicist wrote via email. Apparently, that number is up from 2016, when their marketplace was stocked with only eight million pieces.
Also, the description of these designer goods is rather comical. Take, for example, the brand description that accompanies a pair of black chunky Balenciaga sandals with cutouts: "Passionately followed by fashion insiders, Balenciaga introduces new architectural shapes, custom fabrics, and luxe leather accessories. Balenciaga shoes are a great accessory to complete any outfit." Clearly Walmart is still not entirely up-to-date on what these designer brands are, the history they hold, or what their current cultural significance is.
The retailer, which makes $500 billion in sales each year, has been increasingly compared to Amazon thanks to the introduction of new services, like discounts for customers who pick-up their online orders. Walmart made waves in September 2016 when they acquired the online startup Jet.com in a $3 billion cash deal. This strategic purchase would allow Walmart to offer low prices on a variety of products, while expanding their e-commerce reach.
But their big ticket purchases didn't end there. ShoeBuy, a Zappos competitor, was scooped up for $70 million in January 2017, reportedly for Jet's site, followed by the fashion destination ModCloth in 2017. Walmart has also acquired outdoor retailer Moosejaw for $51 million. They apparently have no plans of slowing down this acquisition spree, anytime soon.
While we don't think this bizarrely curated designer selection will rival Net-a-Porter anytime soon, perhaps someone out there will enjoy buying a sleeveless mink J.W.Anderson dress at the same shop where you can stock up on rifles and camouflage.