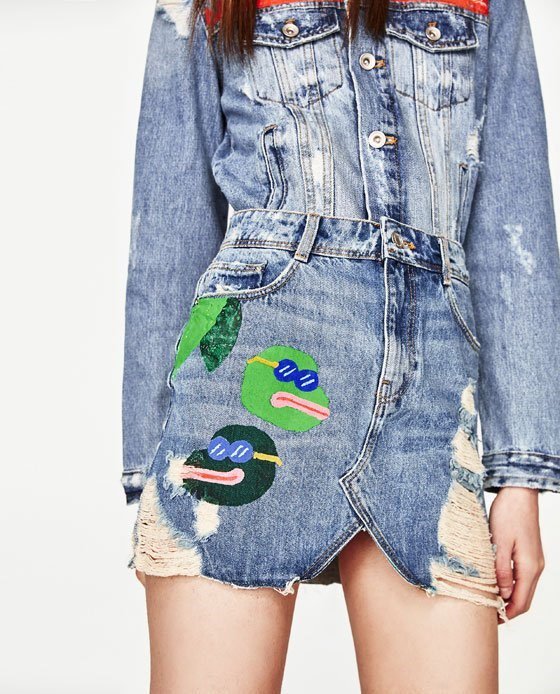 Alt-wrong: Spanish fast fashion retailer, Zara, is under fire for designing and selling a skirt decorated with an embroidery that looks suspiciously similar to Pepe the Frog. For the uninformed, this symbol has become a mascot for alt-right and white supremacist groups. The skirt has since been removed from stores and Zara's e-commerce website. via Huffington Post.
Role model: Proenza Schouler just released the lookbook for their final pre-fall collection, filled with asymmetrical hems and a whole slew of lustworthy handbags. Another detail to note? Three of the models, including Stav Strashko, Torraine Futurum and Marcs Marcus, are trans. And they look beautiful. via Paper.
Picture shop: An iconic Jennifer Lopez dress may have inspired the creation of Google Images, so it's only fitting that the same picture website is tapping into its fashionable roots. The site recently introduced a mobile tool, called Style Ideas, which will offer visual styling advice, including street style photos and accessory suggestions, when you search for a product on the site. via Bustle.
Ikea chic: The extremely durable blue plastic bag that accompanies most in-store Ikea purchases is basically a signature of the Swedish home design retailer. Balenciaga is challenging that stance, by offering an updated version of the XL tote, made from blue leather that has been glazed and wrinkled, all for the cool price of $2,145. via Glamour.
Age is just a number: Proving that she can do anything at the age of 73, Lauren Hutton was just cast in a Calvin Klein underwear campaign. She's joined by six other women, including Kirsten Dunst, Rashida Jones, Laura Harrier, Maya Thurman-Hawke, Nathalie Love and Chase Sui Wonders, in the Sofia Coppola-directed video. via W Magazine.