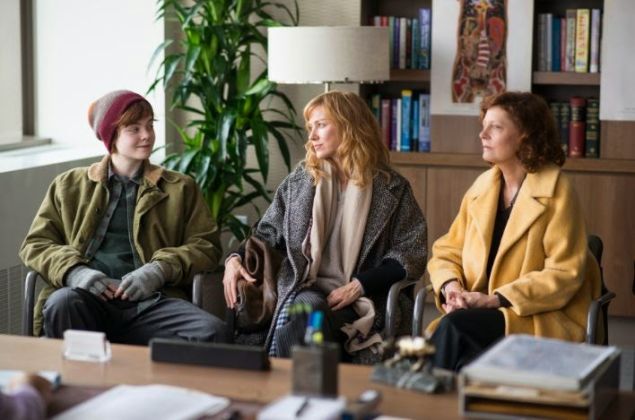 Premiering at the 2015 Toronto International Film Festival with the title About Ray, the film, aptly re-titled 3 Generations, has been gathering dust for two years. The time lapse shows. Now, in the spotlight spillover from publicity-mad Caitlin Jenner, it seems well-intentioned but dated. It's about a transgendered 16-year-old boy named Ray who was born a girl but has craved transition surgery his entire life. For most adolescents, growing comfortable in your own skin is problematic. For Ray, played by Elle Fanning with a buzz cut, it's pure agony. Unfortunately, the movie strays annoyingly from Ray's central challenge to include the adjustment problems of his mother and grandmother, too. The awkward results are too contrived for comfort.
---

3 Generations ★★★

(3/4 stars)

Directed by: Gaby Dellal

Written by: Nikole Beckwith

Starring: Naomi Watts, Elle Fanning and Susan Sarandon

Running time: 90 mins.

---
Now that Ray is a skateboarding teen , he is more convinced than ever that the time has come to change. Writer-director Gaby Dellal takes us through the details of preparation—total testosterone therapy, hip enlargement, breast removal, and worse—while Ray's bohemian single mother Maggie (Naomi Watts) nods approvingly and his loopy, free-wheeling grandmother Dodo (Susan Sarandon) raises hell. Dodo is a dedicated lesbian who does not understand why Ray wants to be a boy in the first place. "To me, it's mutilation. Why can't she just be a lesbian?" she asks. "She's a boy," snaps Maggie. "But she's a boy who likes girls!" counters Grandma. "I vote lesbian." From this point on, the movie is not so much about Ray as it is the members of his family, and the effect his decision to change genders affects them. He's done his homework, read the books, visited the websites, and consulted the support groups, and now he's anxious to begin hormone therapy in time to enter a new school in the next semester as a boy. But Ray needs written consent of both parents before sex reassignment surgery can begin. His real father, a man named Craig (Tate Donovan), deserted Maggie long ago and they've been estranged for years, which forces Maggie to locate the ex-lover she hasn't seen for years and get written permission (an odd law, which may or may not be a forced reason to introduce a subplot). He's now married, with children of his own, and doesn't even know Ray, so his reluctance to sign the consent form is one of the film's more baffling hurdles, but it leads to a touching scene where Ray goes to the stranger who deserted her as a baby and asks him to sign the transition consent that will change her life forever. In the process, Ray discovers an extended post-nuclear family he never knew he had.
Considering the familiarity generated by a recent excess of information in the news and milked to death on talk shows, 3 Generations seems particularly squeamish about the hot-button subject (the word "transgender" is never spoken) and smoothes out the wrinkles in anyone's alleged prejudices by treating serious themes as comic devices. The transition Ray faces is obviously fraught with frustration, but it's the other women who make most of the adjustments, clashing and embracing and transforming each other. Each character has an arc. The grandmother is the one with the least compassion, but grows the most accepting when she realizes the only thing that will change is the details. The granddaughter she loves will remain the same, only in a different body. The simplicity of the premise is anchored and greatly enhanced by three generations of women in the same family, played by an ensemble of actresses with nuance and depth. 3 Generations is contrived, but the heartfelt performances keep the threadbare material on track—witty, warm and wise.