[Previously on "A Quick Word From"]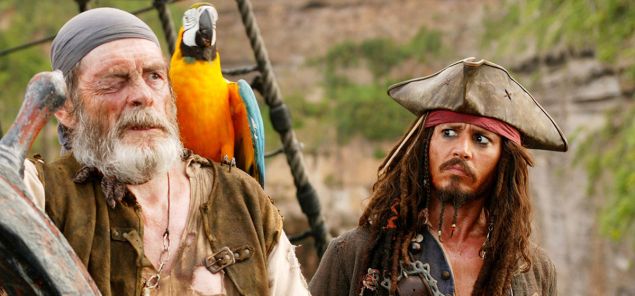 Yarrr, I'm one of the fearsome pirates of ye Caribbean. I am a ruthless scalawag who begs, cheats, and steals his way across the sea. I am also Captain Jack Sparrow's bead guy.
I want to stress: I did not get into pirating for beading. I got in mostly for the camaraderie and a lack of options. The thing is, you have a lot of time when you are on a ship, and as a rule, pirates don't have any books. It gets very boring because you only use the cannons like 1/10,000th of the time. So one day I was fiddling with beads and a shipmate's hair, and I realized I was pretty good at it.
At the time I was stationed on The Black Pearl (pre-curse), and Captain Jack saw me with the beads in my hair and declared, "that looks ornamental and glam rock. Bead me up!" I then started what has been a 14-year run as his personal bead man. It is not a great job.
 I am very shocked how quickly I became the default "bead pirate." Have you ever been the one guy who knows how to tie a bow-tie before a wedding, and then you end up having to tie all of the bow-ties for the whole wedding party? It's like that.
 "Time to bead," Jack will declare after drinking so much rum. I will then open up my bead bag and model several variations and medallions for him. I then have to touch his disgusting hair as Jack goes on and on about his adventures with women slapping him. It started off as charming and interesting, but by now his antics are tired and pathetic.
The worst part is probably beading his little beard. I have to twist his beard hairs tight enough to bead but not tight enough to hurt him. It is a hellish task.
I have never in all my life met a pirate more concerned with appearing stylish while also dirty. It takes hours for him to get ready every day. "Which beads should I go with?" he'll ask while committing to the same red headband for two decades. "Whichever," I'll reply, "they are just beads."
Captain Jack Sparrow will then look deep into my eyes and say, "I need this. I am an empty, deeply flawed person who has hurt and spurned everyone in my life. The only thing I have to look forward to is the fact that I dress like a homeless arts and crafts teacher." Then normally I'll just use some red and white beads.
It's always weird to be pillaging a port and ask frightened towns-people "where are your beads? I need beads for my captain's hair." They will cry and give me gold chalices and priceless earrings, and I am forced to say "I do not want this unless it can be turned into a bead."
I used to like beading. I'm like the pirate who got good at making friendship bracelets one summer, but then everyone expected me to make them so they stopped really being "friendship" bracelets, you know? Beading used to mean something.
I'd like to navigate the ship. I know the stars really well. I was hoping to make the transition, but then all of the pirates started calling me Beadstrap Bill. My name is Francis. I have a lot to offer.
I think I can probably only handle being Captain Jack's bead guy for hopefully one more summer. This can't go on forever, right? Soon, even he should get tired of his shtick. At the very least I had those early days when the beads were fresh and I took pleasure in my craft.
And to answer your question, yes, I do his eye-liner. Since we are pirates who live on an ocean, it is mostly just dried mud.