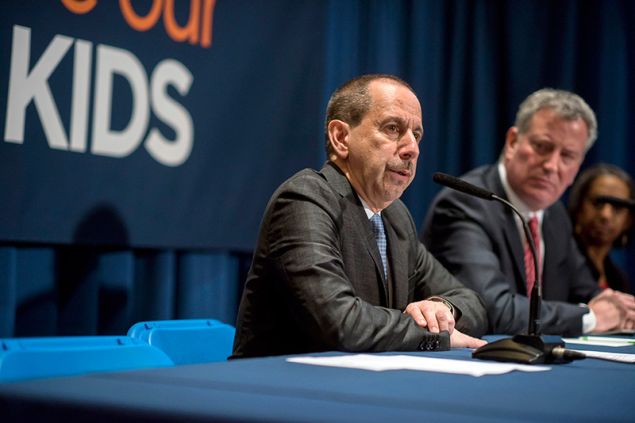 The Administration for Children's Services will back features of the ChildStat program—a program similar to the NYPD's CompStat program that tracks child abuse cases—that were eliminated by former ACS Commissioner Gladys Carrión, in an effort to rectify systemic problems at an agency criticized for letting several deadly child abuse cases slip through its fingers.
ACS Commissioner David Hansell, who Mayor Bill de Blasio appointed in February following Carrión's resignation last year, and other agency brass will be obligated to attend regular ChildStat meetings and make inquiries, in a break from the previous commissioner's approach. ChildStat meetings will also be broadcast to borough offices through closed-circuit video for borough commissioners and frontline staff so that they can hear from their peers and smooth the way for a discussion about each meeting.
And at the end of each ChildStat meeting, an announcement will be made about actions taken based on what is discussed during the meeting.
"We have, in putting together this model, looked at all the previous iterations and we've brought elements from all the previous iterations, including the Child Stat model that was in place over the last few years," Hansell said at ACS' main office at 150 William Street. "So we have tried to benefit from all the previous learning experience."
The newly enhanced ChildStat meetings will involve weekly, intensive review of randomly selected high-risk cases and ongoing probes, and a thorough analysis of key performance data. Also required under the new model will be participation of executive leadership—Hansell and senior ACS staff—to show how much priority is being committed to the process, and stressing accountability at all levels of the agency.
Each session will involve follow-ups on the issues and situations discussed at the previous meeting.
Hansell said ACS decided to shift away from Carrión's policies after discussions with a number of child welfare organizations on ChildStat, including Casey Family Programs, a foundation that seeks to provide, improve and prevent the need for foster care. The commissioner said that this taught the agency techniques for how to engage in dialogue that is "rigorous and intensive without being punitive."
"The goal here is not to punish, the goal here is not to blame," he continued. "The goal here is to create an environment in which we can have honest conversations about areas where we can improve our practice and make sure that those changes happen systemically, not just around an individual case but across our practice."
In February, the NYPD's Chief of Detectives Robert Boyce met with Hansell, and was subsequently appointed to advise ChildStat.
Deputy Mayor of Health and Human Services Herminia Palacio and Deputy Chief Mike Osgood, commander of the NYPD's Special Victims Division, were also in attendance at the announcement.
The final months of 2016 saw the deaths of several young children—none of them in foster care—at the hands of their caretakers, after ACS had investigated their circumstances and closed its probes. This led to Carrión's resignation, and the state demanding the city put in an state-approved monitor to evaluate the agency's shortcomings.
The monitor had no input on the policy changes announced today, Hansell said.