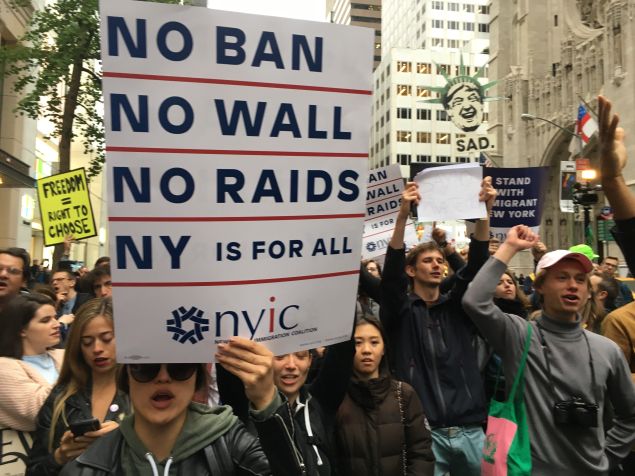 Immigrant and healthcare advocates rallied at Trump Tower this evening against the House Republicans who who voted today in favor of the American Health Care Act—which would abrogate Obamacare—and against the "religious freedom" executive order Trump signed today.
The "Whose Streets? Our Streets! Keep Trump Out of New York!" rally, hosted by the New York Immigration Coalition and the New York State Immigration Action Fund around Trump Tower, hit the president's policies concurrently with his first appearance in New York City since he took office. He attended a commemoration of World War II's Battle of the Coral Sea at the Intrepid Sea, Air & Space Museum with Australian Prime Minister Malcolm Turnbull—but made arrangements to spend the night at his golf club in Bedminster Township, N.J., rather than at his more famous residence.
The activists in attendance blasted the AHCA, which repeals many of the protections and provisions of the Affordable Care Act, and the president's new executive order directing the Internal Revenue Service not to penalize religious institutions that endorse from the pulpit and loosening the ACA's contraception coverage requirements.
"It is the most regressive health care law that has been passed in this country and at least the last 50 years, if not ever," said Max Hadler, senior health advocacy manager for the NYIC. "We cannot stand for it."
Hadler shouted the names of the seven New York representatives who voted for Trump's health care legislation—Congressmen John Faso, Chris Collins, Lee Zeldin, Peter King and Tom Reed and Congresswomen Elise Stefanik and Claudia Tenney—and asked attendees to yell, "Shame on you!" after he said each of their names.
Karen Jarrett, downstate director of political and community organizing for the New York State Nurses Association, similarly said that the lawmakers who voted in favor of the bill "voted against us."
"Say it: We will remember in November!" Jarrett yelled. "We will remember in November! But before we get to November, there is tomorrow! Yes! There is tomorrow, and we should let them know how we feel about their vote against us and about our patients and our communities."
The legislation eliminates the requirement that large employers offer affordable healthcare to their employees, reverses its Medicaid expansion, gets rid of subsidies and cuts the taxes the 2010 reform package imposed upon high earners. In a crucial change from its first, failed iteration, the new AHCA also allows states to individually define what constitutes a protected "pre-existing condition" and lifts caps on what those afflicted with such maladies may be charged for insurance.
Bryan Ellicott, a transgender bisexual advocate and activist, said that as a transgender man, a practicing Wiccan and as a Staten Islander, he spent his afternoon with "a pit in my stomach" for himself and other people "who fit into what is not 45 and Pence's vision for America." He called himself a "walking pre-existing condition."
"I have bipolar, epilepsy, a pending surgery, and I am the survivor of sexual assault," Ellicott said. "My predator walks free, but I am stuck with the long, endless suffering while law enforcement did nothing."
Before the rally kicked off, the roughly 300-plus protesters in attendance were heard chanting, "New York hates you, Donald Trump!", "Up, up with education! Down, down with deportation!", "Up, up with liberation! Down, down with incarceration!", "Hey, hey! Ho, ho! Donald Trump has got to go!" and "Stand up, fight back!" when immigrants, Muslims and refugees "are under attack."
Brooklyn Councilman Carlos Menchaca, chairman of the City Council's Committee on Immigration, took a jab at the former reality TV star's Queens roots, questioning his status as a New Yorker.
"This guy thinks that he's a New Yorker because he was born here—and maybe he was—but he is not a New Yorker," Menchaca, a Texas native, said. "This man has no values that we stand up for every single day."
Chloe Breyer, executive director of the Interfaith Center of New York, also an Episcopal Priest in the Diocese of New York, blasted the religious freedom executive order.
"Well first, we had fake news and now, we have fake religious freedom," Breyer said, and the crowd yelled "Boo!" in response. "In the real world of the U.S. Constitution, religious freedom was meant to protect the rights of religious minorities in a country that was predominantly Christian."
The speakers also took issue with Trump's executive orders barring entry to people from Muslim-majority countries, his plan to build a wall along the Mexican border and his push to expand immigration detention.
Nisrin Elamin, a Ph.D. student at Stanford University and Sudanese green card holder who was detained at John F. Kennedy International Airport after Trump's first Muslim travel ban, said that the Immigration and Customs Enforcement raids taking place throughout the country are making people who consider the United States their home "feel deeply unsafe and insecure."
"To the people that feel threatened by the presence of undocumented people in this country, I say join us in this movement to fight for amnesty and for viable paths for citizenship," Elamin said. "It's a hell of a lot cheaper than deporting people or building a wall."
And she wondered whether black lives would ever have any value in the United States.
"As black lives continue to be endangered and criminalized, as young teenagers like Jordan Edwards continue to be murdered by those meant to protect and serve them, as the lives of black trans people continue to be threatened on our streets, when will the safety of black communities become a national priority?" she said.