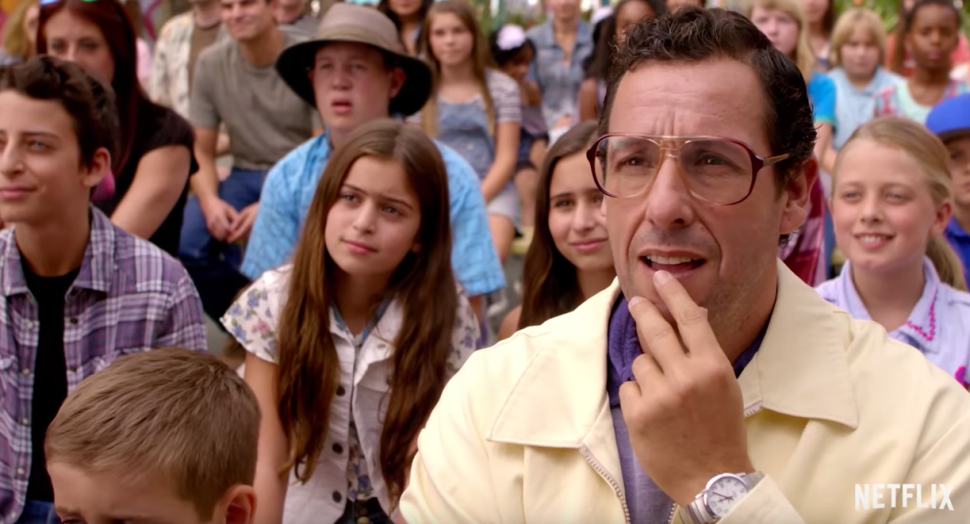 It's hard to see a once hot career fall apart, especially if it's Adam Sandler's. He has talent, charisma, and—unfortunately—a recently developed knack for making films so unwatchable that they don't even qualify for the "train wreck" category. If you thought Sandler's recent efforts such as Pixel, The Do-Over and Ridiculous Six were bad, Sandler has another trick up his sleeve.
Sandler's latest film for Netflix that he directs and stars in, Sandy Wexler, runs a punishing 131 minutes while featuring major talent including Jennifer Hudson, Kevin James, Rob Schneider and many others. There are cameos by Dana Cavey, Chris Rock, David Spade, Conan O'Brien, Henry Winkler and Jon Lovitz. Sandler makes a waste of their talent, his reputation and our time.
Sandy Wexler is based on the story of real-life talent manager Sandy Wernick. Wexler (Adam Sandler) is a bottom-feeding but likable talent manager working in Los Angeles in the 1990s. He manages a bunch of "out-there" talent, but his major investment comes when he picks up a new client, Courtney Clarke (Jennifer Hudson), whom he falls in love with. Their relationship doesn't take off right away, but when it does, the viewer is left in a state of dismay and confusion.
As Variety notes, Sandler approaches the film as a roast to his mentor, but it feels overly burnt. Wexler's nasal and whiny voice, purposely exaggerated for the film, gives the sound of desperation rather than parody. His stiff movements throughout the film suggest that Sandler himself became uncomfortable while making it.
It's unfortunate that he brought Jennifer Hudson into this because she deserves better. Although her performance comes the closest to saving the sinking ship, it's not enough. It's obvious Sandler wanted to show an interracial relationship for commercial and social purposes, but there is absolutely zero on-screen chemistry between Wexler and Clarke—not even in a humorous way. The scene in which Clarke touches Wexler all over while teaching him how to play golf is downright creepy. Their first kissing scene minutes later certainly gives the scene where Linda Blair's character in The Exorcist stabs herself with a crucifix a run for its money.
As soon as Wexler discovers Clarke at an amusement park, one wishes that the movie would be purely about Clarke. She is beautiful, cheerful and talented. Despite her minor flaws, Clarke is somebody who the viewer wants to cheer for. In addition, those who grew up in the 1990s will appreciate Clarke's recording of "Mr. DJ," an absolute brilliant parody of Mariah Carey and Whitney Houston's dance singles from the 1990s. The song produces more nostalgic feelings for the 1990s than anything Sandler tries to do with this movie.
Sandler's other efforts to bring back 1990s nostalgia fall flat. His scene in which he first meets Arsenio Hall, supposedly at the height of his fame, takes place at the end of 1994 (one can see Madonna's Details cover used to promote her late-1994 album Bedtime Stories) months after Hall's late-night show ended. The ending credit section featuring Beavis and Butthead calling Sandy on a landline phone feels contrived, especially since it allegedly takes place towards the tail end of the mid-1990s, when the duo wasn't even popular after being replaced with their protégé Daria.
The saddest part about Sandy Wexler is that Sandler put his heart into it. The movie falls flat because Sandler overreached—not because he didn't try hard enough. Even though this film puts another nail in Sandler's career coffin, it's not the final one. He has not only teamed up with Chris Rock for another Netflix movie, but he will also star along Ben Stiller, Emma Thompson, and Dustin Hoffman in The Meyerowitz Stories. The fact that Sandler can flop so many times and still work with top talent proves that he's still an A-lister—despite failed efforts such as Sandy Wexler.
Daryl Deino is a writer, actor and civil rights activist who has appeared on shows such as The Untouchables, Parks and Recreation and Two Broke Girls. Besides writing for Observer, he has also written extensively about technology, entertainment and social issues for sites such as the Huffington Post, Yahoo News, Inquisitr and IreTron. Follow him on Twitter: @ddeino.