Talking about armpits, their less than pleasant scent and body odor in general isn't a fun topic. But it's a very necessary conversation to have, as your go-to drugstore deodorant can be pretty harmful to your health…though it probably won't lead to breast cancer.
Yes, that rumor you've heard about developing cancer from applying aluminum-based products so close to your breast tissue is just that: a rumor. There is no direct correlation between the two, and this myth has been called out by both the National Cancer Institute and American Cancer Society, so you can put that theory to rest. And despite many claims, the amount of aluminum used in drugstore deodorant has yet to be directly linked to Alzheimer's, Parkinson's, dementia and autism. However, that doesn't mean this heavy metal is safe.
"Both parabens and aluminum are "estrogenic" chemicals—meaning they interact with your body's hormones or cells in ways similar to estrogen. That's concerning, because excess estrogen plays a role in promoting the growth of cancer cells, according to the National Cancer Institute," Time magazine reported in a story about the potentially harmful ingredients found in deodorants. While studies are still ongoing regarding the safety of these items, servicing your underarms is one of those duties where it's better to be safe than sorry.
As I've personally tried to shift my skincare regimen to something that's a bit more natural, deodorant has emerged as a major must-replace item. I've tried quite a few different brands, leading to clothing being ruined by large smudges of chalky formulas, quite a few sweaty and smelly pits and nearly choking on a powdery deodorant that did almost nothing I expected it to.
https://www.instagram.com/p/BUQWg-JhPWr/?taken-by=agentnateur&hl=en
But when I came across Agent Nateur's Instagram, which was filled with words of positive praise and glowing reviews, I knew their organic deodorants were worth a try. And I'm kind of a sucker for anything that claims to make my pits smell like roses, even if it comes with a $26 price tag. So I stopped by Catbird in Brooklyn, with the superhuman strength it takes not to buy a handful of their delicate gold rings, and left with my new organic purchase. I chose the Holi Rose N4, created in collaboration with Shiva Rose, a fellow natural beauty brand.
I got it just in time for May's absurd heat wave and put Agent Nateur right to work. And I have to say, it did work. Instead of the rank odor of BO, my pits were emanating the pleasant scent of rose and sandalwood, from the moment I applied the product right through the later hours of the evening. Though it didn't do much in terms of banishing underarm moisture, that's to be expected from an all-natural product.
The ingredient list in this natural product from Agent Nateur is short and sweet. And best of all? You will not only be able to pronounce every item, but you will recognize them. This particular formula includes: organic coconut oil, sodium bicarbonate, beeswax, sunflower butter, avocado butter, castor oil, rose essential oil [and] sandalwood essential oil.
Jena Covello founded Agent Nateur following her lifelong battle with endometriosis, hypothyroidism and adenomyosis; all of which are hormone-related ailments. She decided to cut out pesticides and GMOs from her diet and her beauty routine, but had a hard time finding an all-natural deodorant that actually worked and that fit in with her new holistic approach to life. Specifically, she wanted to find one that was free of aluminum.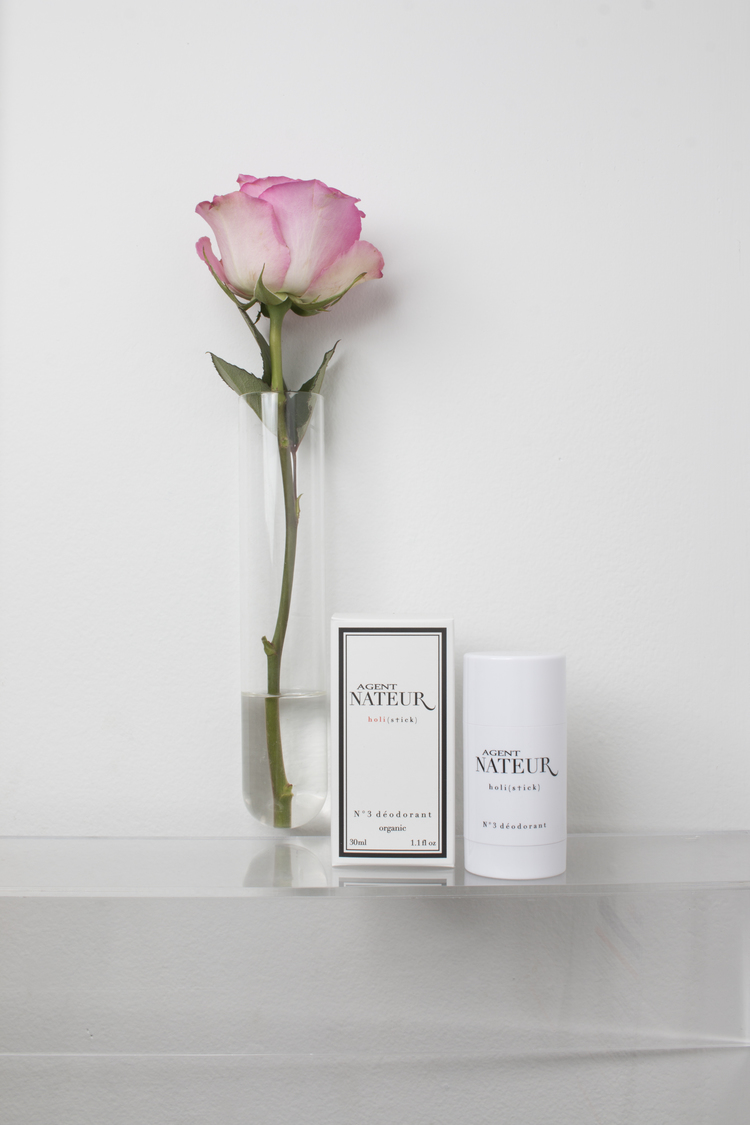 After a fruitless search for her dream deodorant, Covello did what plenty of successful female entrepreneurs before her have done: she made exactly what she wanted. She went to the South of France, to figure out how to make her dream product that looked and felt like a luxury deodorant, but lacked all those unnecessary and harmful ingredients.
"France has began to steer away from aluminum-based beauty products and aluminum foil that is used in food because it is an endocrine disruptor and completely affects both men and women's hormones. It is a big step to say that aluminum based deodorant causes cancer, however, it can LEAD to cancer due to its interference with hormones," she wrote in the about section of Agent Nateur's website. After spending hours whipping up her formula in the kitchen of her West Hollywood home, Covello developed the Agent Nateur deodorant that has been kindly scenting the pits of important people for quite some time. It has, after all, received Gwyneth Paltrow's stamp of approval, and can be purchased on Goop's site among others).
https://www.instagram.com/p/BTNPHHUhGpl/?taken-by=agentnateur&hl=en
"The most glamorous deodorant we've seen (it's also incredibly long-lasting)," is Goop's glowing review of Agent Nateur. But they're not the only fans; Emma Watson and Kourtney Kardashian have spoken out in favor of the brand, while Vogue called them "the best natural deodorant on the market" and Glamour awarded them "Best Deodorant" in the Natural Stuff category of their 2016 Beauty Awards.
For those who blanche at the thought of a rose scented pit, don't fret. Agent Nateur also offers their deodorant in the unisex combination of honey, lavender and eucalyptus. The boys also get their own special formula of the Rose deodorant, should the women's version not be strong enough.
But seriously, if you go natural with one product this summer, make it your deodorant. Your pits (and your overall health) will thank you.