On Saturday, I woke up early and went over to San Francisco's buzziest new brunch place. It was 8:40 a.m. when I got to Āina, the modern Hawaiian hot spot in Dogpatch. It's good that I arrived so early—20 minutes before the restaurant opened—because there were already more than 10 people ahead of me in line. After I had finished eating, a little after 10 a.m., I heard the hostess tell people who were just arriving that she wasn't sure if they'd get seated. I've never seen more Ubers dropping people off for brunch that early in the morning. By 10 a.m., I had counted seven ride-share cars as I sat at the window-facing counter and peeped the growing crowd.
Inside, two women at the counter sat quietly with their spam musubi and waited patiently for their loco moco, so they could photograph the entire spread before taking a bite. I cut into one of my malasadas, marveling at all the guava jam that spewed out. These were tremendously satisfying donuts.
Then my kalua pork belly, an elegant plate of belly and chicharron along with slow-poached eggs, rice, asparagus and kimchi, came. I broke into an egg and made a mess, mixing all of the dish's flavors and textures together, reveling in the fatty, crispy comfort and the yolk-soaked rice and the kimchi funk.
Āina chef and owner Jordan Keao, who grew up on the Big Island, is updating Hawaiian food with original presentations and premium, responsibly grown ingredients from local farms. Āina's spam is made with pork from Stone Valley Farm. Instead of seaweed, the musubi is a "ssam-style" lettuce wrap with kimchi, rice and egg-yolk furikake. Āina's pork belly is also from Stone Valley Farm and is served with Zuckerman Family Farms asparagus. And instead of a hamburger patty, the loco moco is made with braised short rib.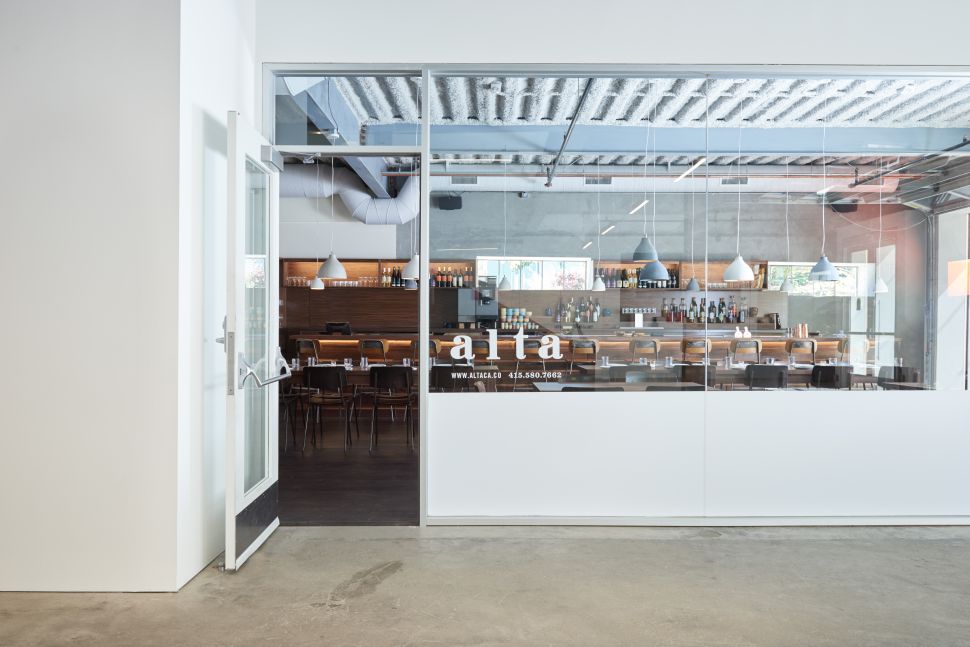 I wasn't planning to eat again for a while after feasting at Āina, but then I walked over to the Minnesota Street Project. This is where you'll find an eclectic mix of affordable artist spaces and galleries, and where I had heard restaurateur and chef Daniel Patterson was about to debut an all-day outpost of Alta.
Alta wasn't officially opening until Tuesday, but the door was open Saturday morning, so I walked in and asked if the restaurant was serving. It was. This was a soft opening, and anybody who came by was welcome to order off the limited menu and eat for free.
There were pastries from Patterson and Roy Choi's Locol Bakery in Oakland, so I had a cheese bun with an iced mocha. I also enjoyed some sweet porridge with blueberries. There was honey and Andante cheese toast, made with excellent Della Fattoria bread, that I happily consumed even though I was full. On my way out, I ran into Patterson, who told me that he's known the "pre-Tartine" producer of that bread for more than two decades.
Alta, where chef Matt Brimer (formerly of Patterson's Haven) also offers counter-service lunch and full-service dinner, is a place for both coffee and sparkling-wine cocktails. It's also a tip-free restaurant committed to paying employees a fair and equitable wage, and employees refused to accept tips even on a day when they were giving away food. The customer next me, who said he's lived nearby for 14 years and been waiting for a place like this to open, put a few bills on the counter. They were handed back to him.
And here, on an emerging block in a largely industrial area, I chatted with Cory Woods, the charming man who had welcomed us all into Alta and taken our orders. We talked about how the restaurant business had changed his life. He was a military veteran who was unemployed when he happened to walk by a job fair for Locol in Oakland. He got hired as a $15-an-hour dishwasher, quickly worked his way up to salaried manager, and was now part of Patterson's Alta restaurant group.
Patterson, who was wearing a Locol Bakery t-shirt on Saturday, is clearly someone who thinks a lot about social change. He lives in Oakland and smiled widely when he told me about how he adores the city and its sense of community.
"I love Oakland," Patterson says. "It's got a big heart."
You could say the same about Patterson, whose new Alta is the first restaurant to participate in ROC United's pilot racial equity program from its inception. The restaurant industry no doubt hires from a diverse pool of candidates, but many minorities end up with low-paying kitchen jobs that keep them in poverty. This program is here to ensure that minorities are considered for higher-paying and higher-profile jobs, including customer-facing positions as servers and bartenders.
Saturday morning offered reminders that food can be a mechanism to create a better world.
Āina was a reminder that a talented chef can celebrate his heritage while creating an original dining experience that people plan their entire morning around. Alta was a reminder that a restaurant can be a social enterprise.
It's funny. I live in L.A., where chefs like Cassia's Bryant Ng, E.P. & L.P.'s Louis Tikaram and Little Sister's Tin Vuong are creating exuberant modern Asian food that largely defies categorization. As Esquire pointed out recently, nobody knows what to call this wonderful thing that's happening. One of L.A.'s biggest restaurant openings of 2017 is Lasa, Chad and Chase Valencia's modern Filipino spot. It's deeply Asian and also deeply Californian, with its use of local produce and refined presentation. Āina reminds me of all these L.A. restaurants, which is to say that I don't really know how to quickly describe this food besides saying that it's modern Hawaiian and game-changing. Maybe it's better this way.
Recently, I found myself having a conversation with a real estate executive about Locol, Michael Solomonov's Rooster Soup Co. and other community-minded restaurants. The developer spent half an hour unsuccessfully trying to come up with a phrase that would describe this movement. But as I told Patterson, the fact that these discussions are even happening means that the foundation is starting to shift. That's what matters.
Like so many scenester-chic neighborhoods, Dogpatch was once a working-class industrial area and is now in the middle of a building boom. There's a lot of newness here, including low-rise boutique condo buildings aiming for sky-high prices. It's good to see that Āina and Alta are here, too, with their roots firmly in the ground.