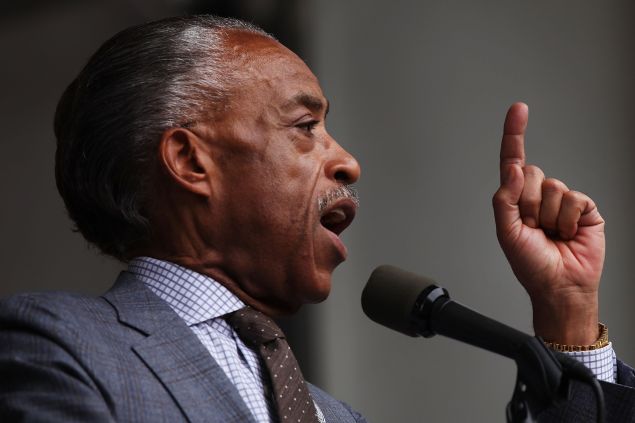 The Rev. Al Sharpton applauded today's indictment of Sergeant Hugh Barry for the fatal shooting of Deborah Danner, a 66-year-old schizophrenic Bronx resident, last fall—but asserted his National Action Network would follow the legal proceedings closely as the case goes to trial.
Barry shot and killed Danner as she menaced him with a baseball bat in her Bronx home last October. The killing marked one of the first tests of then newly-minted NYPD Commissioner James O'Neill, who condemned the eight-year veteran of the department for not following mental health protocols, and for resorting to his sidearm instead of his stun gun.
"What is clear in this one instance, we failed," O'Neill said at the time.
A grand jury impaneled by Bronx District Attorney Darcel Clarke handed down charges of murder, manslaughter and criminally negligent homicide against Barry this afternoon. Sharpton—who led protests in Staten Island after NYPD Officer Daniel Pantaleo killed Eric Garner, a black man, there in 2014—released an approving statement shortly after the news broke.
However, he recalled the death of 66-year-old Bronx woman Eleanor Bumpurs at the hands of a cop in 1984. The case that saw an officer prosecuted—but acquitted—for shooting Bumpurs with a 12-gauge shotgun after she threatened him with a knife.
"The arrest of the NYPD Sergeant charged with murder in the fatal shooting of Deborah Danner is a good step in a long walk toward justice. We will monitor selection of the jury, the trial, and the verdict," Sharpton said. "We cannot return to a city of Eleanor Bumpurs type shootings that we fought many years ago in the same borough."
The controversial civil rights also called for "an overhaul in police training and a review of those qualified to become police officers."
Sergeants Benevolent Association President Ed Mullins was less enthused with the grand jury's decision, calling the indictment "an absolute disgrace"—and insisting that "Barry did everything right."