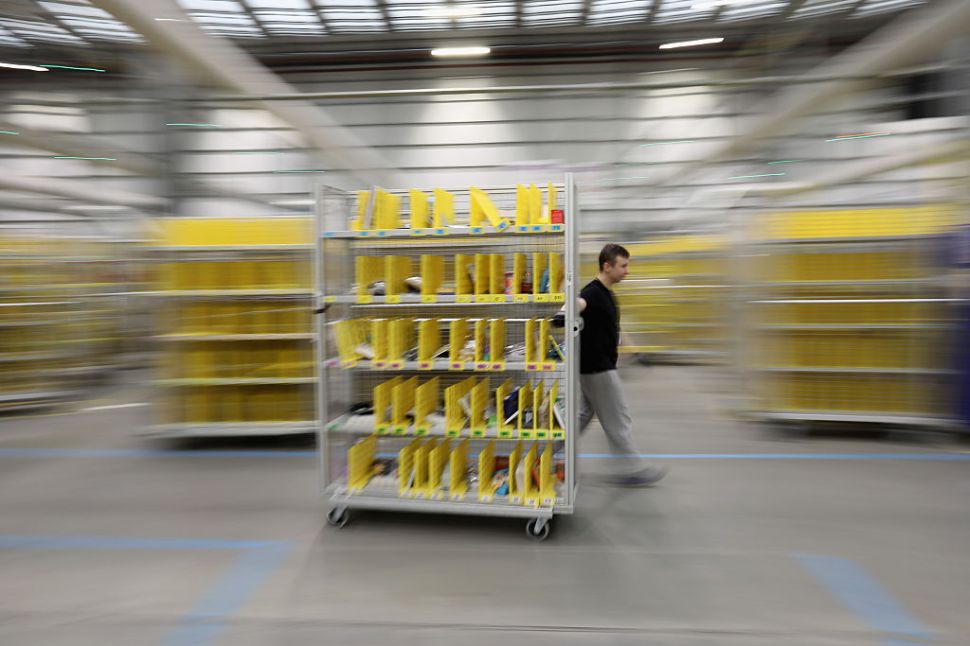 Imagine that a bunch of friends got together in the park for a picnic. Everyone trudged a half mile from their cars into the interior of some big urban oasis like Philadelphia's Fairmount Park or Brooklyn's Prospect Park. The blankets have been spread out. The grill has been fired up. Everyone brought a bunch of awesome dishes and drinks. The burger patties are ready to go but, somehow, no one brought either buns or ketchup.
The nearest store is a good 20 minute walk away. People will volunteer to go, but it will be a giant buzzkill for them. Now imagine if someone could open their phone, hit a few buttons and a half-hour or so later an Amazon drone floated down from the sky and dropped off white and wheat buns, fruit juice-sweetened ketchup and a dozen cupcakes, for the hell of it. No one ever had to leave the spot and delivery was free. Drones float up and down all over the park, as if everyone has forgotten how to remember essentials.
It's a bit far-fetched, but well within the scope of patents filed recently by Amazon, according to the "Amazon Strategy Teardown" available from CB Insights. The report came out just ahead of Amazon's first quarter earnings announcement last week. The company's net income per share came out over 40 percent higher than the first quarter of last year. CB Insights' report looks at Amazon's recent moves in light of the 22 year-old company's history. It analyses its investments, patents, job openings and earnings disclosures to predict how Jeff Bezos' empire might cement itself as the effective tax for selling stuff online.
It's unnerving how integral Amazon has become to e-commerce across the board. The sun shines brightly on Amazon right now, and it knows it. That's why it has announced plans to install solar energy systems on the roofs of 15 of its fulfillment centers this year, with the goal of covering all 50 by 2020.
"As the biggest online retailer in America, the company accounts for 5 percent of all retail spending in America," according to CB Insights. Since going public in 1997, its stock has risen 35,000 percent.
Here's some of the researchers' key indicators of where Amazon might go next:
By land, by sea, by air! Amazon definitely intends to move more physical stuff around the real world. In January, it announced a $1.5 billion air services hub in Kentucky. "Nearly 80 of Amazon's 2016 patents are focused on developing its logistics network, which is already far more than just a few years ago," the analysts wrote, and it has secured 78 drone-related patents so far. The craziest logistics patent is a toss-up. It is either the fulfillment centers that hover in the sky like the SHIELD's helicarriers in Marvel movies or the warehouse robots programmed to actually fling customers' purchases through the air, landing precisely in their shipping boxes.
Just need someone to talk to. If you are talking to a non-human, there's a decent chance you are speaking with Amazon, even if some other company's name is on the verbose product. Amazon Lex is its software-as-a-service offering that lets other companies power natural language interactions with customers using the Echo's underlying technology. "American Heart Association, Capital One, Freshdesk, Hubspot, Liberty Mutual, NASA, Ohio Health and Vonage are among the customers using Amazon Lex to build rich, conversational user experiences for web, mobile and connected device applications," the company reported in its earnings statement.
The Internet of Everything. Amazon has made a lot of money in B2B space, but it's consumer-focused at its core. It's no surprise then that its looking toward the connected home as a possible major new vertical. Its Alexa Fund (which, at $100 million, is tiny and slow-moving compared to venture funds at Apple, Google and Facebook), has made lots of bets on things like doorbell makers (Ring), baby monitors (Owlet) and robot companions (Embodied). Amazon built the Echo in house, and it's been a big hit. Using it to control other sensors and appliances is the logical next step.
Rober-Overlords-as-a-Service. There are a lot of ways artificial intelligence could boost Amazon. Besides improving customer service through its own site, Amazon could increase demand for its cloud services by giving developers low-priced access to computing power. "AI is at peak hype in the startup world currently, but from Bezos' words it seems that AI could likely be Amazon's next pillar, up there with Prime and [Amazon Web Services]," the report states.
There's an important caveat to all of this, though. The report quotes Bezos saying that a changing world is the wrong way to understand his vision, which focuses on the things consumers always want, in any era. "We know that customers want low prices, and I know that's going to be true 10 years from now. They want fast delivery; they want vast selection," Bezos has said. "It's impossible to imagine a future 10 years from now where a customer comes up and says, 'Jeff, I love Amazon; I just wish the prices were a little higher.'"
Amazon has a fundamental strategy that works for it, which helps explain why it makes considerably fewer investments and acquisitions than its peer tech giants. That clarity my also explain why the tone of this analysis comes out as far more optimistic than the last CB Insights teardown we covered, for Google.
Google has a secret projects lab looking for a new business model. Amazon's builds on the one it already has. Google monetizes attention. Amazon monetizes actual sales. Put that way, it's not hard to explain why one occasions more confidence than the other.