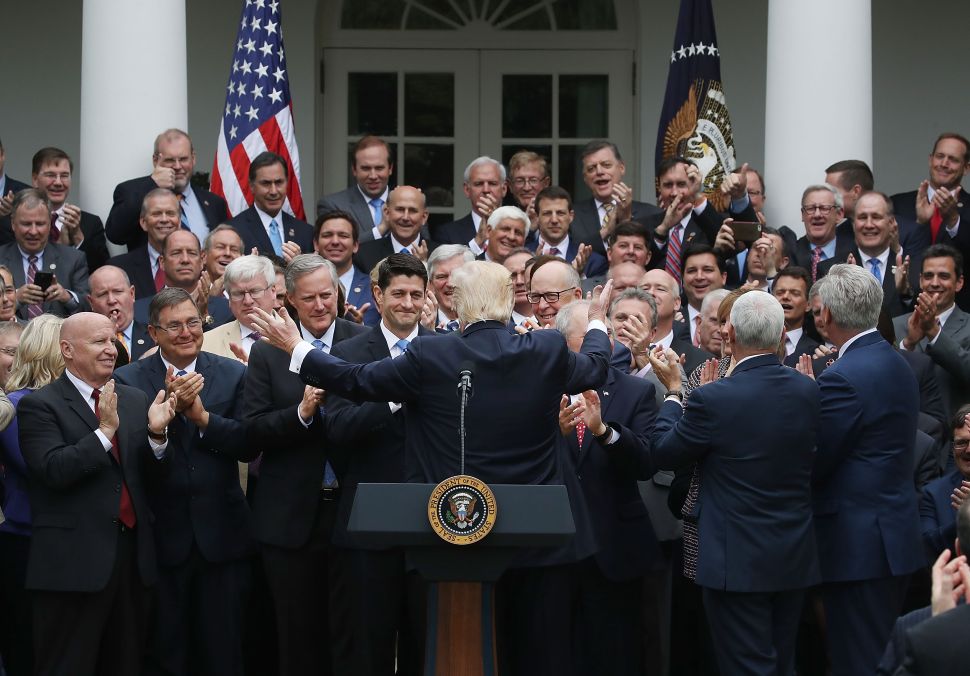 For a nation that is so cynical about government and politicians, why are Americans constantly surprised by what the people who run the government do?​
Millions of Americans were shocked that their protests, letters and phone calls fell on deaf ears during the confirmation hearings for Education Secretary Betsy DeVos. But why would we expect anything different? Why are we flabbergasted when our elected leaders don't listen to us? We constantly say that politicians are corrupt, inept and/or uncaring, and yet we refuse to fully believe it when we see it.
This cognitive dissonance has reappeared, ​yet again, ​in the wake of the House of Representatives' narrow passage of the American Health Care Act. How could our representatives pass legislation that—by all reputable accounts—would deprive 24 million Americans of their health insurance and allow insurers to withhold claim payment for a myriad of preexisting conditions? There is an assumption that politicians must simply be misguided or lacking knowledge because it's difficult for people to accept that politicians are callous or uncaring. ​
​Instead, people tend to assume that their decisions come from a lack of understanding or knowledge. Surely if House ​Republicans knew the plight of these people or better understood their challenges, they would vote differently, right? Such sentiments can be gleaned from​ headlines like​ "Rage-inducing stories from people with pre-existing conditions Congress needs to hear."
Americans need to ​stop being so naive and giving elected officials the benefit of the doubt. 217 Republicans did not vote for this bill because they didn't know any better; they voted for it because they don't care. That's why no amount of phone calls or any other form of persuasion will move them.
Politicians care about two things: advancing their political philosophy and getting reelected—and not necessarily in that order. Republicans choose to be Republicans because they agree with the party's agenda, and it's the same for Democrats. It isn't just that one team wears red jerseys and the other team wears blue, as so many millions of Americans like to believe. Republicans and Democrats have fundamental differences in their beliefs.
Republicans who voted for TrumpCare​ are simply conforming to the party's political philosophy, which holds that​ government should not help​ people and that the well-off should not be forced to pay high taxes to subsidize those who are struggling. Rather, the onus is on struggling individuals to improve their own lot​. You can agree or disagree with that worldview, but that's the Republican philosophy—and most Republicans are going to vote in lockstep with it.
​T​hat's another thing that shouldn't surprise Americans: Republicans will vote in conjunction with Republican beliefs, and Democrats will vote in conjunction with Democratic beliefs. How many times do we hear Americans blithely state, "I vote for the person, not the party"? The two can't be separated. The person who runs doesn't throw a dart to decide whether ​to​ wear a red or blue jersey. Republicans choose to be Republicans because they embrace that political philosophy.​ I​t's the same with Democrats who become Democrats because they agree with the party's agenda. For many years, liberal versus conservative ratings of Congress have consistently found that even the most conservative Democrat in Congress is more liberal than the most liberal Republican. There are no Republicans in Congress to the left of any Democrat.
Aside from the occasional independent candidate, there are no free-​agents running for office. Whether you like it or not, when you vote ​for a ​Republican, you are voting for the Republican agenda. ​When you vote for a ​Democrat, you are voting for the Democratic agenda. Period.
Some have the notion that fundamental differences between the parties are limited. T​hat's simply ​not true​​. The two parties disagree on virtually everything. Their philosophies are completely incompatible. It isn't just a meaningless fight to decide which team wins and which​ one loses​; it's an all-out war to determine the shape of our society.​ That's why 100 percent of Democrats voted against the health insurance bill and 91 percent of Republicans voted for it.​
We have a lot of mistaken ideas about our elected leaders and those who would like to be in that class. It's time we come to ​understand that​ they aren't ignorant or stupid and that everything they do is intentional. ​When you vote for a member of either party, you are voting for that party's agenda, not an individual. And most of them are not going to listen to you. ​They aren't going to buck the party or ​vote against their own beliefs. No amount of phone calls or petitions or protests will change this fundamental fact.
When we finally understand this, our course of action becomes clear. The only way to get a different result is to elect different people. You will never convince politicians to change. You must change the politicians. It's the only way. Forget persuading—calls, petitions and marches won't make any difference.
If you want to march, march​ your ass to the polls and hold politicians accountable.​ That's the only place where you can affect change.
Cliston Brown is a communications executive and political analyst in the San Francisco Bay Area who previously served as director of communications to a longtime Democratic Representative in Washington, D.C. Follow him on Twitter (@ClistonBrown) and visit his website at ClistonBrown.com.