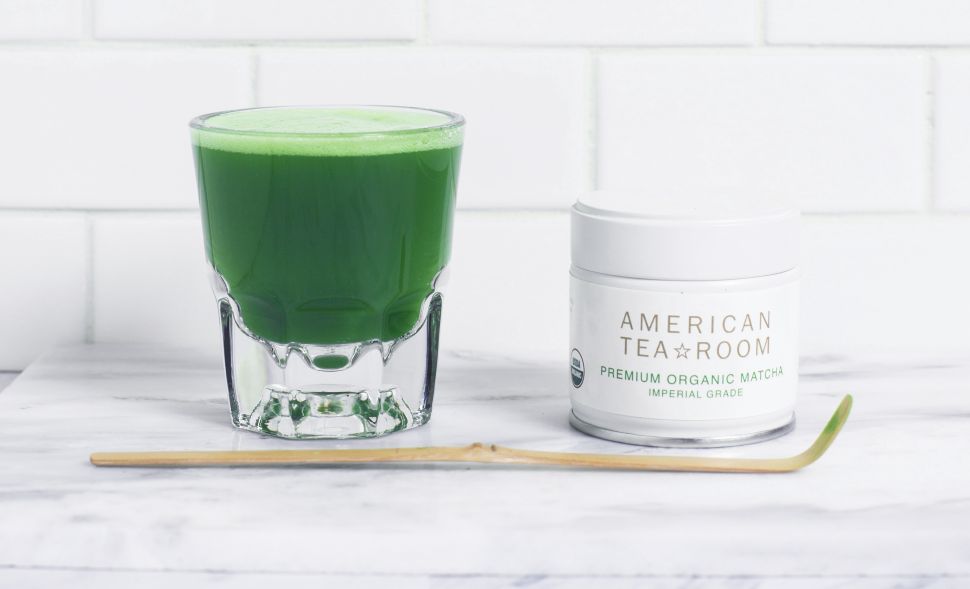 American Tea Room owner David Barenholtz, who reopened his flagship Beverly Hills shop in January, laughs when he starts thinking about how matcha has become so of-the-moment.
"I'm not saying we created this trend," says Barenholtz, who was already selling matcha when American Tea Room first opened in 2003. "But we've seen the rise. It's our fastest-growing product ever."
There's a big difference between the top-tier matcha Barenholtz slings and what you might find at your neighborhood café or market.
"They're selling you culinary-grade matcha, which is great if you're baking a cake," Barenholtz says. "It's the same stuff at Starbucks and a lot of different places. There's nothing wrong with it, but it's not what we sell. It's the difference between Riunite and a bottle of Krug."
American Tea Room's matchas include a pricey Imperial Grade organic matcha. It's $65 for 30 grams, which makes 20 to 30 cups. But that isn't even the most remarkable matcha Barenholtz carries. American Tea Room also offers Hekisui Artisan Ceremonial matcha, a tea that's typically reserved for Japanese royalty. This is billed as the rarest and most exclusive matcha in America. It's $165 for 30 grams.
So now that we're discussing teas that rival the price of certain recreational drugs, let's get into what make these teas so special.
"Everybody talks about artisan teas and hand-plucked teas," says Barenholtz, whose Beverly Hills shop includes a tea/coffee bar where customers can try Imperial Grade matcha for $10 a cup. "We concern ourselves with pinnacle-quality teas."
These are teas that are extremely hard to get, that generally don't leave their country of origin, that are sometimes produced by families whose ancestors were creating this same tea centuries ago.
Barenholtz, who has also opened American Tea Room outposts in Downtown L.A.'s Arts District and in Newport Beach, typically travels about 60,000 to 70,000 miles a year, crisscrossing Europe and Asia to meet with suppliers and discover new flavors.
You could say that he thinks about tea the way other connoisseurs about wine or truffles, but Barenholtz is quick to point out that tea is the world's beverage of choice. So, really, he thinks about tea the same way he thinks about food.
"If you add up how many truffles, cigars, wine, beer, spirits and coffee are consumed, it still would not equal the amount of tea in the world," he says. "Only water is consumed more often. What distinguishes [American Tea Room] is we talk about tea like we talk about food. We don't talk about tea the way we talk about ancient Chinese mysticism. We don't talk about how it's good for anti-bloating or good to fight toxins. We kind of ignore all that and we only look for quality."
With more than 200 teas, including Earl Greys and Chinese green teas and even herbal teas that are technically not teas, American Tea Room also offers accessible options for those who just want to buy a gift or brew a month's worth of tea for $10.
And then there's a Chinese tea, Ming Qian, also known as Pre-Qingming Longjing tea. Barenholtz just received this year's supply. This Zhejiang Province tea, from West Lake in Hangzhou, is $146.25 for 2 ounces.
"It tastes like the best Longjing you've ever had," Barenholtz say. "It's a green tea, kind of savory and brothy, really beautiful chocolate notes and, I think, nutty notes. It pairs well with bitter dark chocolate. There's also just a really light spring herbaceousness. When I smell this tea, the first thing that comes to mind is that it smells so fresh."
This early-season tea is picked from the first spring shoots available, before the seasonal rains. In this case, the tea was plucked on March 30 and 31. Then it takes about two weeks to process, dry and pack the tea. Despite some delays, Barenholtz managed to have it in Beverly Hills less than a month after it was picked.
"It was held by the FDA for four days, which totally fucked us up," he says.
But at least he has a lot of tea on site to calm him down. He's really enjoyed drinking white tea like the rare Arya Pearl First Flush, an organic white Darjeeling, in the past.
"But times change," he says. "My favorite tea is black tea, and I'm fixated on a specific black tea we've had since last summer. I think I'm the only consumer."
The tea is Golden Needle Yunnan, $75 for a quarter pound, and Barenholtz uses it to make "the best cold-brewed iced tea ever."
It's unclear, though, how long this will remain his favorite.
"Once I get off the phone, I have 45 teas to evaluate," Barenholtz says.