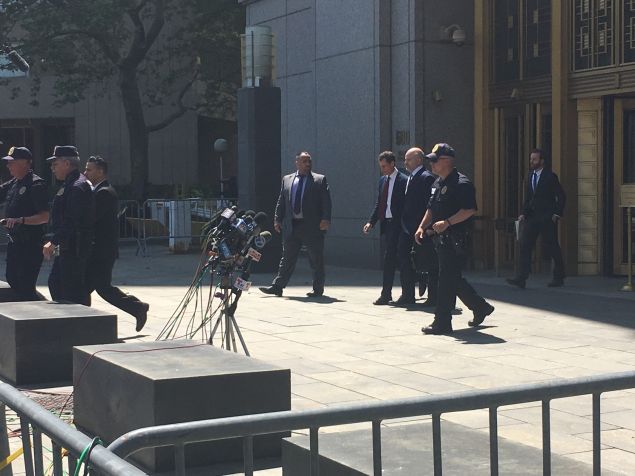 Today marked the apparent close of one of the strangest and saddest episodes in the political history of both New York City and the nation, as Anthony Weiner—city councilman, congressman, mayoral candidate, Clinton family confidante—pleaded guilty in a Manhattan federal courtroom to sending sexual content to a teenage girl last year.
That last incident accidentally upended the presidential election, in strange symmetry with how Weiner's previous electronic indiscretions destroyed his promising career in Congress in 2011 and his surging mayoral bid in 2013. FBI agents probing news reports that the fallen pol had exchanged explicit messages and images with 15-year-old in North Carolina found several thousand emails on a laptop he shared with his wife, top Clinton lieutenant Huma Abedin, that they deemed "pertinent" to their investigation of Hillary Clinton's use of a private email server at the State Department—prompting then-FBI Director James Comey to send a letter to Congress regarding their discovery a week and a half out from the November vote.
Nothing came out of the revived investigation—that is, nothing except a sudden plunge in Clinton's poll numbers that many analysts blame for President Donald Trump's shocking electoral victory.
Weiner surrendered himself to the Federal Bureau of Investigation in the early hours of Friday morning, and pleaded guilty in court to one count of sharing obscenity with a minor. He was released on bail, and faces up to a decade in prison, three years of probation and a $250,000 fine.
He will also have to register as a sex offender. It is unclear how this will affect his relationship with his five-year-old son, Jordan Zain Weiner.
Under a plea deal, prosecutors requested that he spend 21 to 27 months in prison. His travel is restricted to the Southern, Eastern and Northern districts of New York—that is, the five boroughs, Long Island, and most of upstate New York, although not the Buffalo-Rochester area.
He will also finally forfeit his iPhone, the device which triggered his first, second and third downfalls. His sentencing will take place on September 8 at 11 am before United States District Judge Denise Cote.
"Weiner's conduct was not only reprehensible, but a federal crime, one for which he is now convicted and will be sentenced," said Acting U.S. Attorney Joon Kim in a statement to the press.
When the judge asked him if he is admitting guilt, he responded in the affirmative.
"I am guilty, your honor," Weiner said.
When he was asked to describe what he did, he paused frequently, his voice cracking up and fighting back tears as he read a written statement in which he acknowledged the crime that he committed.
"I accept full responsibility for my conduct," Weiner said. "I have a sickness but I do not have an excuse. I apologize to everyone I hurt."
He also noted that he sees a therapist "regularly."
When he left court, a swarm of reporters encircled him as he and his lawyer entered the car, attempting to get him to comment. But he continued in silence past the journalists and entered the vehicle.
He released a longer, more anguished statement to the press.
"I have compulsively sought attention from women who contacted me on social media," he said in the written remarks. "These destructive impulses brought great devastation to family and friends, and destroyed my life's dream of public service."
He concluded with an expression of remorse for all those impacted, including the 15-year-old.
"I accept full responsibility for my conduct. I have a sickness, but I do not have an excuse," he wrote. "I apologize to everyone I have hurt. I apologize to the teenage girl, whom I mistreated so badly. I am committed to making amends to all those I have harmed."
The Brooklyn native once appeared among the city's brightest political prospects. A protege of then-Congressman Charles Schumer, Weiner became the youngest person ever elected to the City Council in 1991. He took over his mentor's House seat in 1999, when Schumer ascended to the Senate.
He lost the 2005 Democratic mayoral primary to Bronx Borough President Fernando Ferrer, but saw his prominence and popularity swell in the years that followed, as he fiercely defended Democratic issues on the House floor. In 2009, he wedded Abedin, in a ceremony officiated by ex-President Bill Clinton.
Many of his colleagues viewed him as an overly ambitious and media-greedy showboat. Still, he seemed to be an early frontrunner for the 2013 campaign for Gracie Mansion.
Two years later, he accidentally uploaded an image of his scarcely-clothed genitals to his official Twitter account. After several days of prevarication, demurral and denial, he admitted to having shared sexual content with six women over the Internet. That June, he resigned from Congress.
He attempted a comeback in May 2013, announcing in a Youtube video with Abedin that he would again seek the Democratic nomination for mayor. The former congressman quickly shot to the top of the crowded competition, dislodging former City Council Speaker Christine Quinn.
Then, in July, word surfaced that Weiner had used the online moniker "Carlos Danger" to share explicit photos with 22-year-old Indiana native Sydney Leathers as recently as April of that year. The congressman held on in the race despite plummeting poll numbers, and ultimately finished fifth in the primary, with less than fiver percent of the vote.
His rapid collapse created a vacuum that now-Mayor Bill de Blasio filled. The 2016 documentary Weiner chronicled his doomed campaign.
He and Abedin separated last August amid news reports of his continued e-infidelity. The New York Post reported that she filed for divorce today.
Updated to acknowledge Abedin's initiation of divorce proceedings.