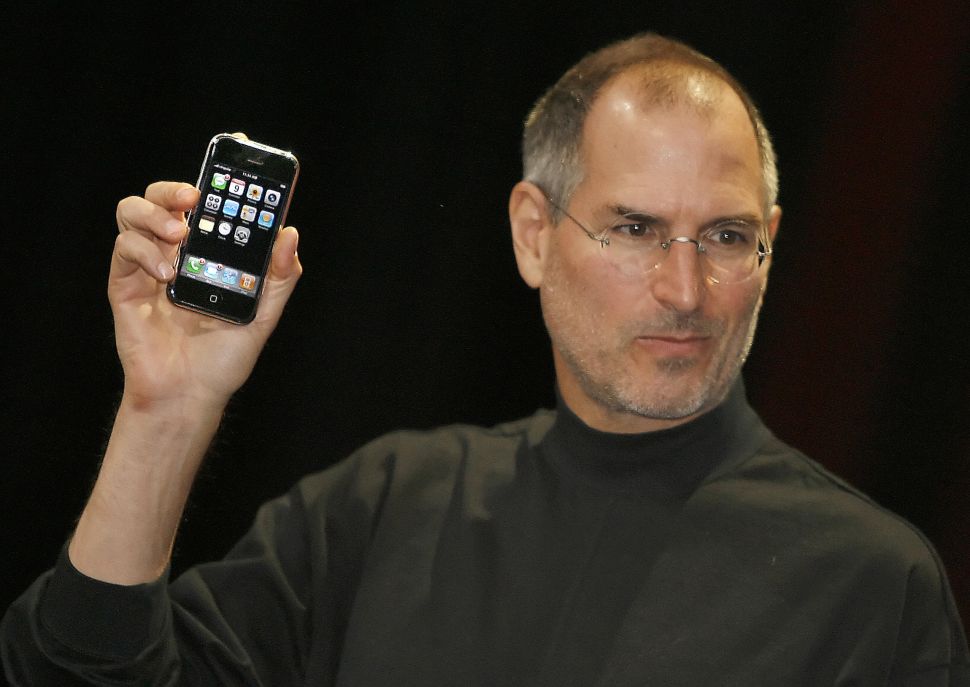 It was the night of June 28, 2007. I was living in Torrance, Calif. at the time and had waited since January to get my hands on the new iPhone, which Steve Jobs announced on January 9 earlier in the year. There were a lot of thoughts going through my mind: Would my credit go through? If it did, would I be able to get a local number? (There were rumors that AT&T didn't have many 310 area code numbers for new activations.) Would I be able to play my video files on the iPhone, or would I have to convert them? If I have to convert them, will there be a program available for that?
Here's what I wrote for my blog that evening.
"The iPhone will go on tomorrow at most Apple and AT&T stores. With a two-year contract, a 4GB version will run you $499, and an 8GB version will run you $599. Is this phone overpriced? Probably! Is this phone overhyped? Yes! But as you can tell, even hard to convince technophiles such as myself have bought into the hype. Tonight, I am preparing to camp out for the iPhone. I first have to make sure I have enough food, water, and other protective gear (such as an umbrella to prevent sunburn) before I reach my final iPhone destination in Southern California (which I'm not sure exactly where yet) tonight. Am I crazy? Yes!"
I ended up not camping out anywhere, especially since the phone didn't go on sale until 6 p.m. the next day. However, I woke very early and chose the AT&T store on Hawthorne Blvd. in Torrance. It proved to be a good choice because nobody else was lining up yet. I put my bean bag down and started fantasizing about rubbing my fingers on the iPhone and pinching them apart in order to zoom in on a web page. I was upset that the iPhone would only run on AT&T's slow (even for 2007) Edge network instead of using a 3G one. The world would have to wait one more year for that.
By 8 a.m., about 20 other people arrived. We all felt like we were about to become a part of history and were correct: The launch of the first iPhone certainly changed history. Like the Cupertino company had always done, Apple took a device that was already available by other manufacturers, perfected it, and marketed it to the masses. Before the iPhone, there was the Palm Treo. There was also the Blackberry, which would be the top selling smartphone for businesses during the 2000s. There were also several Windows Mobile phones, but the iPhone was the first device that made one feel they were putting a small computer in their pocket.
The iPhone was the first device that was a music player, a portable video player (still a big deal in 2007), a camera, a phone, and an internet surfing machine all at once. It seemed to have everything but the kitchen sink. ­However, the first-generation device had some major flaws besides a slow Internet connection. For one thing, the App store didn't take off until 2008, when the iPhone 3G was released. There was also the fact that 8GB of storage really wasn't enough when one had a huge video and music library.
Then, there is the fact that the iPhone debuted at $499 for the 4GB version and $599 for the 8GB model, and those were on-contract prices. And the battery life was a nightmare for most users, although it was expected that a phone with that much power wouldn't last as long as a regular cell phone. Still, the flaws didn't stop thousands across the country from lining up at AT&T or Apple retail locations.
The 11 hours I spent in line at the AT&T Store in Torrance went by fast, especially since we all felt like a community of geeks who bought coffee and donuts for each other while making sure to hold people's positions in line when they went to the bathroom. At 5 p.m., several news cameras appeared as if the president was in town. We looked in the window and drooled as the AT&T workers set up the iPhone stands. Then, at 6 p.m., we heard a loud roar of cheers. I walked in and posed for pictures while a nice, young lady prepared my iPhone.
On July 1, I wrote my review. This was my final paragraph:
"Despite a few shortcomings, the iPhone is still a major technological innovation that will only alienate a small minority of smartphone users in its first-generation release. Three days after using it, I still find myself saying "wow!" all the time. One has to feel sorry for other carriers such as Sprint, Verizon, and T-Mobile, who are about to become extinct unless they come up with something just as impressive."
The other networks tried to outdo AT&T with "iPhone killers" such as Verizon's disastrous Blackberry Storm and Sprint's failed Palm Pre. Had the iPhone not arrived to these networks after the AT&T exclusivity contract ended in 2011, it's quite possible they wouldn't exist today. Ten years later, the iPhone is still the best-selling smartphone in the world. Even though many believe there are better smartphones than the iPhone, Apple's device was the one that started it all. June 29 will always be a holiday for technophiles and smartphone-obsessed geeks like myself.
Daryl Deino is a writer, actor and civil rights activist who has appeared on shows such as The Untouchables, Parks and Recreation and Two Broke Girls. Besides writing for Observer, he has also written extensively about technology, entertainment and social issues for sites such as the Huffington Post, Yahoo News, Inquisitr and IreTron. Follow him on Twitter: @ddeino.