It's no secret The Bachelor and The Bachelorette seem to have the same success rate as a first date on Tinder. Still, year after year, viewers tune in, with hopes that somehow this couple will be different, and not end up promoting Diff Eyewear—or at the very least, they'll wear those neon sunglasses together.
The Observer chatted with the matchmakers at The Bevy (they have a 98 percent success rate) to find out how The Bachelorette could actually end with a happily ever after this time around. The Bevy founders Greta Tufvesson and Nikki Lewis, both Bachelor franchise fanatics, have some advice for Rachel Lindsay, who's already announced she's engaged (spoiler alert).
Both agree that Bachelor in Paradise, the summer spinoff, is where the magic truly happens, since every single has multiple choices. "It's like a hookup summer camp and everyone finds a summer boyfriend," Lewis laughed. The founders and friends also agree six weeks isn't enough time to get to know someone, especially when it's televised.
"I foresee the issue being that she is actually a really accomplished lawyer and she comes from a really intelligent family. What are they going to say about these guys who are sort of actors or don't actually have jobs?" Lewis asked.
These issues have already been realized. One contestant lists his occupations as "Tickle Monster," another defines himself as "Whaboom" and is more bonkers than you can imagine. There's also Blake E., an aspiring drummer who desperately wants to see the new 50 Shades of Grey movie because he loves "taboo sexy stuff," and is possibly this season's Corinne Olympios, without the cheese pasta. Her options aren't exactly the stuff usually found on a lawyer's Pinterest wedding board.
"I think it would be really smart saying, 'I am going to leave this show not getting engaged,'" Tufvesson announced. Tufvesson wishes Nick Viall, last season's Bachelor, had taken her advice. "They're awkward in interviews. I don't think they're going to last," Lewis added.
Despite Bachelor in Paradise also ending on an engagement, the show has been slightly more successful. Tanner and Jade are still together, with Jade pregnant, and last season's creepiest couple, Carly and Evan are somehow making it work. Still, many of the relationships dissolve immediately after filming wraps, especially since they have to keep it secret for weeks after. "Authentic relationships do not come when you are in the public eye. You need privacy. You need time together. You need time alone," Tufvesson said.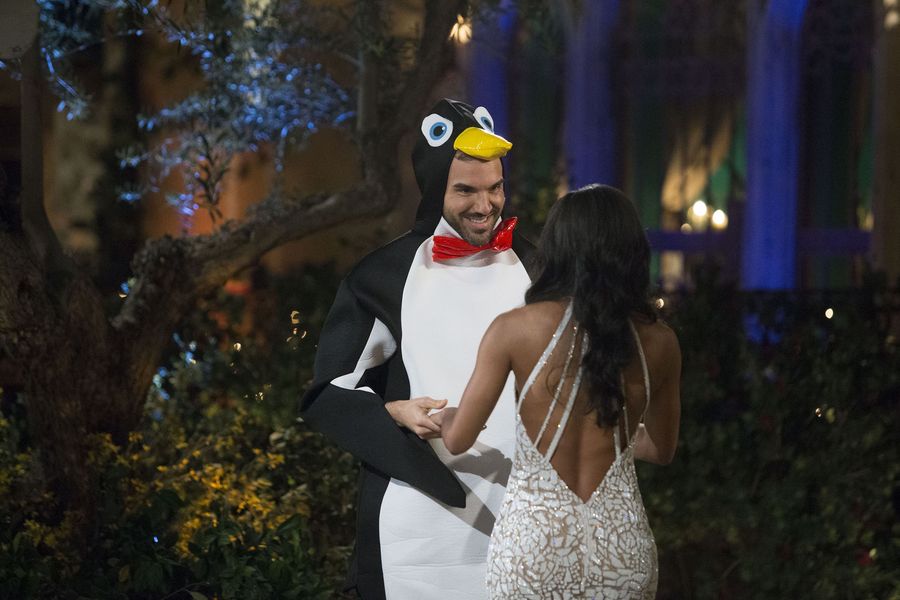 Both women believe Rachel needs to be wary during her time away from the winner, comparing her to Andi Dorfman, another lawyer who ended up with a college athlete. Talk turned to the controversial Juan Pablo's season, with Lewis divulging, "I heard that Juan Pablo was the least popular Bachelor," a rumor courtesy of celebrity party planner Mindy Weiss. [At an LA wedding] Chris Harrison was going off about how Juan Pablo is the worst in history, but we knew that."
"I am always shocked that these people with kids can go on this thing and leave their kids for six weeks," Tufvesson said. This season, one contestant, a professional wrestler who goes by Pretty Boy Pit Bull, has a 10-year-old daughter at home. 
"I feel like you're setting yourself up for disaster because it's like meeting someone on vacation. It's not real life. You're doing all of these things together. You're not in your day-to-day," Tufvesson reflected. When dates consist of island hopping and serenades from C-list country singers, it is out of the ordinary. Perhaps if dates included overpriced cocktails in crowded bars, they would be better equipped to deal with the real world.