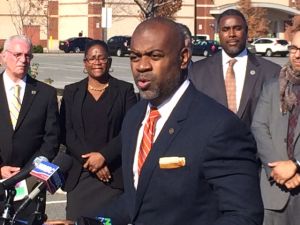 Gov. Chris Christie's push to raid the reserves kept by Horizon Blue Cross Blue Shield has been gaining more than a few detractors lately. The latest: Newark Mayor Ras Baraka.
The New Jersey Black Mayors Alliance for Social Justice said Christie's plan to take hundreds of millions of dollars a year from Horizon's reserves — to fund addiction treatment for the poor — could lead to disaster.
"Taking funds from these reserves will jeopardize Horizon's credit rating and drive up costs to the insured," Baraka and four other black leaders said Wednesday in a statement from the alliance. "It is a hidden tax on all who depend on Horizon for health care, including municipalities that pay part of their employees' health care costs."
The governor has been bashing Horizon, the state's largest health insurer, since his budget address in February and calling on lawmakers to take a cut of its $2.4 billion reserves to fund an anti-addiction drive. Christie also wants legislation to install more political appointees on the not-for-profit company's board and to force it to disclose executive compensation online. He often notes with scorn that some top officials at the company have chauffeurs (just as he does).
S&P Global Ratings issued a report Friday warning that raiding Horizon's reserves could cause a downgrade of the insurer's 'A' credit rating. And since then, a conga line of detractors has been taking swipes at Christie's proposal.
"Policyholders would absolutely see higher premiums as Horizon would not be able to tolerate the same risk they currently are," said state Sen. Nick Scutari (D-Union). "We're talking about a safety net that allows bills to keep being paid during times of emergency and shields members price spikes from outbreaks or new expensive drugs."
Senate Majority Leader Loretta Weinberg (D-Bergen) said that the S&P report convinced her that Horizon's financial cushion is not excessive. The company says its reserves would cover 75 days of claims for its 3.8 million policyholders. To have "the state permanently tap into the emergency reserves of Horizon is not something I can support," Weinberg said.
Michele Siekerka, president of the New Jersey Business and Industry Association, issued a statement Tuesday opposing the plan because "it would be improper for the state to meddle with the composition of a nonprofit company's board or use legislation to force Horizon BCBSNJ to take action that puts policyholders at risk of higher premiums and jeopardizes the insurer's ability to pay claims."
A spokesman for Christie last week called the S&P report an "alarmist overreaction" and said the governor's proposal would ensure "quality and accessible health care for New Jerseyans." The Blue Cross Blue Shield Association requires Horizon to keep reserves of at least 550 percent of the amount needed to pay all its members' claims. Christie says the state should take any funds above 550 percent, a proposition that would cut hundreds of millions of dollars from the company's reserves each year.
"The governor's proposed legislation requires the state Department of Banking and Insurance conduct a comprehensive review of all of Horizon's finances at the end of each year, including responsible surplus amounts," Christie spokesman Jeremy Rosen said. "The governor's reform also includes transparency and accountability measures to protect taxpayers and consumers from Horizon's abuses, such as this charity's Medicaid profiteering against the poor and doling unjustifiably exorbitant money and resources to millionaire executives."
It's a populist pitch, but it has not really caught fire with liberals or conservatives.
Steve Forbes is an opponent. Leading New Jersey Republicans say it goes against conservative ideals, including the two top candidates for the GOP nomination for governor this year: Assemblyman Jack Ciattarelli and Lt. Gov. Kim Guadagno. "Raiding those reserves will raise the cost of health insurance as if it were a tax increase," Assemblyman Erik Peterson (R-Hunterdon) said in a statement. "How much more can taxpayers afford?"
Baraka joined with Plainfield Mayor Adrian Mapp, East Orange Mayor Lester Taylor, Logan Township Mayor Frank Minor and former Westampton Township mayor Carolyn Chang to say the U.S. health care system is under enough uncertainty as it is.
"Horizon is the only company covering Medicaid patients in all of New Jersey counties and is one of only two providers on the New Jersey Obamacare/Affordable Care Act exchange," they said. "With total chaos and confusion in Washington regarding the future of health insurance, this is the very worst time to take a risk that could further jeopardize the health care coverage and costs for New Jersey residents."
Christie's office has sent a draft of his plan to legislative leaders and says he wants to sign it by June 30, the end of the fiscal year. The changes would kick in only after he leaves office, according to a copy of the proposed bill. But it's got to find some supporters first. Assembly Speaker Vincent Prieto (D) says he's not sold.
"Horizon takes taxpayer money," Christie said last month on the radio. "That's what Medicaid is. It's federal and state taxpayer money. … These are excess profits we're talking about. This is beyond the surplus they're required to keep by the Department of Banking and Insurance and beyond the additional surplus that they're required to keep to be a Blue Cross Blue Shield member. We're talking about the profit that goes beyond that. That's what we want a piece of and what I think the public deserves a piece of here."