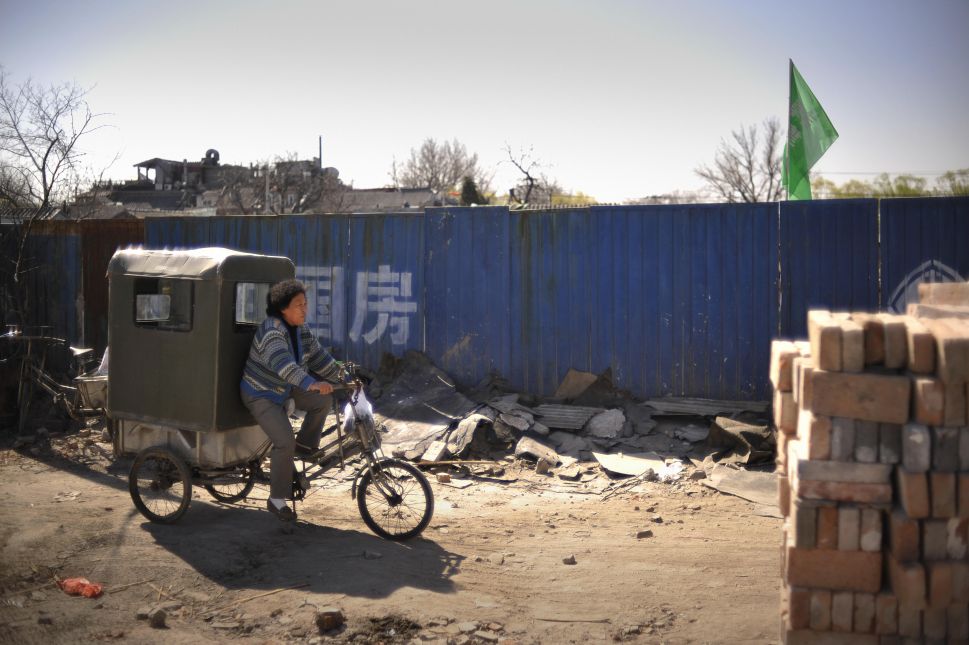 Though the threat has been hanging in the air for months and has been the official city plan for years, it nevertheless comes as a shock. Growing piles of rubble are clogging Beijing's hutongs, the inner city alleys that have evolved into fertile sites for both cultural innovation and gentrification in the last decade. As part of a citywide effort to clear out unlicensed businesses, orange-suited demolition crews have spread through the hutongs of Beijing's Dongcheng district over the last two weeks, tearing down street-facing doors and windows and filling the gaps with gray brick.
The effects on hutong businesses have been swift and devastating. Restaurants and shops run by migrant workers who've been able to operate for years in a legal gray area have seen dramatic declines in patronage as their main entrances are bricked up. While these workers will be most directly affected by the current wave of renovations, the collateral damage also threatens the hutong's cultural core: a unique and dynamic patchwork of spaces serving art, music, coffee and booze to Beijing's swelling creative class.
"People who do art spaces here are privileged," says Yuan Fuca, a 29-year-old curator and writer from northeast China who operates a street-facing gallery called Salt Projects. "We chose to be here," she adds, implying that people in other industries do not enjoy the luxury of choice.
Salt Projects is located in a small side alley about a half-mile north of Nanluoguxiang, Beijing's most famous and tourist-saturated hutong. It's a tiny room with a door and one circular window facing the street, which Yuan says functions as a "theatrical frame" for Salt's program of performance art. Salt Projects will imminently lose its door and window and will therefore have to fundamentally rethink its approach. Yuan says that she is "slow to feel what this means." Since her space is not a business, she is able to respond to the renovation flexibly. After Salt's facade is bricked up, she plans to open a side entrance and pursue alternative exhibition formats.
Other hutong spaces are more limited in how they can react. Ross Harris, an expat from Miami who moved to Beijing in 2007, opened a small cocktail bar called Más with his boyfriend Ariel Tudela and a Chinese partner five years ago. The future of the bar, Harris and Tudela's sole source of income, was uncertain for months as rumors of the coming renovations spread. When they finally hit, they hit hard. Within two weeks, Más lost its patio, windows, and only door, forcing the owners to convert its bathroom into a side entrance. Harris and Tudela made a snap decision to close, abruptly announcing a farewell party for the community of artists, writers, and other creatives that had formed around their distinctive tropics-in-the-hutongs watering hole.
"It's hard for any space to remain open for long, but it used to be possible to open small, experimental spaces," Harris says, crediting "the earthy hutong punk and art scene" as his reason for living in Beijing. Faced with their experience at Más and that of neighbors who are being "muscled out" of the hutongs, Harris and Tudela have decided to cut their losses and leave the city.
Those who choose to stay face an uncertain future. Zhai Ruixin, a Beijinger who's lived in and around the hutongs his entire life, opened a record store called Fruityshop in a cul-de-sac hutong in 2015. He passed management of the shop to a friend at the beginning of last year, when he opened Fruityspace, a live music venue that has quickly become the home base of Beijing's underground and experimental music scene. Fruityshop's entrance will be bricked up within weeks, and Fruityspace's fate is uncertain. "I've heard that the area where we're located"—just east of the National Art Museum of China—"will be hit by the renovations in June, but I haven't gotten any formal notice. Everything is still unknown."
Zhai says he sees the general point of the renovations, but he questions how they're being implemented. "To tear down places that are in violation of legal codes is reasonable to an extent, but they appear to be adopting a one-size-fits-all solution. Many interesting places are disappearing. This will definitely have an impact on the business ecology that has formed in the hutongs."
If the migrant workers and culture mavens are all gone, who or what will be left? Tourist moneymakers like Nanluoguxiang are unlikely to change much, but for everywhere else, what's happening now might be a return to an older order. Dominic Johnson-Hill, a British expat who operates one of Nanluoguxiang's most popular shops and occupied a seat in the business development section of the neighborhood government for five years, says these renovations are part of a larger policy to move 1.2 million people out of the city center—and presumably into a further corner of the "mega-region" Beijing is building around its peripheries.
"A lot of [hutong] properties are government properties," Johnson-Hill explains, adding that the area's densest residential features are clusters of courtyard apartments occupied by large family units paying extremely low rent, a relic of a disappearing system of state-backed housing subsidy. After the unlicensed businesses are removed, Johnson-Hill predicts, these large family units will be next. "Then, they'll revamp those old courtyards, and restore the hutong back to its former glory: housing for rich people."
Indeed, from the rise of the Yuan Dynasty to the fall of the Qing, the hutongs ringing the emperor's Forbidden City were largely residences for court elite and wealthy merchants. As China continues to grow in economic and political clout, Beijing may be reverting to this model, with the rich and powerful grouped in the center and the city's industrial work force and creative classes pushed further to the fringes. It may be a return to form, but it's a grave loss for a city that continuously struggles to muster the soft power and cosmopolitan cultural openness that marks any great world capital.
In 2010, Josh Feola moved from the U.S. to Beijing, where he is a writer, musician, and former booking manager at two of Beijing's leading live music venues. He has written about Chinese music and art for a variety of foreign and Chinese publications, operates the net-label Sinotronics, curates Sally Can't Dance (China's leading experimental and avant garde music festival), and plays drums in Beijing band SUBS.
After 15 years on Wall Street as a trader and banker, Michael Pettis moved to Beijing in 2002, where he is an economics professor at Peking University, a senior associate at the Carnegie Endowment, and the owner of 20 Percent Picture House, a private art gallery.