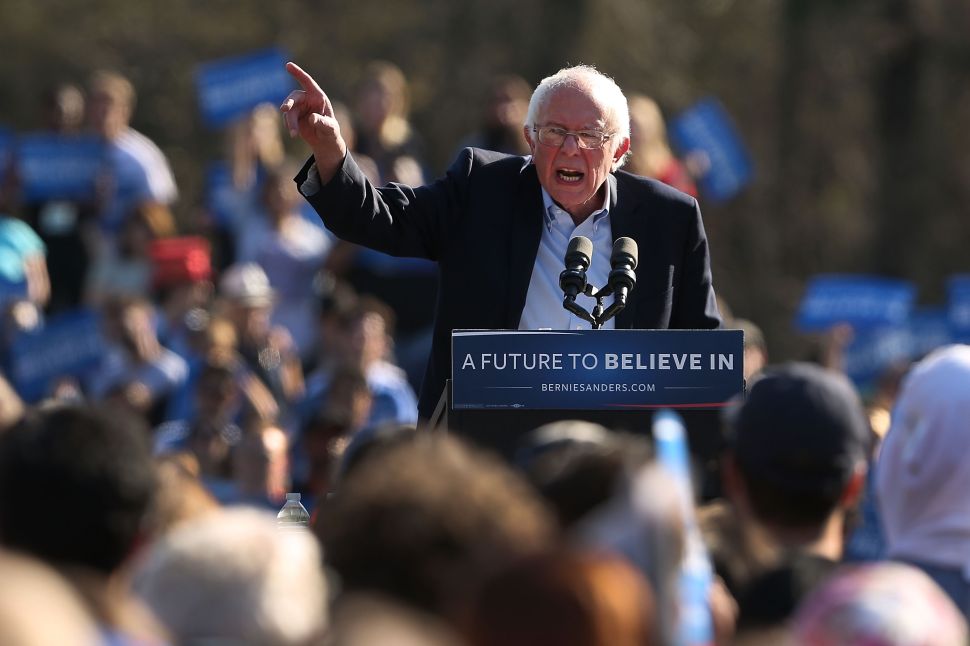 Several polls combined with his growing support base have confirmed that Sen. Bernie Sanders is the most popular politician in the United States. His presidential candidacy sparked a progressive political revolution across the country. In response to its popularity, establishment figures have denigrated, belittled, and reduced the strength, tenacity, and legitimacy of this movement. On May 29, Politico published an article armed with that motive claiming Sanders' revolution has "hit a rough patch" and that his supporters "struggle to capture the actual levers of power."
David Siders, the article's author, cites several examples to corroborate the narrative purported by the title. "The losses are piling up," he wrote, mentioning the recent losses of Sanders endorsed candidates, including Heath Mello's mayoral bid in Omaha and the special congressional elections of Rob Quist in Montana and James Thompson in Kansas. When discussing the latter two, Siders fails to mention that the Democratic establishment failed to match the funds that the Republican Party provided to their candidates or the Republican-backed attack ads that portrayed Quist and Thompson as allies of House Minority Leader Nancy Pelosi. The context of these elections was also not discussed; grassroots campaigns substantially over performed in Republican strongholds. Instead, sweeping conclusions were drawn to connect these elections to a national trend.
Berniecrat Christine Pellegrino's recent victory of a traditional Republican New York Assembly district was reduced as low-profile. The beginning of a promising progressive's political career is the start of something larger—not a ceiling that Sanders' revolution is incapable of breaking.
Pellegrino's victory is a small victory foreshadowing more to come. Progressives intend to spark a political revolution to take on the Democratic establishment in addition to Republicans. Politico claimed Lucy Flores and Zephyr Teachout's losses in their November 2016 congressional races prove a shortfall in Sanders' movement, but Congresswoman Pramila Jayapal's victory was conveniently omitted. Flores lost in the Nevada Democratic primary race against Sen. Harry Reid's hand-picked candidate Ruben Kihuen, while Emily's List inexplicably endorsed a third candidate in the race after the organization had previously endorsed Flores for other races due to her strong record fighting for abortion rights. Though Teachout's loss was a disappointment, she was outspent and hurt by animosity toward Hillary Clinton. In a February 2017 interview, she said she regrets succumbing to the Democratic establishment's pressure to focus her campaign against Trump and Republicans over what she would have done for voters in her district. Another recent congressional race, in a Los Angeles congressional district, was included to reduce the momentum of Sanders' movement, but this race was mischaracterized as well. While two progressive candidates ran in the April 2017 primary, a race with 23 candidates, Our Revolution and Bernie Sanders did not get involved. One of those pro-Sanders candidates, Arturo Carmona, faced sexual harassment and sexism allegations in the days leading up to the race, though he led the race in a January 2017 poll.
Two other unfair criticisms included the claims that DNC chair candidate Congressman Keith Ellison and California Democratic Party chair candidate Kimberly Ellis' came up short. Both elections were decided by Democratic Party insiders—not voters. Ellis recently filed a formal challenge of the election results, and new DNC Chair Tom Perez was hand-picked by the Democratic establishment to prevent a pro-Sanders candidate from obtaining a party leadership position.
On Our Revolution's website, victories in elections and ballot initiatives outnumber losses, a fact overlooked in Politico's article. Victories include Ilhan Omar, the first Somali-American Muslim woman to win public office, Larry Krasner for Philadelphia's District Attorney, and 23 ballot initiatives.
While Sanders' political revolution has suffered losses, which is expected given the scope of the movement, the narrative propagated in the Politico article portrays it as a dysfunctional lost cause, which is far from the truth.
"It is unfortunate, but it is no surprise because as we continue to expose hypocrisy and the flaws within the political system, we can expect to be minimized, marginalized and maligned," prominent Bernie Sanders surrogate and former Ohio State Senator Nina Turner told the Observer. "However, the good news is that we signed up for the long term fight for health care for all, increasing the minimum wage, economic justice, environmental justice and racial justice. The vision began with Sen. Bernie Sanders. However, it will continue for generations to come."
Turner, a board member of Our Revolution, has helped lead the fight that Sanders started, but her strong leadership has incited opposition from forces that insist on preserving the status quo. This week, Turner has been attacked by the establishment and Clinton supporters for comments she made during an interview on CNN's State of the Union, during which she noted that the Democratic Party needs to focus on more visceral issues for voters rather than placing all its efforts on investigating Trump's ties to Russia. Her comments were conflated to casting shade on the Russia investigations and provoked the typical neo-McCarthyist allegation that she is aligned with Putin and Russia.
She noted the attacks ironically come from groups that have touted "Love Trumps Hate" signs and that these attacks prove that misogyny and racism are not exclusive to the Republican Party.
In spite of these attacks, Turner's rhetoric reflects the sentiment of a majority of progressives, who have recently pushed Democrats to support single payer health care in contrast to the Republicans' efforts to repeal Obamacare. For progressives, it's not enough to coast on attacks against Trump and Republicans; they push for progressive policies that will tangibly improve the lives of voters. Turner added, "As mentioned, it is more than resistance, it is about our resilience to plan, organize, and translate passion into votes that elect progressive public servants who will exert the people's power in public office in a way that pushes progressive policy that serves the people."