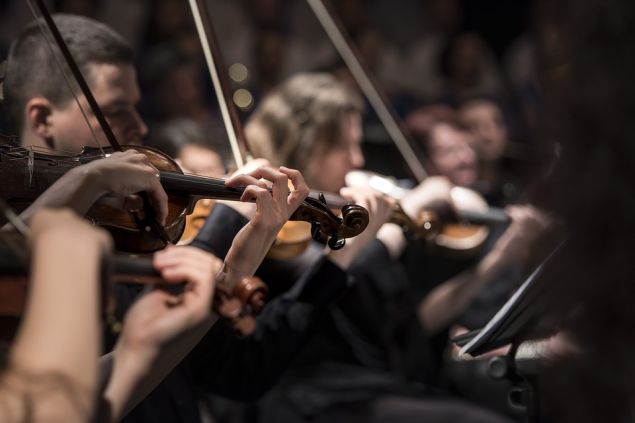 As a lifelong theater fan, I'm always interested in the action onstage. But increasingly at Broadway musicals, what's going on beneath or in back of the stage is just as interesting and important.
Having the right orchestra is crucial to the musical experience, and every Broadway tuner is filled with awesome musicians from top to bottom. But the orchestra for a musical revival arguably has the most difficult task: making music from decades ago sound new and exciting.
Three of this season's revivals—Sunday in the Park with George, Hello Dolly and Sunset Boulevard—managed this task with particular skill and aplomb. And a visit to the long-running revival of Chicago proved that even after 20 years, the show's jazzy score still swings.
Let's start with a production that regrettably has already closed (though a cast recording is planned). Sunday in the Park with George might have at first seemed like a cynical cash grab, banking on Jake Gyllenhaal's star power to sell tickets. He did Stephen Sondheim proud from his first note, however, delivering a phenomenal performance.
The Sunday score, filled with classics like "Finishing the Hat" and "Children and Art," is a tearjerker on its own. But thanks to the 13-piece orchestra (arranged by Tony winner Michael Starobin and conducted by Chris Fenwick) the emotion poured forth even more gloriously, with violins and woodwinds soaring to the Hudson Theatre rafters along with Gyllenhaal's vocals.
For something a little brassier, head to the Shubert Theatre for Hello Dolly—though be warned, you may have to lose a limb to get a ticket. Bette Midler is holding forth to adoring crowds every night, especially when she descends a staircase to sing the title song.
And just as the Divine Miss M appears, the trumpets and trombones announce her arrival with thrilling fanfare. The other members of the 22-piece band (orchestrated by Tony winner Larry Hochman and led by Andy Einhorn) then join in to pay tribute to musical theater's favorite matchmaker.
When the spotlight isn't on Dolly, Jerry Herman's score still brims with life—the reeds, strings and more give classics like "Put on Your Sunday Clothes" a newfound poignancy.
If you prefer poperetta to pathos, however, pay a visit to the Palace Theatre, where Glenn Close is reprising her Tony-winning performance as Norma Desmond in Sunset Boulevard. The diva's two big numbers, "With One Look" and "As If We Never Said Goodbye," bring down the house.
But it's not just Close's powerhouse vocals—she's got a 40-piece orchestra behind her, featuring every woodwind and string instrument under the sun. This is perhaps not surprising given the show's Tony-winning composer Andrew Lloyd Webber orchestrated the music himself (with David Cullen) and likely gave conductor Kristin Blodgette—who rightfully gets the first bow during the curtain call—license to pull out all the stops. The result is a pleasure for the ears.
(Blodgette, who has her back to the audience for the entire show, gets bonus points for being the most personable conductor I've ever encountered—when she came out the stage door, she asked the assembled crowd, "I've never seen the show before. Is it good?")
You don't need to limit yourself to this season's new productions, however: John Kander and Fred Ebb's Chicago, playing at the Ambassador Theatre, has been telling a classic story of Jazz Age murder and intrigue for over two decades (the original 1975 production was, inexplicably, a flop).
The best thing about Chicago is that you get two shows for the price of one—Roxie, Velma and Billy's saga is obviously the main plot, but the orchestra also plays an active role. Music director Leslie Stifelman interacts with the cast as a narrator and foil when she's not conducting the band.
And what a band it is—from the first notes of "All That Jazz," Ralph Burns' arrangements allow the 13 musicians to let loose, "razzle dazzling" the audience just as much as the actors do.
While there's no secret sauce that makes these orchestras special—other than pure, raw talent, of course—they do have several things in common that may offer secrets to their success. For example, at three of the four shows the band is seated onstage, where they can more easily feel the energy of the actors and the audience (Hello Dolly utilizes a traditional pit, likely because Midler's star power radiates through the whole theater).
The fact that Chicago and Sunset Boulevard are conducted by women is also (sadly) worth noting, in an era where less than five percent of orchestras are female-led. Blodgette and Stifelman's flowing, expressive styles, however, prove their chops.
So the next time you're at a Broadway musical, don't just focus on what's happening onstage. Take a moment to recognize the people playing the music and the spirited conductors ensuring they play it right. The theater would be a lot quieter (and less entertaining) without them.