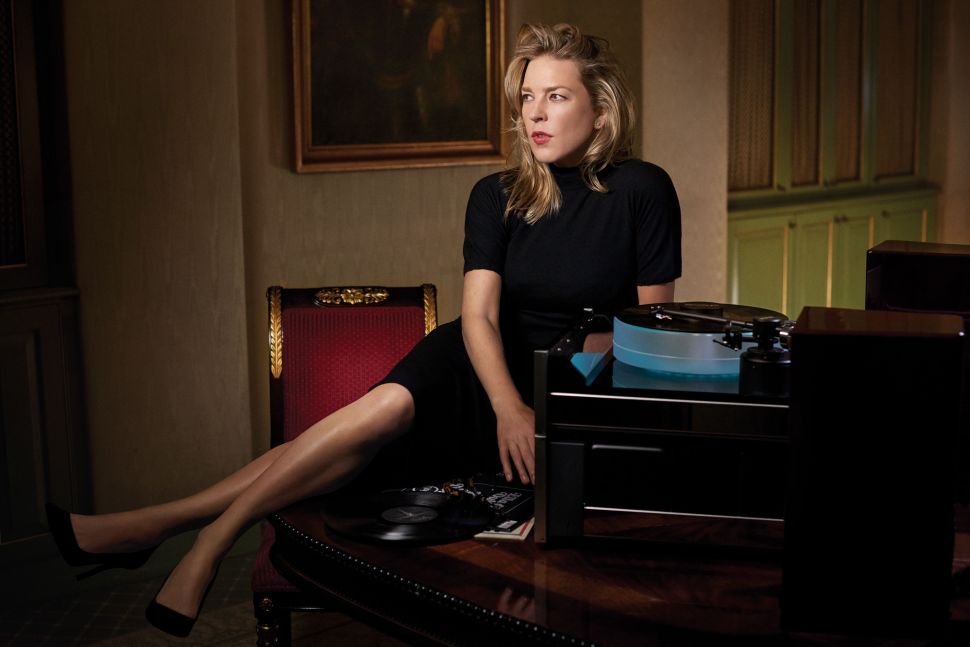 From the coolest member of the Rolling Stones to a punk icon trying on his Sinatra fedora to a former bartender who mixes sounds through her trumpet as potent as a dirty martini, jazz music during this first half of 2017 is anything if not diverse.
But as our mid-year Top 10 list showcases, that's just what makes the art form Miles Davis once called "neighborhood music" so beautiful and meaningful with each passing day: its ability to exist as an all-inclusive entity regardless of who you are or the steps you've traveled doesn't just make jazz's possibilities infinite—this is what makes jazz timeless.
If you have the aptitude to make a joyful noise in a way that helps transport us from the stresses of everyday life, regardless of whether you were schooled at Julliard or in the vinyl section of your favorite record shop, greatness awaits once the right jumble of notes comes together. That's fate. That's jazz. And if our Top 10 list is any indication of what's still left to come in 2017, we're in for one hell of a year.
10) Diana Krall, Turn Up the Quiet (Verve)
[youtube https://www.youtube.com/watch?v=o05-RA8Z0x8?list=PLoZDU1Cpacjx_1AjItZtCEbnWX8DTNN7n&w=560&h=315]
There isn't a name more synonymous with the elegance of jazz than Tommy LiPuma, whose work as a record producer and executive has earned him an unprecedented 33 Grammy nominations and five statues throughout the course of his 50 years in the business, not to mention the 75 million albums he's sold. His passing in March at the age of 80 has left a hole in the genre that will never be filled.
One of his greatest accomplishments was nurturing the career of Diana Krall, helming the majority of the singer's recorded output. So it's only fitting that his final production credit belongs to Krall's 13th full length, completed mere weeks before his untimely passing.
Turn Up The Quiet is a stunning collection of interpretations of selections from the Great American Songbook by Krall, performed alongside a trio of ensembles featuring longtime sidemen from throughout her career, including guitarists Russell Malone and Marc Ribot, bassists Christian McBride and Tony Garnier and drummers Karriem Riggins and Jeff Hamilton.
LiPuma's gorgeous production injects the singer's breathy renditions of such staples as "Night and Day," "Blue Skies" and "Like Someone In Love" with a vibrancy that helps keep these songs vital even today. This album is a fitting tribute to the genius of a man who has been called the most trusted ears in music as much as it is the enduring pulchritude of jazz music's most beloved ingénue.
9) Matthew Stevens, Preverbal (Ropeadope)
[youtube https://www.youtube.com/watch?v=GoCQ_m55hbk&w=560&h=315]
Were you a fan of the electric guitar that punctuated Esperanza Spalding's acclaimed 2016 LP Emily's D+Evolution? You can thank her guitarist, Toronto's own Matthew Stevens for those meaty Vernon Reid-inspired inflections.
On his great second album as bandleader, the guitar player doubles down on the amplification in a way that envisions Sonny Sharrock's Ask The Ages remixed by Tortoise. If the presence of serious electric rock guitar is something you miss in your jazz music, this is the album that surely has the late Larry Coryell applauding it from the heavens above.
8) Jimmy Greene, Flowers: Beautiful Life, Volume 2 (Mack Avenue)
[youtube https://www.youtube.com/watch?v=z_STZ5zL-90?list=PLgee9wL6UTfeTDJKgYnBo1HiNl7yVhWeb&w=560&h=315]
Tenor sax great Jimmy Greene continues to be a beacon of strength as he channels his grief of losing a child to gun violence into some of the most vibrant, lyrical jazz coming out of America today. Flowers: Beautiful Life, Volume 2 is a gorgeous testament to the vibrancy of his late daughter, 6-year-old Ana Márquez-Greene, which relishes in the playful energy of childhood with the assistance of not one but two phenomenal groups.
One, Jimmy Greene's Love In Action, is a crew featuring Renee Rosnes on both grand piano and Fender Rhodes, bassist John Patitucci and drummer Jeff "Tain" Watts with the help of percussionist Rogerio Boccato and, on three of the six tracks featuring this ensemble, guitarist Mike Moreno.
The other is Greene's quartet comprised of keyboardist Kevin Hays, bassist Ben Williams and drummer Otis Brown III. Both bands do a such an incredible job helping this loving and devoted father provide the kind of music that inspired his daughter to dance, keeping the vibrancy of her beautiful, young spirit alive and well in the hereafter.
7) Linda May Han Oh, Walk Against The Wind (Biophilia)
[bandcamp width=100% height=120 album=3958768367 size=large bgcol=ffffff linkcol=0687f5 tracklist=false artwork=small]
Mimes may be unfortunately relegated to comedic punchline or city-park nuisance. Yet when the age-old art form is done by a true master like the late French actor Marcel Marceau like the time he performed his famed "Walking Against The Wind" sketch, it's literal poetry in motion.
On her gorgeous new album on Biophilia Records, bassist Linda May Han Oh finds inspiration in the graceful frustration of Marceau's performance art masterpiece, utilizing it as a metaphor for her own journey as one of the most respected bassists in modern jazz today.
With the assistance of a mind-blowing quartet rounded out by Kneebody's Ben Wendel on saxophone, guitarist Matthew Stevens and drummer Justin Brown alongside further enhancement from guest spots by innovative keyboardist Fabian Almazan and traditional Korean multi-instrumentalist Minji Park, the bassist delivers an 11-song set that's as much about the art of performance as it is the performance of art with a multi-layered vibrancy that flows through your speakers like a cascading waterfall of creativity.
6) Ralph Towner, My Foolish Heart (ECM)
[youtube https://www.youtube.com/watch?v=PUzl3QsTQL4&w=560&h=315]
For 45 years, Oregon guitarist Ralph Towner has recorded almost exclusively for ECM as a solo artist. In February, the Chehalis, Wash., native released one of his finest LPs for the label with My Foolish Heart, a collection of soothing original compositions for solo classical and 12-string acoustic and highlighted by the Bill Evans title track, a tune that, according to Towner, inspired him to make music.
It's a perfect album to have playing in the background while enjoying dinner with your beloved. At 77 years young, Towner is a national treasure, and there is no better time to hear the pure romance of his genius on guitar than soothing your mind to this gorgeous collection.
5) Dayna Stephens, Gratitude (Contagious Music)
[youtube https://www.youtube.com/watch?v=Rs6QjWVNYSE?list=PLGjlunkN2N-Smz7G2b2CZtfiTvOu9M8Z4&w=560&h=315]
Brooklyn-born, Bay Area-bred saxophonist Dayna Stephens named his eighth LP Gratitude because that's the exact sentiment he felt being able to return to recording new music following a battle against Focal Segmental Glomerulosclerosis, or FSG, a hardening of the blood vessels in the kidneys that can lead to renal failure.
With the help of an amazing quintet rounded out by pianist Brad Mehldau, guitarist Julian Lage, bassist Larry Grenadier and drummer Eric Harland, the dreadlocked reedist strikes a resonant balance between feelings of hope and uncertainly through a beguiling, spiritual set of compositions written by such friends and heroes as Aaron Parks, Rebecca Martin, Billy Strayhorn and Pat Metheny among others.
These are instrumental tunes meant to sing along to, and the joy that emanates through Stephens' performances on both baritone and tenor sax indeed beams with the gratitude of a man whose earned a new lease on life.
4) Charlie Watts, Charlie Watts Meets The Danish Radio Big Band (Impulse!)
[youtube https://www.youtube.com/watch?v=OdNUzOMRpbI?list=PLVwauwdGodaST0wwZ6TtFXDJzbSSikv5V&w=560&h=315]
Perhaps the best kept secret within the universe of the Rolling Stones is the jazz career of Charlie Watts.
If you're the type of person who holds both Duke Ellington's Blues in Orbit and Beggars Banquet in equal regard, chances are you've already dove into the intrepid drummer's modest but masterful cache of titles for both big-band and small-ensemble work, highlighted by such must-own recordings as his 1991 Charlie Parker tribute From One Charlie and 2004's dynamic live LP Watts at Scott's.
This new jazz recording from Watts, culled from a 2010 performance in Copenhagen, Denmark, with the Danish Radio Big Band for the country's national radio broadcast, is one of the great surprises of 2017.
Co-piloted by Watts with his childhood friend Dave Green on bass, the powerful orchestra gives brassy, classy overhauls to such certified Stones classics as "(I Can't Get No) Satisfaction," "Paint It Black" and "You Can't Always Get What You Want" while also paying homage to one of the 76-year-old's biggest heroes with "Elvin Suite" a two-part homage to the late John Coltrane sideman Elvin Jones co-written with Blondie Chaplin and Jim Keltner originally for 2000's Charlie Watts Jim Keltner Project LP.
If you've yet to discover the jazzworks of the best drummer in rock 'n' roll, Charlie Watts Meets The Danish Radio Big Band is a great place to start your education.
3) Charnett Moffett, Music From Our Soul (Motema Music)
[youtube https://www.youtube.com/watch?v=2Xo4sCMg3Ro&w=560&h=315]
If you were hip to the vastly underrated era of jazz during the late '80s and early '90s, you are well aware of the period's hottest young prospect on the bass in Charnett Moffett, who in the infancy of his career found him blessed with tenures at the side of such giants as Ornette Coleman, Art Blakey, McCoy Tyner and Sonny Sharrock.
Now, on the 30th anniversary of his classic Blue Note debut Net Man, the New York City-born musician brings together an all-star squad of fellow Reagan/Bush-era vets for his wildly diverse debut on the Motema Music label.
But while the combo of guitarist Stanley Jordan, pianist Cyrus Chestnut and drummers Jeff "Tain" Watts and Victor Lewis is impressive in and of itself, it's the increasingly rare studio presence of sax legend Pharoah Sanders that makes Music From Our Soul such a wonder to behold; the former Coltrane Quintet co-captain leads these renowned modern jazz journeymen into the promised land like a hard-bop Gandalf.
2) Jaimie Branch, Fly Or Die (International Anthem Recording Co.)
[bandcamp width=100% height=120 album=21123771 size=large bgcol=ffffff linkcol=0687f5 tracklist=false artwork=small]
The beauty of jazz is its unabashed blindness to age, race, color or gender. It's all in how well you can play the instrument that's chosen you to be its master.
For the last few years, Long Island-born trumpeter Jaimie Branch has been defying all preconceived notions with every move she makes. Back in New York City now after many years lightning up the Windy City underground jazz circuit, her hard work has finally cumulated in Fly Or Die, her long-overdue debut LP that cobbles together all of her experiences in the worlds of hip-hop, the avant-garde, noise rock, classical and indie rock into one seamless skronk of freeform beauty.
Enhanced by the support of an utterly unique ensemble rounded out by cellist Tomeka Reid, bassist Jason Ajemian, Chad Taylor of the Chicago Underground on drums along with special guests Matt Schneider on guitar and the twin towers of jazz cornet Ben Lamar Gay and Josh Berman, Fly Or Die is a brilliant launchpad for the shape of Jaimie's jazz to come as she quickly re-establishes her as a vital force within her old hometown digs.
1) Jamie Saft, Steve Swallow, and Bobby Previte with Iggy Pop, Loneliness Road (RareNoise)
[youtube https://www.youtube.com/watch?v=TY0huZRQbuU&w=560&h=315]
For many years, Kerhonkson, N.Y., has been known mostly for its affordable getaway resorts and endless acres of state property prime for deer hunting. These days, however, the sprawling Ulster County mountain town has become a destination residence for some of the most creative minds in modern music.
One of which is veteran jazz pianist Jamie Saft, who in his three decades in active duty has done everything from translate the Bob Dylan songbook for creative bop to reinventing the relationship between his art and dub reggae to collaborating with a palate of acts ranging from Bad Brains to the Beastie Boys to Mike Patton to the B52's to most recently Garth Hudson of The Band.
But in recent years, Saft's most rewarding work exists in the trio he's established with legendary ECM bassist Steve Swallow and multifaceted percussion guru Bobby Previte.
Loneliness Road is the second album by this group, and the singularity by which these men converse on their respective instruments with one another illuminates a new shade of color to the art of the trio that falls somewhere between the elegance of Bill Evans and the ecstatic urgency of Alice Coltrane.
But it's the unlikely presence of Iggy Pop, who channels his well-deep baritone through his love for Frank Sinatra's In The Wee Small Hours on three tracks ("Don't Lose Yourself," "Everyday" and the album's title cut) in a way that will make any fan of the punk godfather's work on such underrated albums of his as Avenue B and Preliminaires swoon while the man born Jim Osterberg rings in age 70 with a perfectly imperfect croon.