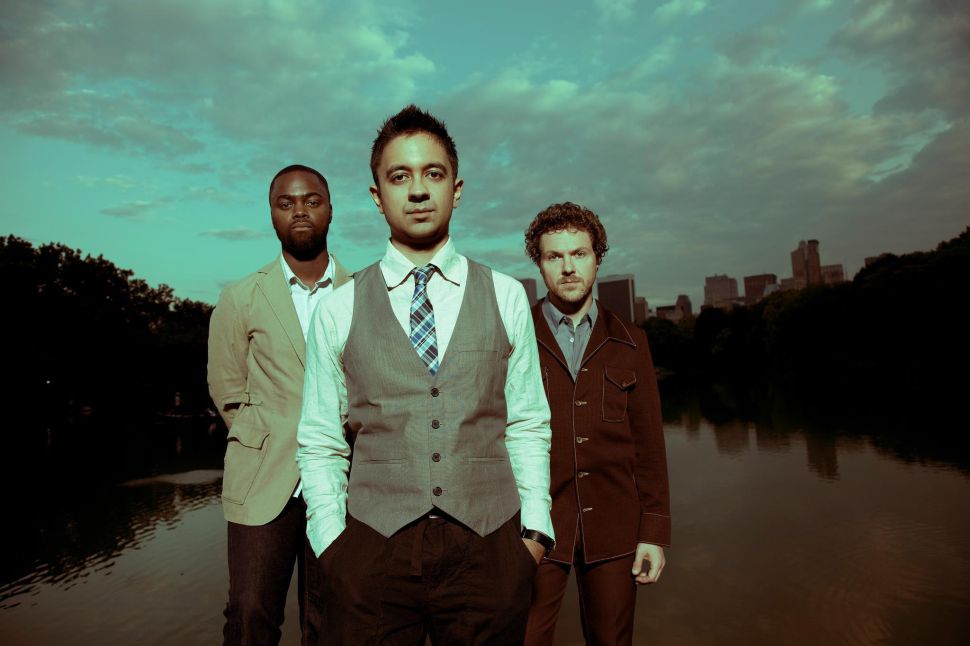 For the die hard jazz fan, the Village Vanguard is Valhalla—a club whose pedigree has been immortalized in the grooves of the classic recordings cut in the room by the likes of John Coltrane, Bill Evans, Sonny Rollins, the Thad Jones/Mel Lewis Orchestra and so many more.
So for a jazz act—especially one as established as New York's Vijay Iyer Trio—there's got to be a feeling of arrival in transitioning from audience member to show headliner, as pianist Iyer, bassist Stephan Crump and drummer Tyshawn Sorey make their long-overdue debut appearance at the venue with a six-night residency from May 9 through May 14.
Meanwhile, pianist Gerald Clayton returns to the Vanguard stage in May as well. He'll be playing songs from his brilliant new album, Tributary Tales, a seamless, spiritual fusion of creativity and cohesion passed down to him from his father, bassist John Clayton and his reedist, uncle Jeff Clayton.
It will be amazing to see what he and his trio, featuring his longtime bassist Joe Sanders and drummer Kendrick Scott, will bring to that iconic stage on May 23.
In honor of the two jazz greats both playing the Village Vanguard in May we spoke with both Mr. Crump and Mr. Clayton about what it feels like to perform at one of the most famous clubs in jazz history.
[youtube https://www.youtube.com/watch?v=BT3CqJihUtY&w=560&h=315]
How does it feel to be playing the Village Vanguard, especially for your first time? It would be interesting to hear from you first, Stephan, especially considering the Vijay Trio doesn't particularly have a new album on the horizon so there must be something freeing about not having anything really you have to promote at this gig. And Gerald, meanwhile, you are playing the show in celebration of Tributary Tales' release, plus this is not your first rodeo on that stage. So it would be great to hear how both of you are approaching your time on that Vanguard stage this month.
Stephan Crump: Well, for us, that's mostly the way our shows go anyway. To whatever degree it is Vijay is thinking about promoting anything specific, it's not usually very perceptible. He just leads us through the sets. And there's no setlist.
Everything's audible, so he just starts and the beauty of having been together for so many years is that there's all this repertoire and shared knowledge and shared history to dip through and reimagine and redefine. So we will be in the middle of one song, and he'll just allude to something on a different stream and then off we go. It always feels very in the moment and alive, regardless of whether we have a new album coming out or not.
Gerald Clayton: We'll certainly be drawing from some of the music on the record…but most of that music draws from the music that we've developed on stage. So there's not a drastically different approach to this gig than any other. Our mission is always to serve the music in the moment with sensitivity and imagination. I'm looking forward to getting another chance to explore with my musical brethren in one of the most important musical venues to ever exist.
At the risk of sounding corny, is it almost like a magical thing to play the Vanguard for you?
Crump: The history of that room is something you cannot ignore, and in a sense I'm awed by it whenever I've been there as an audience member. But, at the same time, it's nothing I would want to focus on to the point of distraction to the task at hand. And that goes for anywhere; it was the same when we played Carnegie Hall, which is related thematically in that sense of arrival and history.
I'm also just curious about how the trio is going to function in that space, because it does have such a particular vibe and such a particular sound, just the acoustic environment there. We've played in a million different types of rooms, but never there, so that's part of my curiosity is exactly how we're gonna set up and how it's gonna feel, because I have no idea how this trio is going to feel in there. But I'm confident we'll figure it out.
Clayton: Magical is a good word. There's an energy in that room that you just can't find anywhere else. All the masters who have graced that stage—you can feel their spirits hovering as you play. There are also not a lot of rooms left that feature week-long engagements. As an audience member, I love being able to come to the Vanguard on a Tuesday or Wednesday and then come back on Sunday and discover how much the music has grown over the week.
[youtube https://www.youtube.com/watch?v=y43jgWvF8rU&w=560&h=315]
For the trio format, how much did the recordings Bill Evans made in both 1961 and 1980 help you arrive at the idea of what a piano trio sounds like on the Vanguard stage? And Gerald, as someone who has played in the trio format on the Vanguard stage before, what was it like for you?
Crump: It's been a really long time since I heard that stuff. I grew up with a lot of Bill Evans spinning in the house, and I spent a lot of time with his music through my 20s and whatnot. To the point, in fact, where it's been a long time since I sought it out to spin, just because I'm trying to investigate some other stuff. But I have a lot of love and respect, of course, for Bill, and one record, You Must Believe In Spring, that's one my dad played a lot growing up.
And I would say in my early 20s, there was probably a period where I was listening to that album multiple times in a day, trying to transcribe it and stuff. And having gone that deep into his music, especially that period where he played the Vanguard in the early '80s, I felt the need to move on from it.
Clayton: Hmm, I don't venture to guess how influences manifest. I will say that those classic recordings are certainly prime examples of the feeling of intimacy that can be reached in a trio format. Something about Bill's sensibility on the instrument, and the sound of the instruments in that room create a beautiful and warm feeling.
I'll actually be bringing a trio to the Vanguard again this time, but since it's a celebration of a new release, we intend on opening up the stage and bringing up some dear friends as well. I feel fortunate to have a great family of like-minded musicians to call on, so whether it's a duo or a sextet, there's a deep sense of love and trust on stage.
[youtube https://www.youtube.com/watch?v=C6gVeEs80TE&w=560&h=315]
What is your personal favorite album cut live at the Village Vanguard and why?
Crump: Nah, sorry…not biting on this one. [Laughs]
Clayton: Wow, that's hard. I think the one that got the most spins for me was Benny Green's Testifyin'. I wore that record out! I can sing every note. The individual and group playing on that record is incredible, and the vibe from the audience is blazing hot! That one's got a special place in my heart.
What was the best show you saw at the Vanguard and why?
Crump: So many great shows, but it was extra special to hear Paul Motian there, shortly before he passed, with my father who was a big fan and had been going out to hear him since the '60s. My pursuit of music is so connected to my dad's love of these masters, his obsession with jazz and his spinning these great albums constantly in our home…so any chance I got to hear the music live with him was very meaningful.
Clayton: Whew, that's even harder to answer—there have been so many. Brian Blade Fellowship, Brad Mehldau trio, Terence Blanchard, Barry Harris, Al Foster, Kurt Rosenwinkel. It's a long list. Pretty much every time I go down those stairs, I come out inspired.
Would you ever consider cutting a live album at the Vanguard? For instance, Gerald, your trio performance on NPR at the club is fantastic—did you ever think about adding some great cover art to it and making it an LP?
Crump: Sure, if they'd have me!
Clayton: It would be a dream come true. I'll be chasing that one for sure.
[youtube https://www.youtube.com/watch?v=U4n8fL5BYMo&w=560&h=315]
Ron Carter, The Blue Note, May 2 to May 7
Ron Carter turns 80 on May 4. And the legendary bassist is celebrating the milestone year by taking over the Blue Note for the first week of May with a rotating cast of old friends and collaborators tailor-made to ring in his eighth decade on Earth in grand style.
Each night is a can't-miss affair, from the opening show's pairing of Carter and guitar master Bill Frisell to the next night's quintet featuring Lenny White on drums and Benny Golson on tenor sax to reuniting with his old Piccolo pal Kenny Barron the evening of his actual birthday right on through to the closing show's trio featuring Russell Malone on guitar and pianist Donald Vega.
The opportunity to catch any of these six performances is an absolute gift to see this genuine national treasure of American music usher in his 80s while still in top form.
[youtube https://www.youtube.com/watch?v=lSC4jQR-3Ko&w=560&h=315]
Long Island-born, Chicago-bred trumpeter Jaimie Branch has been making waves in creative jazz since 2004, especially in the Windy City. But since returning back to New York just recently, the 33-year-old horn player is making a serious splash with the release of her official debut under her own name for the International Anthem imprint, an album she's calling Fly or Die.
Branch will be celebrating the album May 5 release with a show at NUBLU two days earlier with her quartet, rounded out by Tomeka Reid on cello, Jason Ajemian on bass and Chad Taylor of the Chicago Underground Duo on drums, at the top of a killer bill that also includes sets by SOGHOST (solo set by Jason Nazary, drummer for Helado Negro, Bear in Heaven, many more) and the James Brandon Lewis Trio with Luke Stewart and Trae Crudup III with a special guest fourth member in Washington, D.C., guitarist Anthony Pirog, fresh off a recent trio project with the rhythm section of fuckin' FUGAZI.
Branch will also be playing at the end of the month at The Stone on May 30 in collaboration with guitarist Joe Morris and bassist Brandon Lopez.
[youtube https://www.youtube.com/watch?v=ntQ-jLDcDCA&w=560&h=315]
The Andrew Schiller Quintet, Korzo, May 16
A former punk bassist from Phoenix, Ariz., Andrew Schiller has since evolved into one of the most exciting new voices in modern jazz.
That same energy by which he surely bashed out old Ramones and Bad Religion tunes is indeed palpable on the debut LP from his quintet, entitled Tied Together, Not to the Ground, which sounds like it could be the name of a lost Dropkick Murphys song.
Listening to the album, you can hear the jubilance of such West Coast jazz icons as Art Pepper and Gerry Mulligan balanced with the atmospheric landscaping of his mentors Dave Holland and Billy Hart, and it will be quite a treat to see how it all comes together on the concert stage.
The bass player and his group, rounded out by tenor sax men Alec Parker and Hery Paz, pianist Frank Carlberg and Robin Bayatas on drums, will be celebrating the release of the CD with a show at Brooklyn's Korzo on May 16.
[youtube https://www.youtube.com/watch?v=zLBvw50QQ7M&w=560&h=315]
Anat Cohen and Trio Brasileiro, The Jazz Standard, May 16-17
Not since the heyday of Jimmy Guiffre has there been a clarinet player whose redefined the instrument's role in jazz like Israel's Anat Cohen.
Cohen just released a pair of works that delve deep into her love for Brazilian music.
One is a gorgeous tribute to the late Bossa Nova composer Moacir Santos called Outra Coisa: The Music of Moacir Santos with Marcello Goncalves on seven-string guitar.
The other LP, Rosa Dos Ventos, finds her in collaboration with the amazing Trio Brasileiro, comprised of percussionist Alexadre Lora, his brother Douglas on seven-string guitar and Dudu Maia playing a special 10-string bandolin and crafting a distinctive blend of Rio-born Choro music and multi-culture jazz in a way that sounds like nothing else out there.
Cohen and Trio Brasileiro will be celebrating the release of Rosa Dos Ventos with a two-night stand at the Jazz Standard on May 16 and May 17, where they will be ringing in an early summer with their otherworldly swirl unlike anything you've ever heard before.
[youtube https://www.youtube.com/watch?v=CiCR3z6Gs5E&w=560&h=315]
Regina Carter, The Jazz Standard, May 18-21
2017 marks the 100th year since the birth of the mighty, mighty Ella Fitzgerald, undoubtedly the greatest vocal interpreter of jazz who ever sang into a microphone. And violinist Regina Carter has been beautifully translating her heroine's unmistakable scatting skills for strings since she started making records 25 years ago.
With Accentuate the Positive, however, Carter helps Ella ring in a century with a full-length LP dedicated to the music Fitzgerald made so everlasting. With the help of an ensemble comprised of her longtime bassist Chris Lightcap and drummer Alvester Garnett along with Xavier Davis on keys, guitarist Martin Sewell and a slew of guests (including Roots producer Ray Angry, renowned bassist Ben Williams and fellow Detroit native, actress Miche Braden from Law & Order SVU), she breathes new life into such faves as "Crying in the Chapel," "All My Life" and "Undecided."
It will be interesting to see what Ella essentials she brings to the table when she celebrates the singer's centennial with a four-night stand at the Jazz Standard, a happening she's calling "Simply Ella." From the sound of her magnificent tribute album, these shows will surely be simply sublime.
[youtube https://www.youtube.com/watch?v=aGawKeJR1qk&w=560&h=315]
George Mraz Trio, Bohemian National Hall, May 20
Last summer, legendary jazz bassist George Mraz was on the ropes, requiring pancreatic surgery compounded by a heart attack and an eye procedure. But thanks to great doctors and a successful GoFundMe campaign to assist in his recovery, the man who held the line for such giants as Stan Getz, Joe Henderson, Pepper Adams and Chet Baker is back in fighting form and taking the stage once again on May 20th at Bohemian National Hall, where Mraz is throwing a free concert as a thank you to all who helped support him in his time of need.
The show will kick off their European Tour, a remarkable feat that speaks volumes to this incredible bass player's strength as a human being. Mraz will perform with his trio rounded out by wife Camilla on piano and percussionist Anthony Pinciotti for what will surely be a gorgeous display of premium piano trio jazz.
[youtube https://www.youtube.com/watch?v=_gHRVk67KTw?list=PL12546271F24A8C73&w=560&h=315]
Louis Hayes, Dizzy's Club Coca-Cola, May 29-31
Another icon celebrating the big 8-0 in May is drummer Louis Hayes, who has served as the backbone for some of the all-time greats on the Blue Note label during the Alfred Lion heyday, including Grant Green, Curtis Fuller, John Coltrane and Freddie Hubbard among others.
But it was in 1956 when a teenage Hayes cut his first Blue Note platter as a sideman for Horace Silver, and would appear on the hard-bop icon's first four albums for the label: 6 Pieces of Silver from '56, The Stylings of Silver (1957), Finger Poppin' with the Horace Silver Quintet (1959) and Blowin' The Blues Away, also from '59. He also backed him up during his gig at the 1958 Newport Festival as well.
Over 60 years later, in the December of his years, Mr. Hayes rings in 80 with his own Blue Note debut paying homage to the man who first put him on the map.
The drummer will be celebrating the release of Serenade for Horace with a three-night residency at Dizzy's Club Coca-Cola that includes his birthday (May 31), and you would be wise to join him in commemorating a career come full circle.