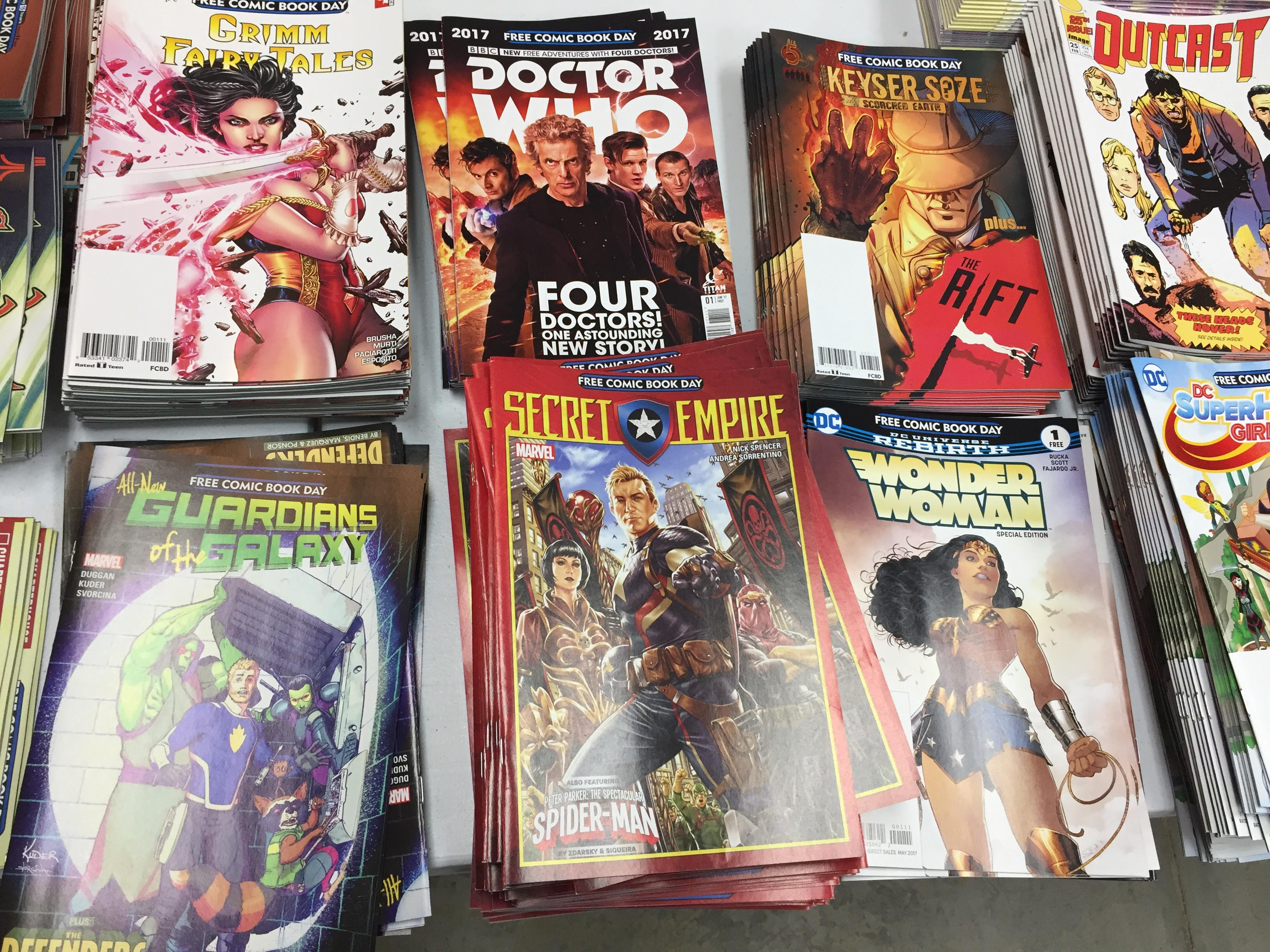 Considered the busiest day of the year in retail circles, Free Comic Book Day was started in 2002 to capitalize off the success of the first Spider-Man film. 15 years later, it's become as certain as death and taxes, with most comic book stores across the nation holding synchronous sales and cosplay contests to raise interest (and dollars) for the comic book industry. But unlike other vendors of print media which have struggled in the face of the internet, boutiques including America's Heroes in Killeen Texas and Midtown Comics in Time Square tell me they've prevailed thanks to the popularity comics have had as collector's items. "Most stores haven't been affected by digital comics" said Armi Lozada from Maximum Comics in Las Vegas. "Digital comics don't have the collectibility of single issue comics that can appreciate in value down the road."
I spent my 2017 Free Comic Book Day, May 6, at Sphinx Comics in Riverside, California. Sphinx is notable for its plentiful selection of trade paperbacks and back issues as well as for being a Deaf-owned and operated business. "We all connect over comics" owner Mikey Marts told me by signing. "A lot of my customers learn some sign language: Fingerspelling, how to say 'thank you' and how to say 'hi.' I grew up reading comics because there wasn't closed captions or subtitles on TV. There was no internet. So you had books and you had comics…And comics were really cool to look at."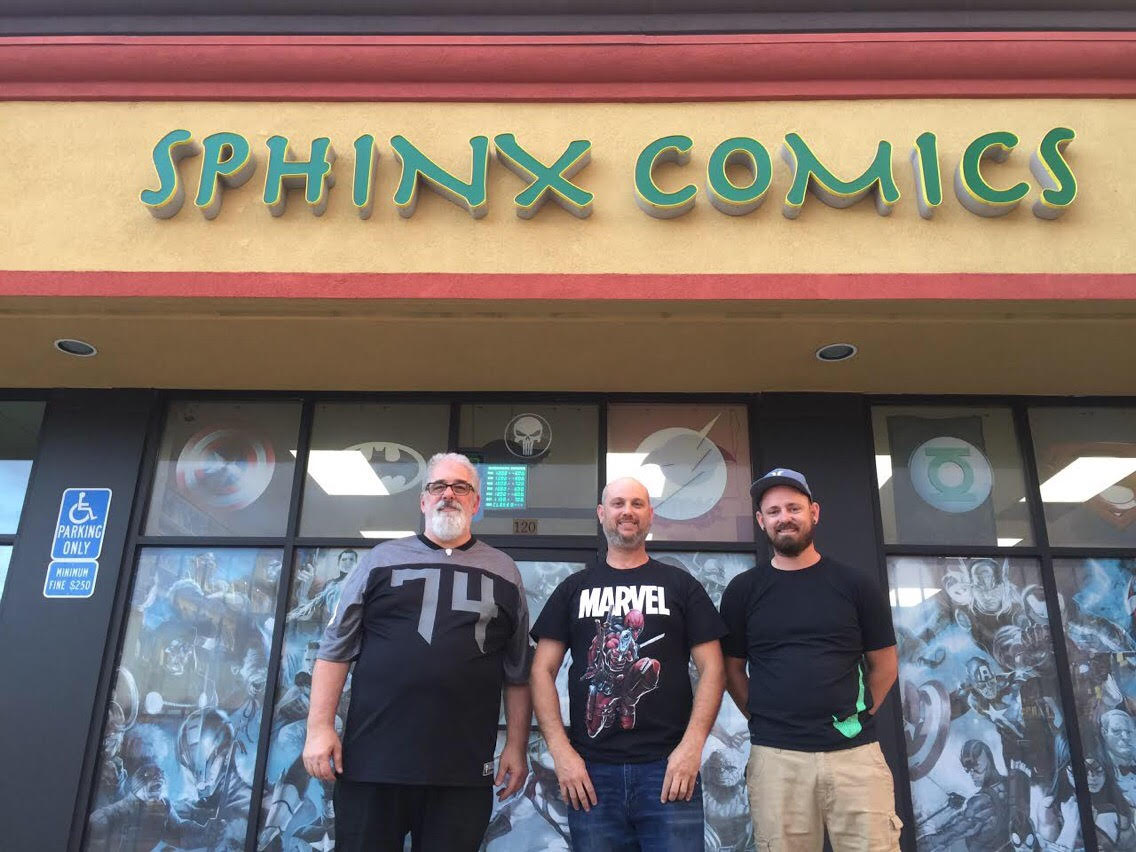 And this year there was plenty to look at, with 50 titles available completely for free. In past years Free Comic Book Day has felt bogged down by TV and movie tie-ins (a 2013 promo for Hulk and the Agents of S.M.A.S.H. felt particularly wooden) but this year bigwig publishers seemed to have collectively taken a more thoughtful approach. While there were free comics starring Wonder Woman and the Guardians of the Galaxy up for grabs both focused on what's been happening on the printed page as opposed to their cinematic exploits. A comic book adaptation of ABC's Fresh Off The Boat cleverly leaned into the comics medium by featuring its protagonist Eddie and his family as superheroes. A reprint of surrealist sci-fi comic The Incal by Alejandro Jodorowsky and Moebius (originally published in 1980) injected an authentic dose of the space opera style which is so often repeated today in movies like Guardians of the Galaxy and the never-ending series of Alien and Star Wars reboots.  
Still, not every book on display was a flawless victory. A preview for Attack on Titan Anthology, described as a collaboration between Titan's Japanese creators and western comics artists, made me wish the creative process had never left the land of the rising sun. Image Comics' multiverse spanning I Hate Image (jotted by Skottie Young in his bouncy blood-soaked style) was a never-ending series of wearying inside jokes sure to leave comics newbie's scratching their heads. Still, for die-hards familiar with books outside the DC/Marvel binary it was a testament to how Image has evolved beyond its muscle 'n' guns 90s beginnings to more thoughtful titles such as Saga and The Walking Dead. Of course, the elephant in the room is Marvel's Secret Empire #1, starring an evil Hydra-loving Captain America. While fairly well executed by writer Nick Spencer, continuing to depict a hero traditionally known for nazi punching as a member of a Nazi-affiliated organization is ill timed in the age of the "alt-right"—especially when one takes into account that Cap was created by two Jewish WWII servicemen, Joe Simon and Jack Kirby.
Canada-based publisher Drawn and Quarterly offered up some of the most moving international content with a thick volume for children including snippets from the Swedish classic Moomin and the Brigands; a quaint fairy tale starring a white hippopotamus/troll and their unwanted house guests. The same comic includes excerpts from cartoonist Elise Gravel's notebook, where she encourages young readers to make comics, including a note that reads, "I give myself the right to fail. To mess up, to create ugly drawings. I'm kind to myself." The tome finishes with Shigeru Mizuki's Kitaro, where messages about class disparity and the struggles of the poor are interwoven boldly into a Japanese ghost story. In a separate Drawn and Quarterly joint, the historical yet intimate Poppies of Iraq oscillates between horror and charm as Brigitte Findakly recounts her childhood living under multiple regime changes in the titular nation.

Overall, this year's Free Comic Book Day was one of the better one's in recent memory. There were still a few toy tie-ins to properties like Barbie and Monster High, but even then the books both earned points for inserting content directed at a more feminine readership. I began Free Comic Book Day expecting the title of this piece to be "Why Free Comic Book Day Sucks in 2017" but was glad to find my preconceptions mostly incorrect. Let's hope Free Comic Book Day gets even smarter going into the future.