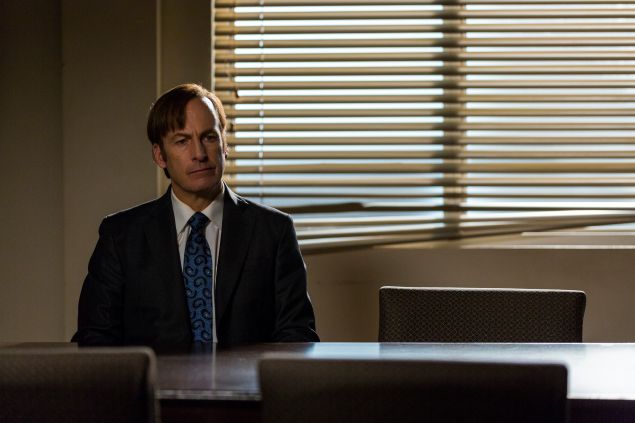 Guess who's back, back again? Huell's back—tell a friend! As if in answer to a hundred thousand corny TV-critic twitter jokes, Huell Babineaux, the taciturn goon with the physique of a sumo wrestler and the sticky fingers of a world-class pickpocket, makes his Better Call Saul debut after earning fan-favorite status in the show's forerunner, Breaking Bad. Actor Lavell Crawford looks good and gets some of the funniest bits in "Chicanery," this week's aptly named episode, from the shit-eating grin he shoots toward the camera after planting a fully charged cellphone battery in the jacket of the psychosomatically ill Chuck McGill, to his to-the-minute stipulation of how long that battery has been on Chuck's person unnoticed. ("An hour and 43 minutes," he states for the record.) And in the absence of Mike, Gus, the Salamanca crew, and so on, this refugee from the Wonderful World of Walter White commands attention.
Which is good! Huell's a funny character, and Crawford's a funny actor. But almost nothing else about this episode was a laughing matter. Occupied almost completely with Jimmy's hearing before the bar, where his fate as a lawyer will be decided, it uses this rigorously regulated environment to reduce his relationship with Chuck to rubble. With the collusion of his business and romantic partner Kim Wexler, whom I swear you can see harden and dessicate from the sheer nastiness of it all before your eyes, Jimmy works to dismantle his big brother in the eyes of his peers, his ex-wife, and the bar—just as hard as Chuck himself worked to undo Jimmy. He doesn't take any pleasure in this, I don't think. Certainly Bob Odenkirk plays him as unhappy, his affect similar to the way he calmly smoked a cigarette on the curb and said Chuck would die alone just prior to his arrest. But he's got to do what he's got to do, and that involves flying Chuck's ex-wife Rebecca into town as part of a plan to introduce Chuck's mental illness into evidence. He then establishes the mental, not physical, nature of that illness beyond a reasonable doubt with help from Huell, whose surreptitious planting of the battery in Chuck's pocket reveals his condition as the delusion it is. It's one of the shittiest things we've ever seen anyone on this show do, and yet it's necessary to undo the equally shitty thing Chuck did to him. And from where I'm sitting, it's riveting.
Yeah, I know that there are viewers who are vocally disinterested in the Chuck vs. Jimmy storyline, because I see them saying so on social media. (To be fair, you can see people say just about anything on social media—get a load of this crank who hates Mad Max: Fury Road, for instance. The nerve of some people!) This is a disinterest I don't share, and understand only insofar as I understand that there will always be an audience segment who dislikes the most prominent non-criminal on any show involving criminals. But by god, Better Call Saul is at least in part about what two damaged, middle-aged brothers do to one another, despite the love they constantly and sincerely profess. When was the last time you saw anything like that on television?
I'm consistently amazed by how well the show, and actors Michael McKean and Bob Odenkirk, handle this particular strain of love-hate relationship—the resentment that comes from being tied to one another like a rat king, unable to permanently break free of one another because they care, driven to new heights of anger and vengeance because of it. Both characters are smooth talkers in their own way—Chuck is a high-class attorney, Jimmy's a confidence man—so the choice of the creators and performers to depict their moments of greatest conflict by making their voices break and crack with rage is a brilliant one. Think of Jimmy screaming like a madman when he breaks in to Chuck's house. Think of Chuck lashing out at Jimmy over his law degree, comparing him to a chimp with a machine gun. Think of the climactic scene of this episode, with Chuck uncontrollably venting a literal lifetime of spite and disgust against his baby brother, near tears as he recalls Jimmy's juvenile betrayal of their hard-working father decades ago. That shit is so real to me, so raw. In each man's voice you can hear the cognitive dissonance: They really do love and care about the person they hate most in the world. How can you live with that? How can you live like that? We're finding out, and it isn't a story with a happy ending.
Director Daniel Sackheim, who helmed this week's equally bleak and brilliant episode of The Leftovers, ends this episode with Chuck staring blankly and helplessly at the exit sign in the hearing room, the one electronic device the accommodating bar association couldn't switch off for his sake. He looks so small, so isolated, a sensation only emphasized by the way the camera first zoomed in on him as he went into full rant mode, then zoomed out as he regained his composure and realized the fool he'd made of himself. It's as fitting an ending as I can imagine. There is no exit.