Welcome to She's the Boss, a column spotlighting kickass businesswomen who are making waves as founders. Each week, we'll chat with a different entrepreneur about herself, her business and her thoughts on the issues and challenges women face in the business world
Pamela Elizabeth was tired of having to search far and wide to find vegan-friendly restaurants, so she opened her own. Then she opened another, then four more and then even a vegan chocolate shop. She had no restaurant or professional cooking experience when she launched one of New York City's first gourmet vegan eateries, Blossom, in 2005, yet she's turned her dream to provide cruelty-free food into an empire.
Now with eight NYC locations ranging from fast food to desserts, a national e-commerce chocolate venture and a cookbook, Elizabeth is helping people eat vegan in restaurants around the city and at home.
We chatted with Elizabeth about her 12 years as a restaurateur and her perspective on being a woman in business.
Can you tell me about your company?
I opened Blossom restaurant in 2005 as a gourmet vegan restaurant in Chelsea because I really wanted to encourage people to think about food differently. For me that means experiencing food that isn't made with any animal products. That led us to open Blossom Cafe on the Upper West Side, and when I did that, going into the cafe aspect of it, it dawned on me that there are no vegan fast food restaurants in the city. I looked at spots like Chipotle and Hale and Hearty and I thought, "why can't this be done vegan?" So that led me to Blossom du Jour in 2010, of which there are now four locations. And then last year I opened Urban Vegan Kitchen, which is also 100 percent vegan and an edgy-type of comfort food. Now I just opened a vegan chocolate shop called Cocoa V, which is also here in Chelsea but ships nationwide too.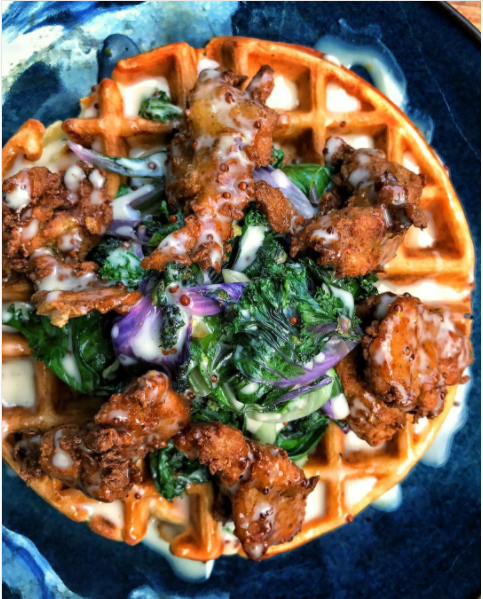 What's your background?
I didn't have any background in the restaurant industry. I was studying theater at different studios and opera privately with Mike Mitchell and thought that was the road I was going to be on. At one point in time I opened my own little theater. But I always wanted to do something to raise animal awareness and so I thought of this vegan restaurant, with the idea really being for a small cafe with just like four tables. And then when my then-partner and I went looking at locations, there was this one beautiful spot in Chelsea, and I knew it. I knew it had to be there, and it turned into this full-blown gourmet restaurant. It really happened like that. I didn't even know how to put a schedule together in a restaurant the night we opened. It was really just a passion to encourage people not to eat animals, and that's what it was and still is.
What kind of issues do you see women in the industry facing?
I think unfortunately some of the same issues women have faced for years and years, like not being looked at as an equal. A lot of times you can feel when you walk in a room. I hate to say it it but, especially in the restaurant industry where it predominantly male-driven. You do feel that energy. At my restaurant, I don't personally because it really is like family at this point after working with the same people for so many years. But I do feel the same issues my mom used to talk about–issues of are you being taken seriously, can you do the same job as a man, can you be as creative?
What can be done to solve this and make business better for women?
I don't go into anything thinking about all that. When an experience like that comes up, I deal with it in the moment. But that's something I don't carry with me although it's there. It's kind of just about doing the best you can do and doing what you do and being creative in your own right. Don't let what other people say to you or pressure put on you bring you down. Just focus and stay with your heart. It might sound corny, but that's really what works for me.
Is there anything you want to add?
I know I said there are a lot of the same issues that have been around for years and years, and I hope they won't still be with us 100 years from now, but I think that there is more respect. I'm thinking about when my mom used to talk about certain things, and I guess it depends on the business. I don't know what goes down on Wall Street or what's happening at Google, but for me, being in theater and shifting over to the restaurant business, I do feel a little bit of the notion that if you can hold your own, the respect comes.