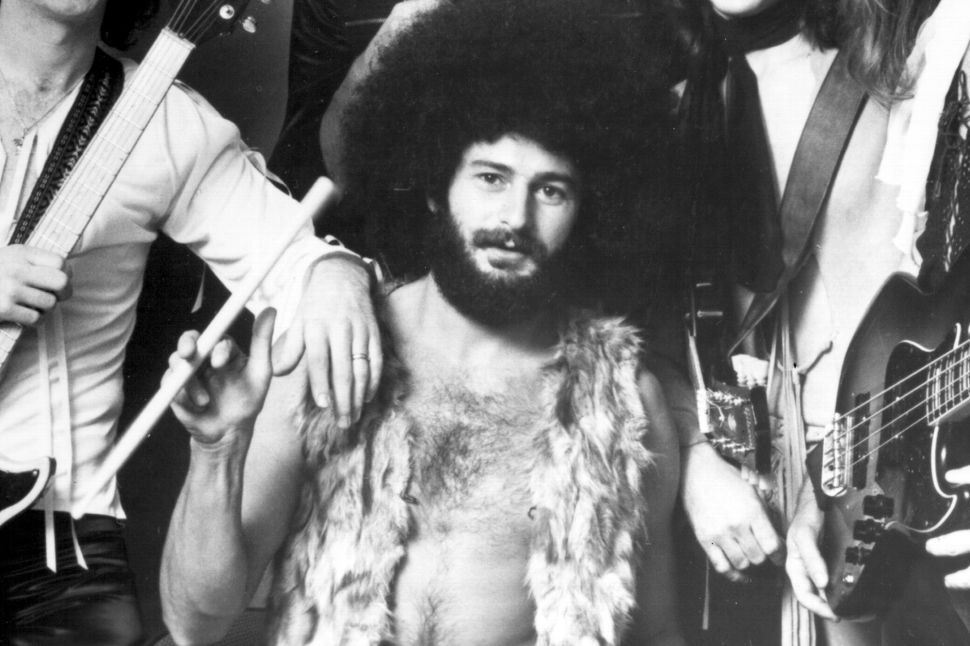 There is a great purity in loving sports without irony.
I wish to love rock 'n' roll the same way, and honor those who do the same.
Many years ago (note: I am at the age when most years are many years ago), I was having a conversation with a friend who was a rock star. Via hard work and honest empathy for his audience, he had tapped into the shimmering, weeping, and whooping prom dreams of the republic. He was selling half a million CDs a week and filling arenas all over the nation.
He was also a sports fan of enormous proportions. When he wasn't on stage he was watching sports events, flying all over the country to attend them, talking about them, playing video games inspired by them, and spending whiskey- and weed-filled evenings with star athletes.
Knowing his deep passion for athletics, one day I asked him a question.
"Would you give it all up, would you give this all up…" I made a sweeping gesture with my left hand, finishing with a slightly effeminate curlicue of my outstretched fingers, indicating the backstage room we were sitting in, the iced Jägermeister on tap, the arena full of expectant fans just outside the door, the luxuriously outfitted tour bus in the parking lot, the high-end hotels with cool, carpeted bars where eager women would await.
"Would you give all this up if you could play one game in the NFL?"
He furrowed his brow. He looked serious. He rubbed his nose, then his chin, then his chest, then his nose again. He adjusted his baseball hat. He played with his beer, moving it slightly without lifting it, as if he might be able to divine the answer from staring at the wet ring the bottle left on the tabletop. He then answered.
"No. No, I wouldn't. I would not give it all up to play one game in the NFL. I would give it all up to play one season in the NFL."
I loved the way he loved sports. It was similar to the way he loved rock 'n' roll, which he had learned to play by inhabiting covers in smoky, shrieking Southern bars, and then playing originals that echoed the joy he had felt when he listened to R.E.M. or Springsteen. It completely lacked cynicism. Whereas I was too old to abandon my cynicism about sports—unlike him, I did not grow up in a part of the country saturated by college and high school athletics, so I had not learned that sports were a form of patriotism, and as inborn as an accent—he infected me with his lack of cynicism about rock 'n' roll.
There is nothing—not censorship, not greed, not poverty—that kills art as surely as irony.
True, there is room in rock 'n' roll for nihilism, for darkness, for anger—in fact, the very greatest artists recognize all of these things as aspects of joy, as different sides of the amazing human ability for multi-dimensional thinking and sentience. But there is very, very little room in rock 'n' roll for irony. This is largely because it is a gift to be able to listen to music, even more of a gift to be able to make it, and it is an absolutely transcendental feeling to find that people can be moved by the music you make.
I thought of all this—my friend's love for crowd-pleasing and emotionally honest rock 'n' roll and his deep love for sports—when I heard recently that Sib Hashian, who drummed with Boston during the early, creatively and commercially incendiary, stage of their career, had died of a heart attack in the middle of a performance with his band Dirty Water.
[youtube https://www.youtube.com/watch?v=4zDR5jmCXOg&w=560&h=315]
See, yesterday's cheers have a very short echo (this is a phrase I picked up from one of my favorite writers, Josh Alan Friedman). From our vantage point in 2017, it's easy to see humor in Sib Hashian's massive Afro, and even easier to mock the Jimmy Carter-era ubiquity of Boston's pomp 'n' perfection pop.
But Mr. Hashian reached the top of a game so very, very many of us have tried to climb; he made music in front of millions, he made music that millions and millions loved, and will continue to love. Whether you love Big Star or Bongzilla or Boston, you probably dreamed that dream, too, even if it was for just a moment (or a year, or a lifetime).
I promise you this: Any musician, even the darkest, even the one who sneers at anything to the right of Swans or Impaled Nazarene, even the ones who seek unlistenable lo-fi solutions to insure that not one person could ever possibly think that they actually wanted to succeed, has dreamed the same dream.
Every musician, even the one who will deny it the most vehemently, has imagined themselves on stage staring out at a field of humans laid out in front of them like winter grass and confetti.
Every single one of them has pretended to scissor kick two and a half feet high at just the right moment in a song so that the red and blue stage lights turn you into the silhouette of a perfect narrow-legged airborne wishbone.
Every musician, every single one of them, has visualized themselves lounging in locker rooms, strewn with hockey gear and waist-deep spa tubs, where arena acts decamp before storming the stage like Cossacks. If there are no atheists in foxholes (as the saying goes), there are no lo-fi dreamers when Cheap Trick's In Color is on the stereo.
So here we cite Phil Ochs, a great sage, a sincere lover of rock 'n' roll, who died almost exactly 41 years ago.
He said (half a decade before he strangled himself in a bathroom in Queens, not knowing that the Ramones were waiting to save him), "You must protest, it is your diamond duty. Ah but in such an ugly time the true protest is beauty."
Rock 'n' roll, even the most anarchic and the most dissonant or the most simple, is built on the infinite harmonics of joy. Even the darkest music has the potential to be ecstatic.
Sincere love for rock 'n' roll, and spreading its gospel despite the collapse of the "industry" that supported it, is a true form of protest. After all, please remember: music hasn't died—just the music business.
So many of us, and so many of you reading this, have created lives and careers in the shadow of the Everest Sib Hashian actually scaled. Every day—even now, well into the 21st century—he could get into a car and hear his music, and know that music that he had helped make had defined a time, had been the soundtrack for so many of our formative memories.
So let us honor, without irony, a man who actually lived our dreams.
And dream on.