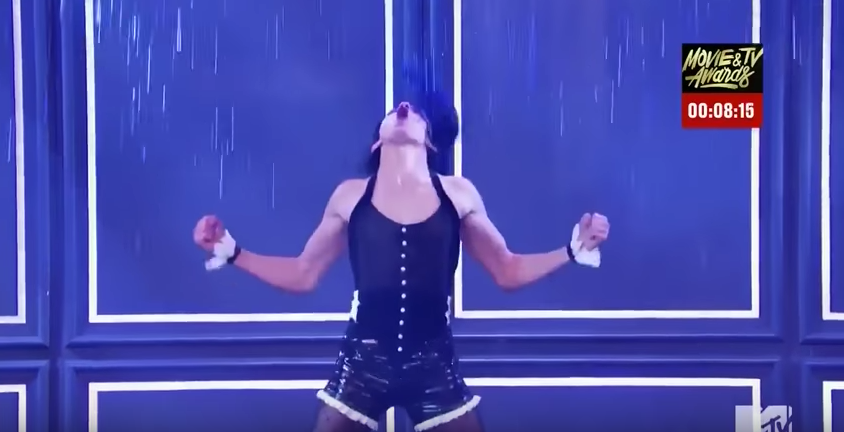 Last night, at the MTV Movie & TV Awards something amazing happened: we finally met our new Spider-Man.
Yes, I know he was already in the last Captain America movie, and we've seen the trailer and posters for Spider-Man: Homecoming. But let's just say last night, Tom Holland came HOME. The tiny British boy who took on the spandex mantel of everyone's favorite web-slinger after Tobey Maguire and Andrew Garfield took on Zendaya in a Lip Sync Battle segment and holy shit did he bring it. Zendaya was amazing, performing "24K Magic" by Bruno Mars, predictably amazing. We all knew she was amazing. Plus, she looked like Bruno Mars to like, an uncanny degree. and not just because they are both small. She was great.
But Tom Holland… Tom Holland was a revelation. He began with a lukewarm rendition of "Singin' In The Rain" before transforming into a black halter-romper, tights, and a black wig to do Rihanna proud with a fully choreographed "Umbrella," complete with break-dancing and featuring his gorgeous, tiny muscled arms.
Lip Sync Battle is objectively bad and kind of boring, and it's annoying that we're supposed to have fun by watching famous people have fun. BUT—and here is the big but—it can give us moments like this, when we learn that the tiny British child that we all knew was a pretty cute, good Spider-Man is actually spectacular. 
Unfortunately though, as good as Holland was, he still doesn't hold the title for best Peter Parker dance routine.