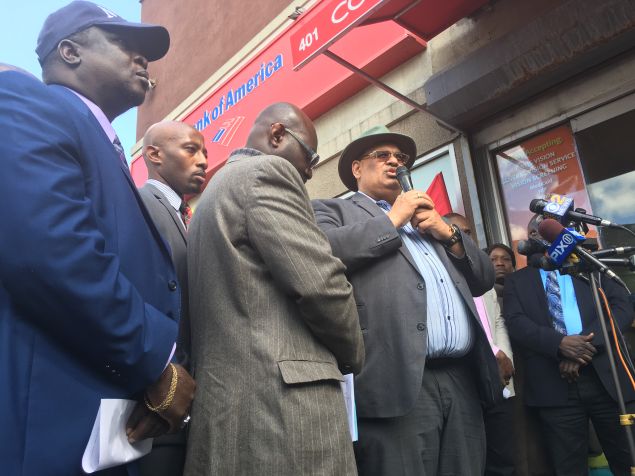 Bronx residents, community leaders of African descent, elected officials and other advocates rallied in support of a street vendor from the nation of Burkina Faso who was brutally attacked by five young men last week.
Souleymane Porgo, a 53-year-old Bronx resident and native of the West African country, is still in critical condition from the beating sustained last Tuesday, according to the Daily Mail. The NYPD identified 21-year-old William Burgess and 18-year-old Enrique Foote as two of the suspects, and announced it had apprehended Burgess this afternoon.
The assault began after Porgo attempted to stop one of the attackers from stealing a purse from his table.
"Latino, African-American, African, Caucasian, Arab, any human being," said Bourema Naimbele, co-founder of the Muslim and Immigrant Coalition for Justice. "This is something we all have to come together to combat, Muslim or not Muslim. So we want everybody to know this is not about African, this is about human beings. When you watch what happened, you could know this is something that shouldn't happen to anybody."
Naimbele, a native of Mali, said that the purpose of the rally was to have people come together to stop violence "in our own neighborhood" because "this is not something anyone, anybody, anywhere should accept."
According to the Muslim and Immigrant Coalition for Justice, Porgo's wife and two toddler daughters witnessed the attack, which occurred on the corner of 149th Street and 3rd Avenue, a key commercial hub in the Bronx. The immigrant vendor sustained a broken jaw and fractured skull, among other injuries.
Samira Zibongo, a family friend of Porgo's who has known him since she was a child, started a GoFundMe campaign—which, so far, has raised $18,141 over the $10,000 goal—to help him and his family. She became emotional and teared up as she spoke about him.
"I used to go to school not too far from here and right along this street, I used to walk and he used to see me," Zibongo said. "He used to see me, he used to see me, he used to see my head always in a book and he sells a lot of books so he'd see me, he used to always give me free books, feeding my knowledge to learn. So when I see the video, it just broke my heart."
The rally drew about 100 people, including a number of immigrants of Burkinabe descent, as well as representatives of Bronx Borough President Ruben Diaz, Jr.'s African Advisory Council and the nonprofit African Communities Together.
Hawk Newsome, president of Black Lives Matter of Greater New York, said that "community is what we need" and that "black lives matter" is not just about criminal justice in policing but about empowering black communities.
"How do you empower the black community?" Newsome said. "Through unity. There's no reason that black people can stand around and see another one of our brothers attacked and not do anything about that. That's a lack of community, that's a lack of caring, that's a lack of God."
Sean Basinski, director of the Street Vendor Project, said that his GoFundMe campaign—which has raised $23,378 over the $3,000 goal—and Sibango's GoFundMe campaign have raised more than $40,000 combined from people from the community "who care."
He also said that SVP will create a $5,000 fund for the family for any information leading to the arrest of the criminals and that they would work with the police on that as well as logistics. He said that he's still waiting to hear back from the detective in charge of the case, who he called yesterday.
"We know that when the police are called on the vendors, the police come right away and give vendors tickets and treat it like a very serious crime," Basinski said. "I hope that the police will treat this crime much more seriously because it's much more serious."
Bronx Councilman Rafael Salamanca, who represents the area, asserted Mayor Bill de Blasio and Police Commissioner James O'Neill need to start paying more attention to the South Bronx. He said that when he called the 40th Precinct to inquire about foot patrol in the area, he was told that there are vacancies in the precinct.
"I wrote a letter last week to Commissioner O'Neill requesting that we get more officers here at the 3rd Avenue hub," Salamanca said. "This specific location in the 3rd Avenue hub is the second location with the most foot traffic after Times Square and I find it unnecessary and unacceptable that we do not have adequate police officers here patrolling our streets."
Bronx Councilwoman Vanessa Gibson said that the issue hits close to home for her.
"We must lift him up in prayer: that God will bring him strength and God will bring him healing and God will bring him restoration because we know that while this happened to one of our brothers, it could have been any of us," Gibson said. "And I also take this deeply personal because I represent many of the families from West Africa, but also my uncle is a street vendor as well."
Updated to reflect Burgess's arrest.