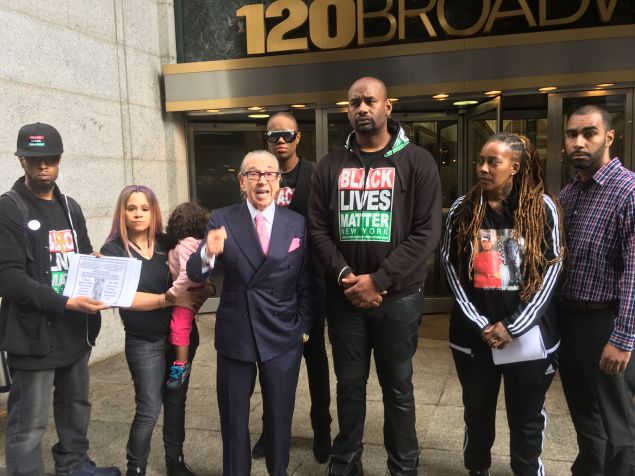 Black Lives Matter activists rallied outside New York Attorney General Eric Schneiderman's office on Friday with the family of a 36-year-old Bronx resident who died in police custody in Schenectady earlier this month to call on the prosecutor to investigate the circumstances of the man's death.
Police said Andrew Kearse had gone to visit a friend in the upstate city on May 11 when officers stopped him because he was driving aimlessly, the New York Daily News reported. Official reports allege he exited his car and attempted unsuccessfully to flee—then, on the way to the police station, he became dizzy and had trouble breathing and later died at the hospital.
Hawk Newsome, president of Black Lives Matter of Greater New York, said that it has been "almost two weeks now" that Kearse has been dead and the family "has received no information."
"They've called, I've called both the medical examiners as well as the inspectors who are handling this case and no answers have been given to us," Newsome said. "We are here to demand justice but right now what this family needs is answers. So in order for this case to be properly investigated, we demand that the attorney general take control of this case."
Schenectady Mayor Gary McCarthy attributed his death to a "medical problem," but his family and activists say they want more answers about what took place on the way to the police station. Gov. Andrew Cuomo's state police are currently investigating.
The family and activists are requesting the body camera and surveillance footage, as well as the autopsy and toxicology reports from the Schenectady Police Department.
Newsome noted that the Federal Bureau of Investigation and the U.S. Department of Justice had probed the Schenectady Police Department over allegations of civil rights abuses, criminal conduct and excessive force. The department had to undergo federal monitoring from 2003 to 2013.
"It's very important to note that the Schenectady Police Department has been investigated by the United States government because of racial profiling and also because of biased practices," he continued.
In 2015, Cuomo signed an executive order making Schneiderman the special prosecutor where law enforcement kills a civilian under questionable circumstances.
In July 2016—following an off-duty police officer's killing of an unarmed African-American man in Brooklyn after video emerged of the fatal encounter—he expanded the purview of the executive order to grant Schneiderman prosecutorial power "any and all unlawful acts or omissions or alleged unlawful acts or omissions by any law enforcement officer relating to the death of Delrawn Small." The original draft only dealt with cases in which an officer killed an unarmed individual, or where it was unclear whether the deceased had a weapon.
A little more than a week after Kearse's death, Black Lives Matter of Greater New York hosted a candlelight prayer vigil for Kearse in the Bronx.
Kearse's wife Angelique Negroni-Kearse said the family only wants justice, and urged Schneiderman to investigate. His mother was also in attendance.
"He was a son, a brother, a grandfather and a husband and I want you to get us action and justice," she said.
The family's lawyer, Sanford Rubenstein, said that the public does not have "confidence and trust" in local police and the local district attorney to investigate and prosecute—if appropriate—wrongdoing.
"Therefore the attorney general must come in as an independent prosecutor, take over the investigation, not just be an adviser, take over the investigation and convene a grand jury if it is appropriate," he said. "The family is united in calling for the attorney general to investigate this death while Andrew Kearse was in police custody."
Rubenstein is well-known in legal circles for his closeness to the Rev. Al Sharpton. He served briefly as attorney for the family of Eric Garner, the black man who died in an NYPD officer's chokehold in 2014—but the deceased's mother let the lawyer go after a woman accused him of rape months later.
Rubenstein never faced formal charges.
Jorge Vazquez, an attorney and candidate for the seat of term-limited Manhattan Councilwoman Rosie Mendez, called it an "avoidable tragedy" and demanded greater transparency. Like Newsome, he pointed to the department's history of abuses.
"We need to find out what's going on," Vazquez said. "Article 13, Section 1 was signed by Governor Cuomo almost three years ago and within three years, there's only been one prosecution of the wrongful death of police. Something needs to be done."
He said that Schenectady has been "known to recruit New York City residents to live there."
"Just within the last 10 years, we have busloads that were coming into our city to advocate for people to go to Schenectady," he continued. "It's crucial that when you have an unarmed civilian who dies at the arms of police, that an investigation by someone who doesn't work there is done. We need the attorney general to stand up."
Kamla Millwood, communications director for Black Lives Matter of Greater New York, said that there is "no accountability" for people who die in police custody, and insisted that they're "not looking away" or ignoring it "anymore."
"We're here to say black lives matter, brown lives do matter and we're not gonna remain silent," Millwood said. "As long as this continues to happen, we will continue fighting for those who have no voice, continue to be the voice for the voiceless. We're here to demand an investigation into this and we're not going to stop until we get that."