Yesterday's Manchester Arena bombing in England cast a pall on Cannes today, where paramilitary security has already been acutely pervasive since the festival started last Wednesday. Before the 11 am premiere screening of 24 Frames, the final film by Iranian Palme d'Or winner Abbas Kiarostami (who died last July of cancer at age 76), Cannes director Thierry Frémaux took to the stage and delivered a message of solidarity.
"This is yet another attack on culture, youth, and joyfulness, on our freedom, generosity and tolerance, all things that the festival and those who make it possible—the artists, professionals and spectators—hold dear," he said, in a statement later e-mailed to the press corps. Frémaux also called for a moment of silence at 3 pm in remembrance of the 22 people killed and scores wounded by the ISIS attack.
Terrorism has long been a specter at Cannes, especially when the festival officially implemented bag checks in 2002 after the September 11 attacks. But this year, metal detectors have joined hand-held scanning wands at the dozen or so checkpoints going into the Palais des Festivals, the main convention center where the majority of screenings take place. Now, nearly every trip to the movies requires the clearance equivalent of boarding an airplane. Delays are almost de rigueur.
Concrete planters holding small trees and shrubbery are being used to cordon off traffic from the main parts of the Croisette, the coastal thoroughfare separating the beach from the edge of town which runs right in front of the Palais. And a dozen or so police vans are a permanent fixture just yards from where every gala premiere has its glamorous red carpet walks. Militarized cops are omnipresent, as are desperate civilians pleading at passersby for an extra ticket. The contrast is hilariously jarring: black-tie cineastes hold beggar signs alongside camouflaged policeman cradling submachine guns.
There was even a bomb scare over the weekend. Last Saturday's 7:30 pm press screening of Redoubtable, a cheeky biopic of Jean-Luc Godard written and directed by Oscar-winner Michel Hazanavicius (The Artist), was 45 minutes late due to an unattended bag found in the Debussy theater.  That venue requires attendees to wait on line in outdoor corrals that flank the entry stairs. And for that highly anticipated film, about France's most revolutionary director, people had been waiting up to two hours in the hot sun. So few people budged when they were told to stand far back from the entrance—it took armed police to push the stubborn critics out of harm's way.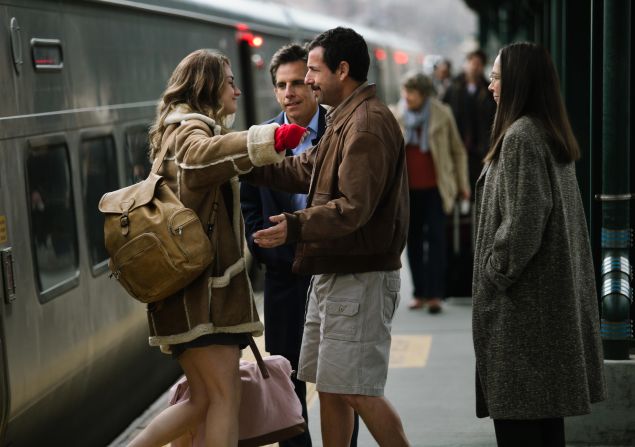 No surprise, then, that Noah Baumbach's caustic comedy, The Meyerowitz Stories (New and Selected), was received with grateful laughter when it debuted on Sunday morning.  The brittle but hilarious film takes a bemused look at Harold Meyerowitz (Dustin Hoffman), a domineering patriarch sculptor haunted by his minor status in the art world who has chronically neglected his three now-grown children: househusband Danny (Adam Sandler), successful accountant Matthew (Ben Stiller), and glum corporate drone Jean (Elizabeth Marvel).
The kids, the product of different marriages, have their own overwhelming insecurities and rocky personal relationships, all of which stem from their father's careless brand of affection. And when Harold takes ill, the trio is jolted into re-examining the very nature of family. As with many of Baumbach's films, the laughs come from watching the foibles of characters who veer from being grating to just downright loathsome. But as The Meyerowitz Stories unfolds, the film takes on a generous empathy towards its subjects, letting them mature and open up in some of the most unexpected ways.
At the film's press conference, the cast was in giddy form, cracking jokes and playfully heckling the crowd.
"Congratulations on your movie," said a Norwegian journalist. "It was really…interesting."
"That's not a good word," said Hoffman with a smile.
"It's the best word!" she replied. "You get endless conversations."
"You really didn't like it, did you?" joked Hoffman.
An Argentine reporter who shares Hoffman's name said, "Many people in Argentina ask if we are related, and of course I say, 'Yes.'"
"You dated his mother," murmured Baumbach to his star.
"Can you turn sideways?" replied Hoffman. "I just want to look at your nose."
"It was that press tour 25 years ago," Stiller riffed playfully. "I think it was Hook."
But the best quips came from Emma Thompson, who plays a small but memorable role as Harold's chronically inebriated third wife and who was initially intimidated by the challenge of playing an American convincingly.
"I'm going to play an American, which is quite hard, but I have to play an alcoholic, which isn't hard at all," she said, laughing. "Well, I'll be able to relax playing the American, because being drunk will make it so much easier."
The moderator pointed to the plastic bottles of San Pellegrino on the table. "Sorry, this is water we're having today."
"Not in mine, darling," deadpanned Thompson. "But anyway, that's your problem."