Never let it be said the French are prudes: the TMI opening shot of François Ozon's ridonkulous new erotic thriller L'Amant Double is a slow-zoom, OB-GYN's view into a woman's vagin. (If only the rest of the film were as penetrating.)
Symmetrical shots frame this superficial but delightfully heavy-breathing mirror-image psychodrama about a woman sexually obsessed with her husband's secret dopplegänger. Cue the medical talk about fetal resorption and cannibal twins, plus kinky pegging fantasies, hate-fucking, and pussies galore (like, literally: cats are constantly prowling around voyeuristically, not to mention all the close encounters with taxidermied pets and feline brooch pins.)
Ozon's outré fever dream is a bona-fide outlier compared with the rest of Cannes' relatively staid competition lineup. Sure, Ruben Östlund's terrific art-world satire The Square has an abundance of squirm-worthy moments, but they generally stem from social-etiquette confrontations involving a pretentious museum director (dashing Danish actor Claes Bang) whose pseudo-intellectual bravado is just a cover for bourgeois cowardice.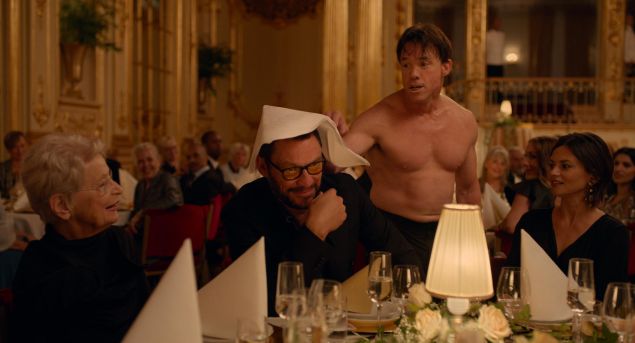 Then again, one sex scene where co-star Elisabeth Moss cowgirl-straddles Bang is mostly hilarious because she has an unexplained primate hanging out in the room next door. (Speaking of monkeying around, mo-cap genius Terry Notary, a major reason why Hollywood's Planet of the Apes reboots look so uncanny, makes a sensational appearance as a shirtless, simian-inspired performance artist who terrorizes a roomful of moneyed museum patrons at a benefit dinner)
And two-time Palme d'Or winner Austrian Michael Haneke, a reliably highbrow navigator of sadism, masochism, secret surveillance, and murder, didn't quite match his own dizzying standards with Happy End, a summary of all his favorite themes that still didn't quite gel—despite a homicidal tweener and her death-wish grandpa.
Still, it's thrilling to see a septuagenarian make a vigorous drama that includes live-streaming murders, kinky e-mails about anal sex and a karaoke routine featuring Sia's "Chandelier."
"If it's material that's interesting, it's never hard," said Clint Eastwood at a capacity-crowd masterclass earlier this week. The silver-screen icon, revered by the French for his films, turns 87 at the end of the month. And, despite his conservative politics, the rapt audience queued up to two hours beforehand and overflowed from the top floor theater all the way down two flights of stairs in the Palais des Festivals.
Why does Eastwood get a P.C. pass from the Europeans? Maybe it's the fact that Eastwood has been making bold creative choices his entire life—whether it be headlining in the fascistic bang-bang fantasies of 1971's Dirty Harry ("It's just a kid's dream") or adapting, directing, and co-starring (with Meryl Streep) in the swoony 1995 woman's picture The Bridges of Madison County ("Yeah, it was fun, It was good.").
The best advice he gave was as direct and uncomplicated as the man himself. "I just enjoy working," he said. "The more you work, the better it is. Just do it. If you don't enjoy it, do something else." Proving Eastwood's work ethos this week are a couple of Americans who brought their A-game—and both are young directors just hitting their strides.
After having two films in Cannes sidebar series over the past few years, Josh and Benny Safdie made their main competition debut with the electric Good Time. The deliciously tense, deliriously atmospheric thriller stars a grungy, Queens-accented Connie (Robert Pattinson, reeking desperation with spectacular aplomb) who goads his mentally handicapped brother Nick (Benny Safdie, pulling double-duty on both sides of the camera) into a bank robbery.
The job goes sideways, of course: Connie escapes, but Nick gets sent to Riker's Island. And over next 12 hours, Connie sprints his way through a gauntlet of bad decisions. His nocturnal odyssey is a day-glo nightmare of hospitals, amusement rides, borrowed cell phones, bloody confrontations, mistaken identities, and a Sprite bottle full of liquid LSD. A freaky nail-biter set to a throbbing electronic score, Good Time is one of the most thrilling movies to pay Cannes this year (A24 is releasing it stateside on August 11).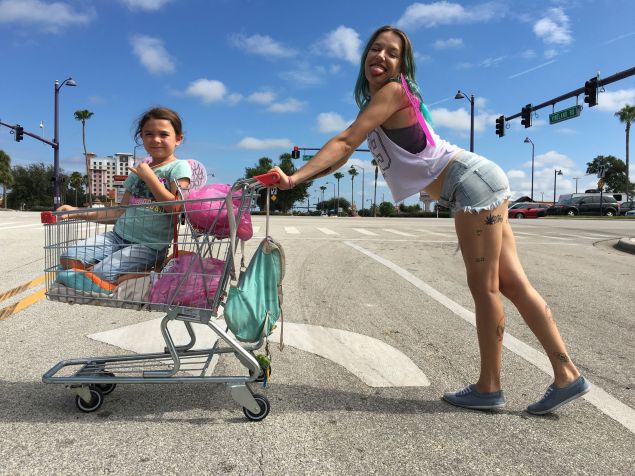 But then there's The Florida Project. Sean Baker's follow-up to his sassy transgender comedy Tangerine didn't make it into the official selection, landing instead in the Director's Fortnight sidebar selection down the street from the Palais. But boy, is it outshining all the others. Six-year-old Moonee (breakout actor Brooklynn Prince) and her flashy-trashy mom Halley (Bria Vinaite) live their fringe lives in a cheap but well-tended Orlando motel called the Magic Inn, just down the road from Disney World. The whole film is told through the eyes of Moonee, the ringleader of a spunky kid's crew that plays like a feral version of Our Gang—whether they're hustling strangers for ice cream money, spitting on car windshields or stomping through derelict condos.
In lesser hands, the conceit would fall apart like wet tissue paper, a gloomy po'sploitation pic of pathetic castaways suffering on the fringes of society. But Baker envelops the agony with a defiantly joyous joie de vivre that's as radiant as the Sunshine State. And yet. The seams begin to show as the movie progresses, with behavior that gets more and more desperate—and energy that gets more and more manic—until the whole experience turns suddenly heart-wrenching. The Florida Project heralds Baker as a major talent, someone whose alchemic combination of gutter flamboyance and universal pathos is breathtaking.