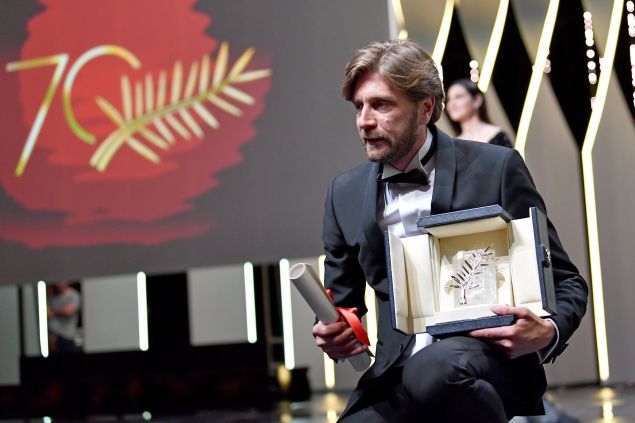 It's one thing to get awarded for a movie. But for four, all at the same time? Over the past week, the Cannes Film Festival has been showering much amour on Nicole Kidman for her appearances in a quartet of films: The Beguiled, The Killing of a Sacred Deer, How to Talk to Girls at Parties, and Top of the Lake: China Girl. But Jury President Pedro Almodóvar made it official on Sunday night at the closing ceremony when he and his jury presented her with a special 70th Anniversary Prize recognizing her contributions.
"I'm just absolutely devastated to not be with you tonight, but I'm thrilled to be receiving this award," said Kidman in a videotaped iPhone message sent from her home in Nashville, Tennessee. "The whole experience of last week feels like a dream, actually. So this is a lovely way to still come back to the dream."
Tant pis that Kidman wasn't on the Riviera anymore. One of the quirks of Cannes is that some of the talent has already packed their bags and left before the prizes are handed out (This year's Best Director winner was The Beguiled helmer Sofia Coppola, who couldn't be there in person either).
Joaquin Phoenix was present, though, despite the fact that his new film is called You Were Never Really Here. Lynne Ramsay's riveting pitch-black thriller, about a deeply troubled vet-turned-hitman, won him the prize for Best Actor. And thankfully Phoenix hadn't flown out of the Nice airport yet—although his luggage had. "This is totally unexpected, as you can see from my shoes," he said, visibly stunned as he approached the dais in a black-tie tuxedo and (jarringly) blue Converse sneakers. "I'm sorry. I don't wear leather and my shoes were sent home on the plane."
The dearth of Hollywood star power didn't bother Russian director Andrey Zvyagintsev—and not because he's above such superficialities. The Oscar-winning director of Leviathan, who took home the Jury Prize for Loveless, his devastating look at corrosive family life in post-Soviet society, was, hilariously, just thrilled to be on the same stage as the Fresh Prince of Bel-Air. "And of course a big thank you to all the members of jury," he said. "Especially Mr. Will Smith, who actually exists in real life!"
Cannes' top prize, the Palme d'Or, went to Ruben Östlund's delightfully awkward comedy The Square, his 142-minute acidic skewering of the modern art world's propensity for pomposity amid real-world social inequality. Östlund praised his cast and crew for everyone's contributions to the film, which at times revels in surreal flair. He even gave a shout-out to one of his producers, Philippe Bober, for his incisive editing-room comments. "You wrote a note that was, 'I think the monkey is overacting,'" he said. And before he left the stage, the energetic Östlund led the audience in a "primal scream of happiness."
Best Screenplay was a tie, going to Yorgos Lanthimos and Efthimis Filippou for The Killing of a Sacred Deer; and Lynne Ramsay for You Were Never Really Here. The latter was a surprise to the international media, since the film had its public premiere on the very last day of the festival (after most of the press corps had left), and had just barely been finished in time (the version shown in Cannes didn't even had end credits yet—just a black screen accompanied by composer Johnny Greenwood's arresting film score).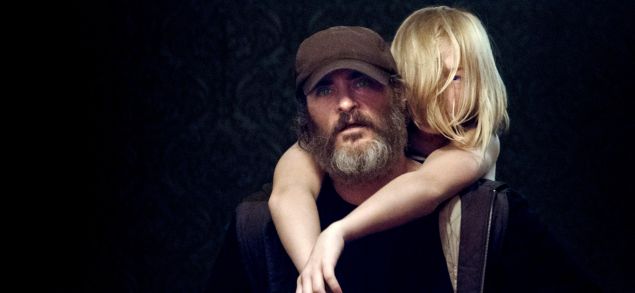 "We were finishing the movie 5 days ago," said Ramsay when she accepted her prize. "I was mixing last week." Those few journalists who hadn't left Cannes yet were thrilled that she had made it in under the wire. You Were Never Really Here is a lean, harrowing, 85-minute genre gem, with fitfully abstract editing that gives the fractured protagonist a jagged past and an even more dangerously unstable state of mind. Amazon Studios will be releasing the film in the U.S. later this year, and the critical accolades will only accelerate over the next few months.
The most gratifying wins, though, were the prizes given to films that addressed social anxieties in pointedly emotional ways. The runner-up Grand Prix award went to BPM (Beats Per Minute), Robin Campillo's electrifying early-'90s AIDS history chronicling the early days of Act Up Paris and its guerilla tactics against the pharmaceutical companies as well as indifferent government officials—an ode to an ongoing—and still relevant—culture of protest and activism.
And Diane Kruger won the award for Best Actress, in Fatih Akin's searing suicide bomber drama In the Fade, in which she stars (in her first lead role in a German-language film) as a woman whose life is ripped apart by an extremist group's explosion. The film, a conventionally made picture that some wags derided as being too mainstream to have earned a competition berth, unfolds with a quiet rage that never loses it sense of heartfelt despair. "I cannot accept this award," said the visibly moved Kruger, "without thinking about anyone who has ever been affected by an act of terrorism and who's trying to pick up the pieces and go on living after having lost everything."