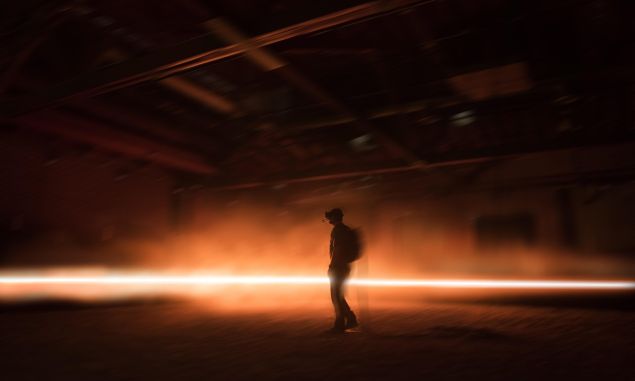 The President of the United States isn't in Cannes, but Donald J. Trump is on everyone's minds. And he might as well be Voldemort, as far as Spike Lee is concerned. "I don't use that word," he told me about America's own version of He-Who-Must-Not-Be-Named. "Agent Orange, that's what I call him."
Lee is being fêted here for his 30-year collaboration with actor-writer Roger Guenveur Smith, a creative partnership most recently manifested in Lee's latest film, the performance documentary Rodney King. A cinematic record of Smith's galvanizing one-man spoken-word performance piece which debuted on Netflix last month, Rodney King is a gut-wrenching, devastating and utterly vibrant re-appraisal of the man famously caught on videotape being savagely beaten by the LAPD on March 3, 1991—an incident that led to the officers' shocking acquittal and sparked the 1992 L.A. riots.
The 25th anniversary of that turmoil—and the fact that videotaped police brutality is now so endemic—was the catalyst for Smith and Lee to make their film version. "Roger had been doing this show for five years," said Lee. "And then he asked me, 'Do you want to do it?' and I said, 'Yes, right away.' But then Roger's team had to go about the business of getting it set up somewhere. And I'm very glad that Netflix came through."
Since Netflix is the talk of Cannes, Lee was circumspect on the topic. "Anytime that you get a new person on the block innovating with technology, there's always going to be ruffled feathers. But on the other hand, I understand how the French take their cinema seriously."
But would it be disrespectful to watch Rodney King on an iPhone? "I don't think it's disrespectful," says Lee. "But I don't like it. I want as many people to watch my stuff as I can. But I hope that the first time people see Do The Right Thing, it's not on a phone. At least use an iPad!"
Cannes always wants to highlight the most recent developments in cinema, and while it bristles at Netflix, this year it's actually showcasing an extraordinary virtual reality short, "Carne y Arena" ("Flesh and Sand"). Conceived by four-time Oscar-winner Alejandro González Iñárritu (Birdman, The Revenant), in collaboration with his longtime cinematographer, three-time Oscar-winner Emmanuel Lubezki, and the digital-effects magicians at ILM, the 6-minute VR film has been earning raves all week.
"I'm sorry, I know audiences want different experiences, but great filmmakers don't need that gimmick." – Spike Lee on 'Carnes y Arena.'
Lee couldn't care less. "Not at all," he said. "You get dizzy! I mean, what's the limit that you could watch that stuff before you get nauseous or get faint? I'm sorry, I know audiences want different experiences, but great filmmakers don't need that gimmick."
He should slip on the VR headset goggles and give it a try. In Iñárritu's harrowing film, you are among illegal immigrants trying to cross the Mexican border as the murky dawn gets shattered by helicopter spotlights and the high beams of border security cars. Armed men point their guns in your face as the surrounding immigrants fall to the ground and cry for mercy. "Carne y Arena" is an astonishing experience that's hard to shake—and will literally leave you shaken.
The immersive project (more an art installation than a traditional movie) was erected in a warehouse 15 minutes' drive from the center of Cannes, and pre-approved journalists were required to sign up for personal visits allowing two people at a time every 30 minutes.  They are also politely prompted to sign a waiver in case of injury or death. (No worries!)
As you enter the enormous hanger, you walk past a 40-foot piece of corrugated metal that was once used as a U.S.-Mexico border wall. You then enter a holding room where you are required to take off your shoes and socks. A flashing red light signals you to open another door into a vast, darkly-lit chamber covered in sand. Two attendants put a backpack on your shoulders and tell you they will gently yank on the backpack if you walk too close to the walls.
The headset comes on, and then suddenly, alarmingly, you are in the middle of a crepuscular Mexican desert. Your toes squeeze into the sand and you can feel a soft breeze on your body. Figures start to emerge (digitally rendered, but photo-realistic), quietly staggering past the cacti: mothers, fathers, children, desperate people from as far away as El Salvador, Guatemala, and Nicaragua.
Then the noise from distant chopper blades gets louder and nearer, and your body vibrates at the throbbing intensity of the sound. Sirens blare, cars pull up, officers swarm on the immigrants. One of them strains to hold the leash of a lunging German Shepherd. And you, the spectator, can move freely around all the action: circling around officer and immigrant alike.
My immediate reaction was swift: anxiety and fear, pure and simple. My pulse raced, I felt a lump in my gut, and my muscles tightened. Deeply unsettled, I found myself walking more quickly around the figures to remind myself that they weren't real. And I instinctively drifted over to the border patrol agents, aching to identify myself among them if only to avoid the utter terror of being an immigrant on my knees.
One journalist was so rattled, she reportedly tried to yank off the headset before it ended. Another admitted to having a tear in his eye when it ended. Personally, I felt dumbstruck, and staggered out of the room feeling rattled and spent. Trump is never mentioned, but he was inescapably on my mind: one wonders what the "Build the Wall" crowd might say after a few minutes with that headset.