If Cannes ever crowned a cinematic prom couple, this year's royal pair would be Nicole Kidman and Colin Farrell. In a bizarre coincidence, the svelte Aussie and the hirsute Irishman play love interests in two different movies this week: Yorgos Lanthimos' harrowing allegory The Killing of a Sacred Deer and Sofia Coppola's neo-feminist Southern Gothic The Beguiled. But banish any thoughts of romance. In one, Farrell is a homicidal husband; in the other, Kidman saws off a leg.
"This is a comedy," said Lanthimos at the press conference for his twisted film, in which Farrell plays a heart surgeon whose perfect wife (Kidman), beautiful children, and posh suburban home come under assault in near-mythological ways. A local teen (hypnotically creepy Barry Keoghan) mysteriously prophesizes that, as punishment for medical malpractice, all of Farrell's loved ones will die painfully unless he singles out one to murder instead. (The sadistic tale of sacrifice-as-redemption comes straight out of Greek legend, as King Agamemnon had to sacrifice his own daughter to appease the Gods for accidentally slaying one of Artemis' deer.)
The conceit works because the storytelling is so stylized and mesmerizing, much as it was in Lanthimos' previous films The Lobster (also starring Farrell) and Dogtooth—neither of which are meant to be realistic at all. "It's metaphorical," says Keoghan's character after biting a chunk of flesh off his arm and spitting it on the floor. "It's a symbol."
"We basically had fun as much as we could," Lanthimos continued. "We mostly tried to take it lightly, not take it too seriously, do the job, have fun, and create something that's different when you put it together." Easy to say but hard to believe after seeing the movie, a wildly stylized experience that veers from nail-biting suspense to supernatural horror, with generous dashes of gallows humor. (Farrell can't get aroused unless an undressed Kidman drapes her body across the bed and pretends to be anesthetized.)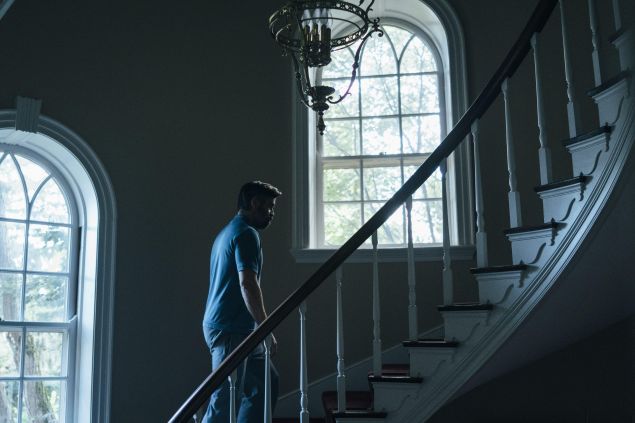 The film's arch dialogue also had to be delivered with near-monotone inflection, and Kidman confessed to struggling with the many odd juxtapositions. "Yorgos would always say, 'Nicole, you've got to understand the tone, it's a comedy,'" she stressed at the press conference, sitting next to her director. "And I would feel, like, 'Uh, okay…'"
Kidman is the uncontested belle of Cannes 2017, appearing in four different pictures. The two others are Jane Campion's six-part TV series Top of the Lake: China Girl, which got a special screening here before it debuts on Sundance Channel this September; plus a small role as a punk matriarch in John Cameron Mitchell's gonzo comedy How to Talk to Girls at Parties.
"That's sort of a confluence of events," admitted a sanguine Kidman. "That's not something that I was aware would happen, but at this stage in my life I'm just trying to stay very bold and open and try things and support filmmakers that I believe in. And also Jane Campion, who discovered me when I was 14."
Her turn in The Beguiled, though, has the Croisette buzzing about her chances of nabbing a Best Actress award on Sunday. Coppola's elegant adaptation of a Civil War era book by Thomas P. Cullinan (also the basis of the cult 1971 potboiler directed by Don Siegel and starring Clint Eastwood) chronicles the clandestine stay of wounded Yankee deserter, Corporal John McBurney (Farrell), in a proper girl's seminary—or what's left of it, since the only remaining souls are the strict head of school Martha Farnsworth (Kidman) and her half-dozen charges, including glum teacher Edwina (Kirsten Dunst), flirtatious student Alicia (Elle Fanning) and a handful of wide-eyed tweeners.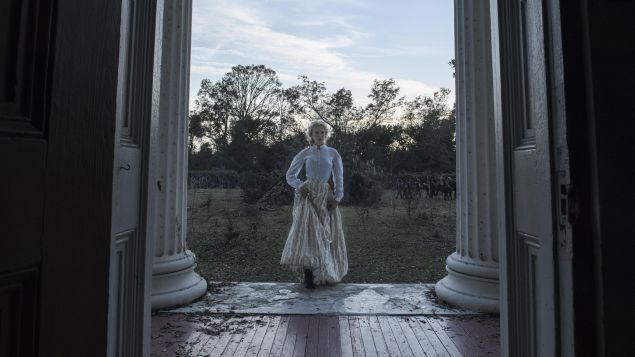 Sexual tension simmers from the start, as the very Christian Miss Farnsworth feels obliged to sew up the leg wound of the near-death McBurney, but then gives her unconscious patient a thorough sponge bath that stops longingly at the crotch. Soon the other women begin to make their own unique rounds, secretly checking in on their convalescing houseguest throughout the day and letting him shower them with ripe words of gentle affection.
Soon enough, their keen trepidation at having a dangerous "blue belly" under their roof melts away, and they all let their guards down further and further (dressing with more florid flare, wearing bits of jewelry) until they invite their healing guest to dinner one night. And once the brandy starts flowing, inhibitions begin to crumble—and eventually lead to betrayal and brutality.
Because Siegel's original film is so downright bonkers (Miss Farnsworth keeps having flashbacks of her incestual relationship with her brother; McBurney plants a lingering kiss on a 12-year-old girl), it set a high watermark in lowbrow depravity. Coppola's subtler version is inevitably muted in comparison to that earlier adaptation, since she chooses to elevate the story's more realistic aspects and tamp down the lurid dimensions of such a psychosexual melodrama.
The result is a coolly observed tale of temptation, sumptuously shot and voluptuously wrapped in period details and the verdant chaos of overgrown plantation life (nicely mirroring the weedy emotional turmoil under all those tightly laced-up dresses). Much talk of "tending gardens" and "eating pie" feel a bit on the nose, but given the film's somewhat hermetic setting those lines are much-needed comic relief.
Coppola otherwise doesn't go for the easy laugh or lazy moment of exploitation. And as a pure exercise in subverting, and frankly removing, the classic cinematic trope of the male gaze (McBurney is very clearly the object of desire, and not the other way around), this Beguiled lives up to its name. Best of all, though, is Kidman, whose delicate balance of propriety, pathos, camp, and sincerity keeps the entire film anchored until the very last frame.