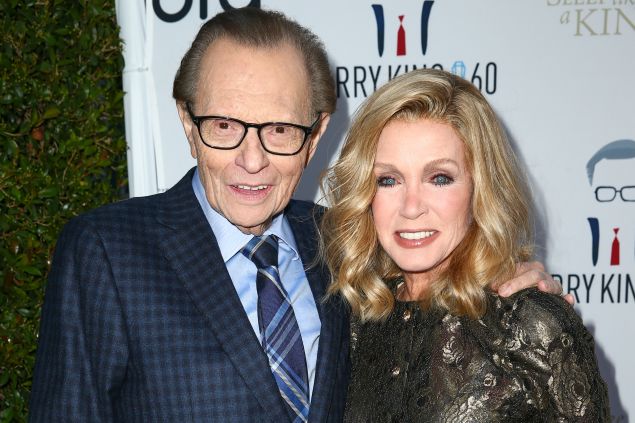 Welcome to Entertaining AF, a new celebrity column from Hollywood reporter Emily Bicks. 
Blind Item: The Party Crasher at Larry King's Party
After covering what seems like hundreds of red carpet events, never in my life have I seen what happened at Larry King's 60th Anniversary in Broadcasting Party on Monday (May 1) at Hyde Sunset.
This celebratory event first caught my attention for it had the most eclectic and random guest list. How did all these celebrities know Larry King? Were they actual friends that hung out on weekends? Or were they one of the 50,000 people he's interviewed over the years that happened to be in Los Angeles and free on Monday night? It was a mixture of both.
Those in attendance included Jenna Elfman, and Bodhi, her husband of 26 years, "which is like 150 in Hollywood years," she said of her long-lasting marriage, Corey Feldman and third wife, Courtney Anne Mitchell, singer Pat Boone, producer Jerry Bruckheimer, singer Macy Gray, attorney Robert Shapiro, former supermodel Janice Dickinson, and Tippi Hedren, who wins the award for being the most beautiful grandmother in Hollywood. In black pants, and a perfectly fitting zebra print jacket, the 87-year-old former model and actress is still an absolute showstopper.
The man of the hour, King, also looked great. He strutted down the red carpet in his stylish plaid suit like he owned the joint. At 83-years-old, current host of two shows on Ora TV, "Larry King Now," and "PolitcKING with Larry King," he still waves off any questions about retirement. And I love that King, who's been married eight times to seven women, held his party at a hip nightclub in West Hollywood. These octogenarians know how to get down!
However, not everyone is still invited to the party. And for the daughter of one of the most prolific early American film directors, that's a tough pill to swallow. Arriving with a computer print out of her own headshot, for which she proudly held up for everyone to see. As she approached the entrance, I heard a collective groan around me.
"What's up?" I asked. I had no idea who she was, but her presence caused quite a visceral reaction.
I learned that not only does this woman continuously crash parties she wasn't invited to, she won't leave until someone takes her picture. Perhaps, because she's now elderly, or because she's so desperately eager, somehow this former Miss Golden Globe usually gets her way…
For this event, one of the photographers took one for the team. He indulged her in taking photos of her from multiple angles until someone finally escorted her out, and my heart broke as I watched this happen.
How has nobody told her that red carpets are mostly silly and awkward, and that many would pay to skip them? Or more importantly, that her self-worth is not based on how many parties she attends, or if she gets her picture taken by the press? There was so much wrong with this scene, and I felt awful for her. Ugh. I still do.
———————————————————-
On Wednesday (May 3), The Colleagues took the art of  "lunching" in Los Angeles to new heights. Partnering up with Van Cleef & Arpels and Oscar de La Renta, the 29th Annual Spring Luncheon at the Beverly Wilshire Hotel was an exquisitely planned event that helped raise money for the Children's Institute, Inc. While this sounds like a stuffy affair, with actress/writer/producer Amy Poehler on hand to present this year's honorary award to the legendary Carol Burnett, it was the most entertaining lunch I've ever attended. And the little-known story Burnett shared about bestie Julie Andrews, is still giving me life.
Now, the average age of the women at this event was a good deal older than the girls you see at posing at Coachella, but they all arrived with hair done, in their most chic cocktail dresses, and started poppin' bottles during the pre-ceremony red carpet at 11 a.m. What kind of buzzkill would I be if I didn't join in? Cheers, new best friends!
Grabbing my attention, three statuesque models were standing on elevated blocks in the middle of the room. So chill, right? I sipped my champagne as if models wearing pieces from Oscar de la Renta's not-yet-released Fall line showed up at all the luncheons I went. But it was if three Dali paintings were flown in from Spain and put on display, I couldn't stop staring. That is, until I saw the incomparable Carol Burnett.
Easily approachable, I asked her how long she's been working with The Colleagues, and bless her heart for being so honest.
"Just a month!" Burnett admitted. "I didn't know about it until Gary Pudney told me about it, who's one of the [executive] producers of this event. He's an old buddy of mine. We went to UCLA together. He told me we'd like to honor you, and sent me all this information about this charity, and I was just sorry I hadn't heard about it before! And evidently today, they are making a lot of money for this charity."
Burnett speaks the truth. Once the event transferred into the downstairs ballroom, which looked like it was set up for an afternoon wedding, a live auction took place. While dining on grilled chicken with sweet potato and aged gouda cake, people bid quickly, generously and often. A trip to New York Fashion Week went for way over the minimum bid of $15,000, the iconic Magic Alhambra Van Cleef & Arpels necklace was snatched for over $20,000, and I came to the conclusion that my new goal in life is to become a lady who lunches.
Before dessert was served, a key lime tequila tart with white chocolate and vanilla sucre, Amy Poehler, producer of the ABC pilot, Household Name, which stars Burnett, took the stage to present her with The Colleagues "Champion of Children Award."
A huge fan of Burnett, "Carol's done so much for families," Poehler said. "So, it makes perfect sense she's winning this wonderful award. For me, she educated a young girl stuck in a Boston suburb about what it's like to live in a city of Los Angeles. I used to read about how Carol would take her cast to Chasen's after the show, which until recently, I thought was a bank. I was like, why does Carol take them to the bank when they're done? She pays them there. Yeah. Show business."
Zipping through "the many awards Carol's been awarded: Emmys, Golden Globes, SAG, Mark Twain Prize, Peabody, The Kennedy Center Honoree, Presidential Medal of Freedom, American Ninja Warrior?" Poehler joked. "The list goes on. But she's made the world laugh for more than half a century and never at anyone else's expense, which is hard to do."
Burnett gave a brief, but gracious acceptance speech, and agreed to take three audience questions. We learned the famous tug on her ear at the end of each show was a signal to her grandmother that meant "Hi, Nanny. I'm fine I love you." But later on in life Burnett said It meant, "Hi Nanny. I'm fine I love you. Your check is on the way!"
When asked about her relationship with Julie Andrews, Burnett started a rote answer, "We first met in 1959, when she was a guest on The Garry Moore Show — but then she paused, lowered her voice about three notches, and said, "Let me tell you about Julie. She is very bawdy. She's not little miss Mary Poppins, okay?"
"One time we were doing a show in Washington D.C. for President Johnson's Inauguration," Burnett continued. "We check into the hotel, and my husband and I were on one end of the hallway, Julie and her husband on the other. I was already in a robe and fuzzy slippers, but Julie calls and says, 'Let's go down stairs and have hot chocolate!'"
"So we all go downstairs in our night clothes," Burnett said. "We're having hot chocolate, and the phone rings. It's Mike Nichols, who's going to be on the show with Elaine May. And he's up on the fourth floor. So, Julie tells him to come on down.'"
"But then Julie looks at me and says, 'I know what. There's a settee across from the elevator, so we'll go there, and sit down. And when we know Mike is coming down, when the elevator door opens, let's be kissing!'"
Burnett looked at her best friend as if she had lost her marbles. "Not really kissing, Julie says. Just make it look like were kissing. We're watching the lights go .. 4.. 3.. 2.. and just before the doors open, we go [in for it]. Then the doors open. And we don't hear anything. Julie asks, 'Is it Mike?' And I'm like I don't know my nose is in your neck. Let's look."
"Out walks several secret serviceman, followed by Lady Bird," Burnett reveals. "Lady Bird later walks back and says to me, 'Aren't you Carol Burnett?' And I say yes, ma'am. And this is here is Mary Poppins."
As if this story wasn't gift enough, the final question was inquiring as to whether she still had the vocal pipes to do her signature Tarzan Yell. And while most celebrities would roll their eyes at such a request, Burnett performed her famous jungle call. And it was just as loud, and amazing as ever.
———————————————————-
The 2017 Entertainment Lawyer of the Year Awards
Last but not least, The Entertainment Lawyer of the Year Awards were held on the evening of Wednesday (May 3), at the Montage Hotel. The 2017 recipient of this prestigious honor given out by The Beverly Hills Bar Association was Harold A. Brown, partner at Gang, Tyre, Ramer & Brown, Inc.
Mr. Brown's star-studded client list includes Steven Spielberg, Stephen King, Gwyneth Paltrow, Robert Zemeckis, Heidi Klum, Michael Mann, and the Master of Ceremonies himself, Craig Ferguson. The former "Late Late" host slayed the evening as emcee. Getting an entire ballroom full of lawyers to loosen up is no easy task, but two time Daytime Emmy Award winner had everyone rolling.
"I'm not Jewish," the Scottish American comedian said. "It's a clear podium, so you can probably tell."
Ferguson lamented how not only was there was no teleprompter, "I went to the outside bar for a Diet Coke and it was five bucks! Come on, guys. I know how much you make! And what I'm doing right now, this what you people call pro bono work."
I couldn't stop laughing. It was if he was reading my mind. The fact that there was a cash bar at such a swanky sit-down dinner party at the Montage Hotel in Beverly Hills was not lost on me. How some of the most elite entertainment lawyers in the world would choose to skimp on an open bar at their own party, it's a question that has no answer.
But thank you, Craig Ferguson. You made what could've been another snooze-worthy awards ceremony, a completely memorable event for everyone.