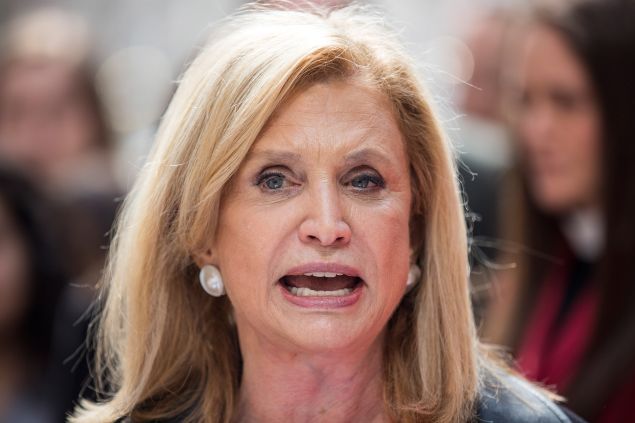 Congresswoman Carolyn Maloney lavished praise today on ex-NYPD Commissioner Raymond Kelly's qualifications to succeed former Federal Bureau of Investigation Director James Comey—even as she slammed President Donald Trump for unceremoniously sacking Comey amid a federal probe into Russian interference in last year's election and potential collusion between the chief executive's campaign and Moscow.
Maloney, a Democrat, joined a number of her colleagues at a press conference in Lower Manhattan to demand the appointment of a special prosecutor and the establishment of an independent commission to weigh evidence that top Trump associates coordinated with Kremlin agents in the cyber infiltration and exposure of communications from Democratic National Committee and the Hillary Clinton campaign. The congresswoman, who represents the East Side of Manhattan as well as parts of Queens and Brooklyn, highlighted the myriad Russian contacts with key members of Trump's administration and campaign: a list that includes U.S. Attorney General Jeff Sessions, who recommented Comey's firing; disgraced former National Security Advisor Gen. Michael Flynn; son-in-law and advisor Jared Kushner; foreign policy advisor Carter Page; political aide Roger Stone; former campaign manager Paul Manafort and Secretary of State Rex Tillerson, who strongman Vladimir Putin personally decorated with the Russian Order of Friendship.
Tillerson and Trump met with Russian Foreign Minister Sergey Lavrov in Washington today.
"This investigation is as serious as it gets. We are past the point of party politics: we are dealing with matters of national security, and the integrity of our justice system," Maloney said. "Let's give the American reason to trust their government. Let's uncover the truth, the whole truth and nothing but the truth."
But the congresswoman had only warm words for Kelly, among several figures reportedly under consideration as Comey's replacement. Maloney noted Kelly's experience handling anti-terror and counter-intelligence initiatives during his second tenure as NYPD commissioner, from 2002 until 20013, under former Mayor Michael Bloomberg.
She also credited him with helping win GOP support for the James Zadroga Act, which secured federal reimbursement for the medical expenses of 9/11 first responders.
"I think he's incredibly talented," she said. "We could not have passed the 9/11 James Zadroga Act without his assistance. He went to Washington numerous times to speak to the conservative caucuses and Republicans about the need of honoring the people that risked their lives. I think he would be an excellent appointee."
"He has been apolitical. I think he's extremely competent and would be a fine choice," she continued.
GOP Senate Majority Leader Mitch McConnell has already announced his opposition to special prosecutor, even as Republicans like Arizona Sen. John McCain have called for a special congressional committee—though not a wholly independent commission—to dig into the Russian question.
Kelly spent much of his career as a registered Democrat, though as of 2015 he was officially unaffiliated with any party. He has publicly flirted several times with the idea of running for mayor as a Republican.
He served as Under Secretary for Enforcement at the federal Department of the Treasury during ex-President Bill Clinton's administration. He had previously held the position of New York City police commissioner under Democratic Mayor David Dinkins.
Kelly's second turn as police commissioner was not without controversy: he championed the use of the controversial stop-and-frisk tactic, particularly in mostly nonwhite neighborhoods, a strategy a federal judge ultimately ruled unconstitutional. He also oversaw a controversial policy of spying on Muslim New Yorkers, which led to a major civil rights lawsuit and a settlement under Mayor Bill de Blasio.
Both New Jersey Gov. Chris Christie and former Mayor Rudolph Giuliani—both Republicans, avid Trump supporters and former U.S. Attorneys—have also been named as possible FBI directors. So have Wisconsin Sheriff David Clarke and South Carolina Congressman Trey Gowdy.
Disclosure: Jared Kushner is the former publisher of Observer Media.