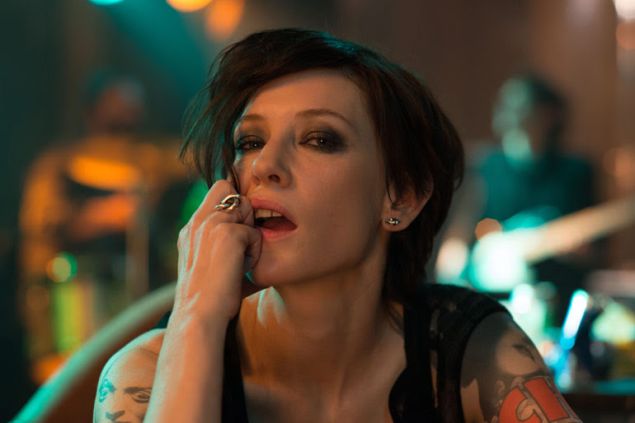 Manifesto is a bit of a high-minded Frankenstein's monster, an unwieldy, electric project from German artist Julian Rosefeldt that is as hard to explain as it is unable to explain itself. Originally an art installation, Manifesto morphed into a film (but even that isn't the right term), a collection of 12 voice-overs and monologues culled from history's great manifestos, explosive calls to action and destruction from the world of art, architecture, film and beyond. And, naturally, for 12 different vignettes the artist enlisted 13 different Cate Blanchetts; the two-time Oscar-winning chameleon and soon-to-be Marvel menace appears as everything from a tattooed punk rocker to a news anchor speaking to a weatherwoman (both Blanchett) to a mud-covered homeless man shouting Situationism theory into a bullhorn. It's a dazzling experience, and one that, for someone whose experience with art extends mostly to the paneled page, is continuously overwhelming.
So, I went to the source. I met up with Blanchett and Rosefeldt at SoHo's Crosby Hotel for what turned into a widespread discussion on art, acting, empathy and, dare I say, the meaning of life…and how it all boils down to a baboon sitting on a trash can.
What drew you to the idea of manifestos? I had no idea there was just…so many of them. 
Julian Rosefeldt: The starting point was another project where I studied Feminist theory and read two manifestos by a French futurist, Valentine de Saint-Point, who had a really interesting, crazy life. She ended up as a Muslim in Egypt but before that, she wrote a really radical feminist manifesto. "Lust is a force." I had already met Cate, and we had the idea to do something together. My own interest in artist's writings started when I was a young high school student, I got into it, read hundreds of manifestos. Not only visual artists, but political manifestos, feminist manifestos, filmmakers, architects, theater makers. The idea was to do, on one side, an homage to these writings because they have been mostly forgotten or covered over by the visual work of those artists, but also trying to find out if they are applicable, if they can be used today, and what they mean to us. But it was very much driven by the beauty, the pure poetry of these texts. When I read them, I got the idea that [Blanchett] could do them because I could already sense them being performed, hearing her voice saying them instead of just reading them as art history.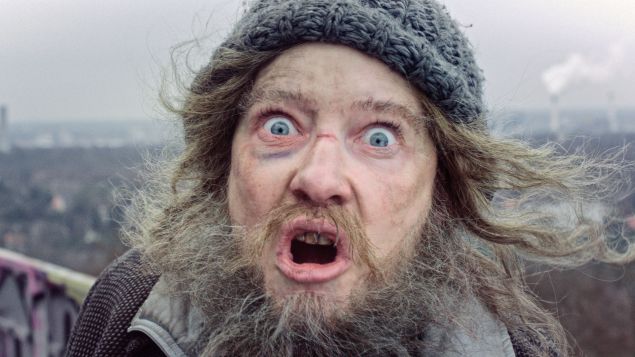 In the hundreds of manifestos that you read, and the dozens that you performed, did you notice a throughline? 
JR: There are many things that connect them. Insecurity —
Cate Blanchett: Assertion of their individuality. [laughs]
JR: It's surprising because they're all so angry so they seem secure, but if you see when they're written you find out they can only be insecure and fragile at that moment in life. Manifestos are a wish to create utopia, ideas that can never be fulfilled but because they are so large they need to be drafted down and shouted out into the world.
CB: There's a desire for them to change what they perceive to be the status quo. It's an energetic response to what they percieve to be the institutions that are forcing them to be outside the system.
JR: Nowadays, it's not so risk-taking to write a manifesto. Manifestos have certainly transformed into different possibilities of saying what you want to say. The art scene is global and massive and you do these things, like interviews and panel discussions, publish them on a blog.
CB: When I first discovered manifestos, I was at university studying art history. Part of the pleasure and the excitement is to take these assertions out of their historical context and to see what sticks. So [Manifesto] is deliberately…it's a subversion in and of itself, but also it's quite perverse because the characters are often antithetical to what the text is saying, or what the text is asserting. In doing that, I personally found an energetic similarity to all of them, the texts, that was quite often angry, but very youthful, and idealistic. Even though they were talking about what they wanted to irradicate, they were also talking about building something new. It was kind of a positive forward-looking, creative sense of what could come. Which doesn't seem to be very alive in the world at the moment.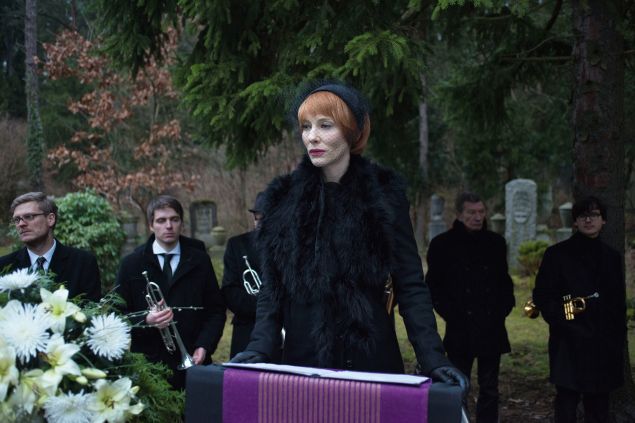 So much of the language is hyperbolic — "I want to destroy this, do away with this."
CB: Yeah, but a much as you're wanting to provoke change in the world around you, you're wanting to provoke and challenge yourself.
Did you have to shy away from performing each character in that loud, overblown way or, I guess, separate the words of the manifestos from what you were actually doing? 
CB: Well it was quite forensic in the planning, like which part of these manifestos lent themselves to be more dialogue, monologue and conversational, and which parts would be said from an interior voice. And when it was an interior voice, who was the voice talking to? What was the attitude, or the reason for saying it? So I found the parts that we filmed were much more easily ascribed than doing the voice-over. Because the voice-over is speaking directly to the audience…or are they speaking to themselves? We played a lot with that.
JR: The inner voice, although she speaks with the same dialect, often becomes a comment on the whole project, almost like a goddess who looks at the scenery.
CB: We talked a lot about it, because they're not really characters, they're just masking and then unmasking, but the voice is quite unmasked. So does that go to a neutral place? And if so, given that each person is inhabiting each of these personas, each of these situations, what then becomes neutral? Is that me?
Was there a lot of room to play with how you did each vignette?
JR: We had a very tight window for scheduling, about 12 days with Cate so it had to be prepared very well. Cate, with her experience, and her sensibility, and empathy for human beings, saw things in the text that weren't there before. She experimented. I remember you [to Blanchett] were playing with the School Teacher, quoting Jim Jarmusch's "Golden Rules of Filmmaking," after saying "nothing is original. You can steal from architecture, books, random conversations…" and when you say random conversations, you used that moment to apply it directly as a teacher speaking to a student.
CB: It was a way to try and find…it's like a piece that I saw in Berlin called "Murmeln Murmeln," which means "Mumble Mumble," and the actors were all basically saying "mumble, mumble, mumble" but, as children who learn language do, they intone it in different ways. Oftentimes, the texts, for me, became like that; I didn't think about what I was saying, it was about the intention. I could be speaking Swahili right now, but you could glimpse what I was talking about by the stress, or the way I'm using my hands. But it was very instinctual. I just had to have no shame. Because we had no time, there were no rehearsals, per se. The night before we'd talk and I'd say, "Okay, let's make this one Scottish! This one will be, I don't know, a bit Cockney." We talked a lot, so you can make very quick decisions because you feel like you're all singing from the same song book.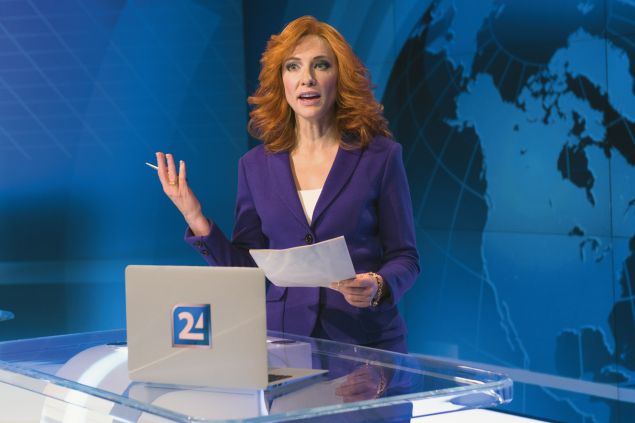 There are surprising moments, though; I was walking through that derelict series of buildings as the Homeless Guy. I knew I'd be walking past Julian's camera, but they were busy focusing on a baboon sitting on a rubbish tub [laughs]. That's what the piece is. I do something, Julian does something.
JR: I remember you saying, "now we're doing art."
CB: That's art.
JR: What I learned from Cate in Manifesto is that the curiosity doesn't end with rehearsing the text. It's neverending. Her curiosity for the human nature is never-ending. It goes on, and on, and on. I think that's what makes an actress extraordinary. You never stop being curious. You want to keep loving humanity more. If you're cynical, if you detest life, you will be very limited in your language. If you embrace life, if you see all things happening as surprises in front of your eyes, you can't stop learning.
Manifesto is now playing in theaters.