Fyre Festival is now synonymous with shit-show thanks to Ja Rule and Fyre CEO Billy McFarland, but today there's even worse news about the most memed music festival disaster of April that left hundreds of trust-fund babies stranded on a private Caribbean island: celebrities broke advertising standards by failing to disclose they were getting paid while they were promoting the festival.
According to a recently leaked business plan and pitch deck, this curated group of 400 celebrities including Kendall Jenner and 399 other gorgeous people—or "social media influencers," according to the 13-year-old Kardashian fans who write these press releases—was selected to promote Fyre Festival as "Fyre Starters" based on the extremely rigorous criteria of having at least 1 million Instagram followers (and zero common sense).
For their tweets and shares they were given free flights, accommodations, and tickets to the event. So what's wrong with that? The Fyre Starters failed to disclose to their followers they were being paid and compensated as official marketing partners.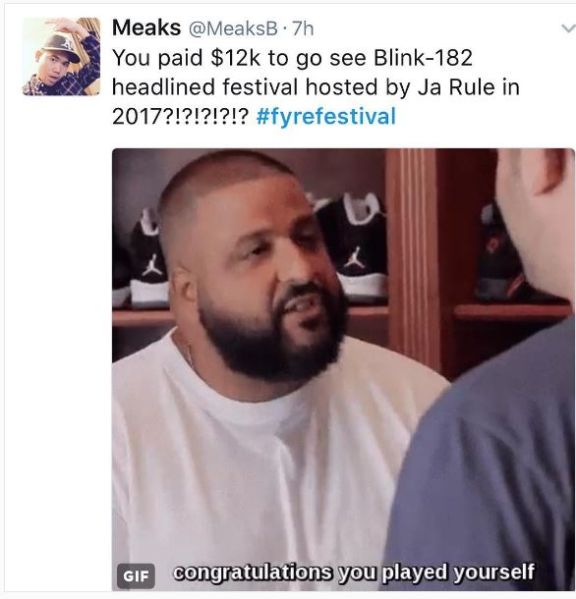 The Federal Trade Commission also requires social media "influencers" who share promotional materials to"clearly and conspicuously disclose their relationships to brands." This clearly was not enforced by Fyre Media, and nowhere is indicated in the deck.
So far, Bella Hadid is the only "influencer" to offer any sort of apology. Others deleted their promotional posts, but in 2017 that doesn't do much to cover your tracks. C'mon people, you are supposed to be "influencers," whatever that is supposed to mean.
Meanwhile, McFarland has announced he still plans to hold another Fyre Festival festival next year amidst news breaking yesterday that he and Ja Rule have been hit with a $100 million class action lawsuit by celebrity attorney Mark Geragos (who's handled everyone from Michael Jackson to Winona Rider).
We can't wait to pay anywhere from $4,000 to $12,000 to attend next year's metaphor for the modern hellscape we call the American bourgeois. Anything for the 'gram.