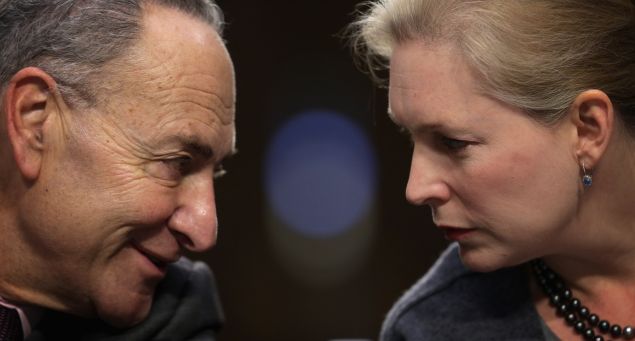 Senate Minority Leader Charles Schumer and Sen. Kirsten Gillibrand lashed out at the American Healthcare Act—the House GOP's proposed replacement for the Affordable Care Act—on Twitter after independent Congressional Budget Office revealed the act would trim the deficit but could leave millions uninsured.
The CBO found that the iteration of the bill that cleared the House earlier this month would leave fewer people without care and depress individual premium prices more than the version that foundered without a vote in March. The measure's cuts to Medicaid and elimination of Obamacare subsidies would save the federal government $119 billion between now and 2026, the report found.
But those savings would come at the expense of an additional 23 million people lacking any form of coverage—which Schumer and Gillibrand highlighted on social media.
The CBO also noted that the bill would allow states to individually define what constitutes a "pre-existing condition" that insurers must cover—a sweetener House Speaker Paul Ryan added to win support from Tea Party Republicans. This provision, the analysts determined, would make it far more difficult and costly for individuals with health problems to obtain coverage.
Further, the elimination of Obamacare's requirement that even healthy Americans purchase insurance, along with the AHCA's easing of regulations on how much companies can charge older people, would mean higher premiums in many parts of the country for the elderly people who purchase insurance individually. Younger people, however, stand to see substantial cost reductions.
Because the AHCA is a fiscal bill, dealing in changes to tax law, the Senate Republicans could pass it in the process of budget reconciliation—meaning Schumer, Gillibrand and the rest of the 48-member Democratic caucus do not have recourse to the filibuster. But a number of GOP senators have expressed skepticism about the new law, and it is uncertain whether Majority Leader Mitch McConnell could muster the necessary votes.