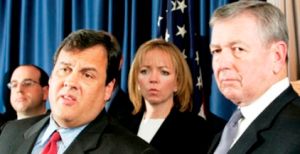 Before leaving office, Gov. Chris Christie plans to nominate Michele Brown, a jack-of-all-trades adviser since his days as U.S. attorney, to be a state Superior Court judge.
Christie filed a notice of intent to nominate Brown — the first step in the process — with the state Senate on April 24. A formal nomination has not yet been submitted, and Christie spokesman Brian Murray did not respond to an email seeking comment.
Brown has been in Christie's inner circle for nearly a decade. She is currently the president and chief executive of Choose New Jersey, a nonprofit established at Christie's behest in 2010 to promote the state as a destination for businesses. The group also bankrolled Christie's trade missions to Israel, Jordan, Mexico and the United Kingdom in the crucial stretch before he launched his presidential campaign.
Choose New Jersey's donors — a mix of the largest businesses in the state and the biggest U.S. corporations — in many cases have business dealings with the state and are barred from donating to Christie directly under New Jersey's pay-to-play laws.
Senate Majority Leader Loretta Weinberg said that she had not been told about Christie's notice of intent to nominate Brown but that it would be "on the lunch menu" later today at a meeting with her fellow Democratic senators from Bergen County, Bob Gordon and Paul Sarlo. Weinberg and Sarlo both sit on the Judiciary Committee that would review Brown's nomination.
"I would assume she will get a respectful and cordial reception," Weinberg said. "She was a member of the administration. She's been in very public positions for a number of years."
But she added that Brown's impending exit from Choose New Jersey, if the nomination were to go through, showed that the nonprofit, tax-exempt group was more of a political vehicle to further Christie's career than a serious effort to promote business investment.
"With her leaving, and with him leaving, I don't think you're going to see much energy on anybody's part to keep it going," Weinberg said. Christie's second and final term is up in January.
Before Choose New Jersey, Brown was chief executive of the state Economic Development Authority from 2012 to 2015, overseeing a dramatic expansion of New Jersey's tax subsidy programs for businesses and nonprofits. At last count, the state had handed out a record $7.9 billion in subsidies under Christie, much of that authorized after Brown's tenure.
Critics point out that some of the biggest awards have gone to politically connected entities and that the explosion in tax breaks has done little to change New Jersey's status as one of the slowest-growing states post-recession. The expansion of New Jersey's tax break program was enabled by Democratic lawmakers and the Christie administration through the Economic Opportunity Act of 2013.
Brown was Christie's appointments director during much of his first term, in charge of vetting candidates for judgeships, boards, commissions and authorities. The Browns and the Christies are close friends who live nearby in Mendham Township.
In 2009, after Christie resigned from the U.S. Attorney's Office to mount his first campaign for governor, Brown remained in the office as acting first assistant U.S. attorney, the second-highest-ranking position. A career prosecutor, she had been promoted twice under Christie.
Brown resigned eight days after it was revealed that Christie had loaned her $46,000 while he was her boss. Christie had not disclosed the loan — a second mortgage on Brown's home — on his income tax returns or financial disclosure forms, and later called it an arrangement between friends after Brown's husband lost his job.
The New York Times reported that year, based on interviews with anonymous federal law enforcement officials, that Brown took over the handling of a Freedom of Information Act request filed by then-governor Jon Corzine, a Democrat facing Christie in the 2009 governor's race. Corzine was seeking records about Christie's tenure at the U.S. Attorney's Office.
"Less than two weeks later, Justice Department officials told Mr. Christie's interim replacement, Ralph Marra, to remove Ms. Brown from acting as coordinator of the Freedom of Information Act requests about Mr. Christie's tenure because of the obvious conflict of interest, according to a federal law enforcement official briefed on the communications," The Times reported. "Ms. Brown resigned from the prosecutor's office the same day, the official said."
Brown also reportedly pushed for a major corruption bust to be announced in the interregnum before Christie's permanent successor took over the U.S. Attorney's Office, which would have made it easier for candidate Christie to claim credit for the corruption bust on the campaign trail after he resigned as prosecutor.
If she is nominated by Christie and confirmed by the Democratic-controlled Senate, Brown, a graduate of Georgetown University Law Center, would serve an initial term of seven years on the state Superior Court.
She would then be eligible to be renominated for a tenured term, lasting until she reached age 70. Superior Court judges earn $165,000 a year and become eligible for a pension worth 75 percent of their salaries after 10 years of service. Brown is under 60 and would be in line for a pension if she served at least 10 years.
Separately, Christie on Tuesday evening announced the formal nomination of acting Essex County Prosecutor Carolyn A. Murray for the Superior Court.
Murray, the governor's spokesman, did not respond to questions about whether Christie had a candidate in mind to take over for Murray, the prosecutor, in the busiest county law enforcement office in the state. The governor also announced he had nominated four others to the Superior Court on Tuesday. The Senate Judiciary Committee does not have any hearings scheduled, but it could add one to the calendar before the next Senate voting session on May 25.
"Neighbors, lenders — they had all kinds of relationships," Weinberg said of Christie and Brown. But she added, "I don't assume she's going to be met with too much nastiness."
Update (5:17 p.m.): In an emailed statement, Brown said she will remain at Choose New Jersey instead of pursuing the court appointment.