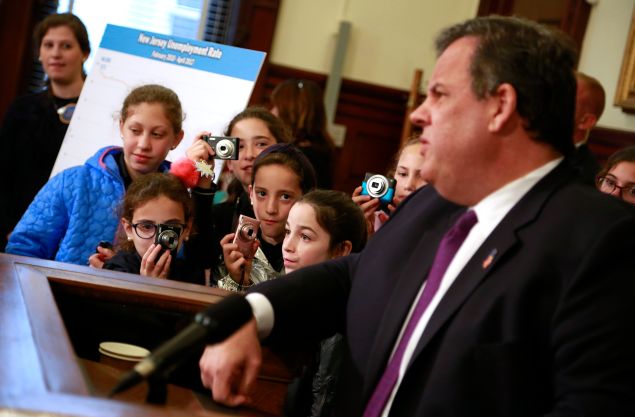 Gov. Chris Christie is days away from moving out of his office of more than seven years as he plows ahead with a renovation of the golden-domed state house in Trenton that dates to 1792.
For old times' sake, Christie gave one last stem-winder news conference on Monday, going on and on about this and that for nearly an hour and a half. He bantered. He snapped at reporters. He critiqued all his predecessors over the last four decades and all the candidates hoping to succeed him this year.
He dared the assembled press to write nice things about New Jersey's recent upsurge in jobs after raining years of headlines on him about a bunch of credit-rating downgrades. He gave kudos to Lt. Gov. Kim Guadagno before taking shots at Lt. Gov. Kim Guadagno minutes later. He disclosed his thoughts about President Trump's Twitter account.
"I'm trying to encourage him not to tweet," Christie said.
There was a lot more.
Christie repeatedly bashed "liberal editorial writers and think tanks," laughed off his low poll numbers (stuck below 20 percent this year), sort of predicted that a Democrat would win the governor's race this year, and told a reporter who said people were calling him "corrupt Christie" that he didn't care and suggested she get off Twitter, too.
Christie said nice things about former FBI directors James Comey (not a "nut job") and Robert Mueller ("good man … very able"). He graded Assembly Speaker Vincent Prieto, a Democrat who announced last week he will be seeking a third term as the leader of the lower house. ("He's been OK.") He said he couldn't care less who the next speaker is.
The governor said he was concerned about "$800 billion" in potential cuts to Medicaid under the Republicans' American Health Care Act. He defended his record on New Jersey Transit amid a torrent of criticism that he has underfunded the agency.
After spotting a group of schoolgirls from Lakewood out in the hallway, Christie waved them into his office and asked them to stand behind him at the lectern. He then proceeded to plunge a few knives into Michael Flynn, the former national security adviser under investigation for potential ties to Russia during the presidential campaign. Christie, a former U.S. attorney, said he would never have hired Flynn or let him inside the White House. ("Yes, we all know that Chris Christie is great at spotting & screening out problematic top staff," Preet Bharara, another former U.S. attorney, tweeted Monday afternoon in an allusion to Bridgegate.)
Christie gave Matt Friedman of Politico a lot of guff for trying to fact check some of his economic claims. He repeatedly pleaded with reporters to save him from questions from Claude Brodesser-Akner of NJ.com. He had a bemused back-and-forth with NJTV's Michael Aron about the benefits of holding news conferences in carpeted rooms (better sound quality). He took questions from The Record's Charlie Stile without cutting him off for once or complaining about his "crappy column." He responded to a question about a Sunday column in the Star-Ledger by saying the writer, Paul Mulshine, "should start drinking later in the day or start writing earlier."
He was a liberated man speaking his mind, flanked by a bunch of schoolgirls, in a building he's about to wreck.
It wasn't his last news conference, just the last one in the state house.
"We picked up a state that was a basket case and we had a Democratic Legislature that did not want to do a lot of the programs that we wanted to do initially," Christie said, defending his economic record. State house reporters have noted through the years that New Jersey's economic recovery post-recession lagged far behind the rest of the nation's, and Christie was pushing back on Monday.
Private-sector jobs have increased by 313,000 since the low point in February 2010, which was also Christie's first full month in office, including 55,900 over the last year, April to April. The state's jobless rate, at 4.1 percent, sits below the national average of 4.4 percent. However, the state's $35 billion budget is still dealing with missed revenue forecasts seemingly every year — the latest hole is $527 million in the waning weeks of this fiscal year, according to the state Treasury Department — and the pension system is still a mess.
But Christie had a warning for state residents ready to see him leave: You'll miss me when I'm gone because most if not all these gubernatorial candidates are saying they'll hike your taxes, increase spending and load up on bureaucrats.
Christie boasted he had overseen a reduction of 11,000 workers at the state level and 20,000 at the county and local levels. Most of those reductions were through attrition. And still, he said, employment was at an all-time high and the unemployment rate at a 16-year low.
"We think it's important for the people of the state to know this, especially in the context of the gubernatorial race, because these policies have worked," he said. "It's demonstrably clear they've worked and they need to know that when they have people recommending a wholesale change in those policies."
Christie credited Guadagno, his longtime ambassador to the state's business community and designated ribbon-cutter, for helping spur much of New Jersey's job growth. He defended her record from an attack leveled by Assemblyman Jack Ciattarelli, a candidate for the Republican nomination for governor, who said at a debate last week that Guadagno could not credibly take credit for the state's recent job surge.
"Maybe Jack just missed it from the back bench there, but the fact is that the lieutenant governor deserves a lot of credit," Christie said. "She doesn't deserve exclusive credit, and I don't think she's trying to claim it. … She deserves a great deal of credit for what you're seeing here, and I hope voters consider that when they're considering her candidacy."
But Christie stopped short of endorsing Guadagno, saying he's the leader of the state Republican Party and will remain neutral in the contested GOP primary. A few minutes later, he took Guadagno to task for her loud and allegedly uninformed opposition to the state house renovation, saying she "has never asked for a briefing to the project that she opposes."
Christie didn't single out any Democratic candidates (except for state Sen. Ray Lesniak on the state house renovation issue) but he alluded to all their platforms and said the state could not afford the "failed old policies" they were "teeing" up, such as increases to the corporate business tax, the income tax, the sales tax and the estate tax, which Christie and Democrats agreed to abolish last year.
And he did some election prognosticating — hinting at dire odds for the Republican nominee.
"Fact is, that no matter where the governor has stood, when a governor is leaving office, it is almost invariable that the next governor is of the opposite party," Christie said. "I don't know whether that's going to happen this time or not."
He added, "In the end, this election's not going to be on my back."
Would he campaign for the Republican nominee? (Ciattarelli has been a tough Christie critic on the campaign trail; Guadagno has been distancing herself on a roster of issues du jour.)
"I'd ask me if I were them," Christie said, but "my heart will not be broken if I'm not." He never took help from "volunteer surrogates" that he didn't want, he said.