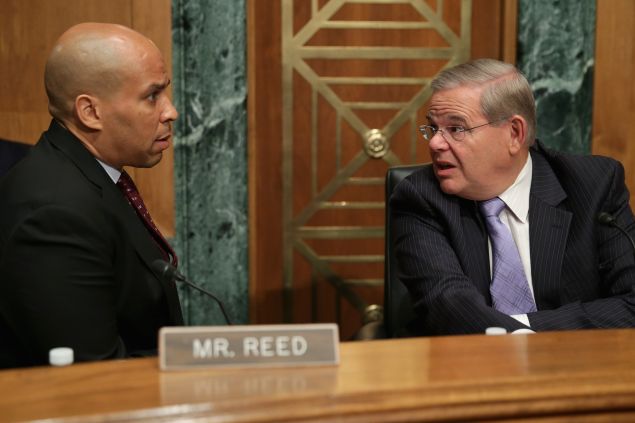 U.S. Sens. Cory Booker and Bob Menendez are urging caution on one of Gov. Chris Christie's top priorities this year: raiding the reserves kept by New Jersey's largest health insurer.
Christie has asked the state Legislature to take hundreds of millions of dollars every year from the $2.4 billion surplus kept by Horizon Blue Cross Blue Shield, a not-for-profit company with 3.8 million policyholders. At a time when heroin deaths are soaring nationwide, the money would be used to fund addiction treatment, the governor says.
Horizon's executives are overpaid and greedy, and lawmakers should force them to post their compensation online, Christie adds. He also wants to add four political appointees to Horizon's 15-member board, and has set a June 30 deadline for the entire legislative plan.
A day after the House of Representatives passed a sweeping rewrite of the Affordable Care Act, Booker and Menendez said Christie's plan comes with risks and "could potentially lead to higher premiums for New Jerseyans." It's rare for U.S. senators to weigh in on a state legislative proposal backed by the governor.
"Heroin addiction and opioid abuse have reached epidemic levels in New Jersey, and are tearing individuals, families and communities apart," Booker and Menendez said. "We applaud the governor's effort to combat the opioid epidemic and look forward to our continued partnership."
But they added: "While the Affordable Care Act and other federal efforts have led to progress in fighting the epidemic, Republican efforts could easily reverse the progress made and cripple the individual market. With the GOP taking steps to sabotage the ACA, leading to uncertainty in the health care landscape, we are especially concerned that tapping into emergency reserves could potentially lead to higher premiums for New Jerseyans in coming years."
Christie's plan was not exactly lacking for skeptics before the two senators weighed in on Friday. His own lieutenant governor, Kim Guadagno, says the state should not be meddling in a private company's business without their buy-in. S&P Global Ratings issued a report last week warning that lower reserves could make Horizon's credit rating drop.
Newark Mayor Ras Baraka (D) warned of a potential domino effect that could saddle municipalities with higher costs. The Tea Party Patriots said Christie was trying "to extort a private company into turning over customer premiums to fund an expansion of government." Democratic and Republican lawmakers in the state house say a raid of Horizon's reserves would lead to a tax hike for policyholders.
Booker and Menendez echoed some of those concerns.
"This proposal could have significant impact on the credit rating of the state's largest insurer and cost New Jerseyans more," they said.
If the proposal has supporters in the Legislature, they've been conspicuously silent at a time when Christie needs to be building momentum.
The Blue Cross Blue Shield Association requires Horizon to keep reserves of at least 550 percent what's needed to pay all policyholder claims. Christie wants any funds above that level to be sent to a new state-run fund for addiction treatment, a plan that would kick in after he leaves office. Company officials say it would mean losing hundreds of millions of dollars a year.