Gov. Chris Christie's plan to fold the New Jersey lottery into the cash-starved pension system for public workers is gaining some steam in the Legislature, with a leading Democratic senator saying he will likely be a sponsor.
After the Christie administration unveiled a draft bill last week, state Sen. Paul Sarlo, a Democrat who chairs the Senate Budget and Appropriations Committee, called it an "intriguing" idea that he would likely shepherd through the Legislature.
"I think there's a lot of merit to why this potentially should be considered," Sarlo, D-Bergen, said at a budget committee hearing Tuesday.
The lottery brings in roughly $1 billion in annual revenue. As an asset of the pension system over a proposed 30-year period, it would generate $37 billion, according to state Treasurer Ford Scudder. If the Legislature approved the transaction before the end of this fiscal year on June 30, the funded ratio for the retirement plans would immediately jump from 45 percent to 59 percent, Scudder said.
In other words, it would be a shot in the arm for a deeply troubled pension system, freeing up considerable room in the $35 billion state budget if it all works out as intended—and giving Christie a claim to a lasting fix on one of the state's most intractable financial problems, which has been a lead factor in a historic 11 credit-rating downgrades under his watch.
After years of neglect from previous governors and lawmakers, Christie tried to save the pensions from collapse in 2011 before yanking billions of dollars in contributions he had pledged in 2014 amid a budget crunch. He points out every year that most of the state's revenue growth goes straight into ballooning pension and health benefit costs.
Senate President Steve Sweeney, D-Gloucester, said last week that the nuts and bolts of Christie's lottery plan showed it "could be a promising endeavor," speeding up the restoration of the pension system's health by 20 years.
"This is important not only for employees but also for the financial health of the state," Sweeney said. "It is also positive news that this proposal would have zero impact on the state budget for the first five years."
Some questions remain about how the lottery transaction would work—and especially whether New Jersey residents will keep playing for scratch-off prizes and jackpots at a reliable rate over the next three decades. The private company Christie hired to run the lottery, Northstar New Jersey, has consistently failed to meet revenue targets in its contract in recent years.
"I continue to have questions about whether this is an effective plan or a gimmick but will review the proposal and give it proper consideration," said Assembly Speaker Vincent Prieto, D-Hudson. "Regardless of where this goes, it's unfortunate we're even discussing it, since the pension system, after all, would be in better shape already had the governor just fully funded it as he had promised."
Two of New Jersey's largest public worker unions, the New Jersey Education Association and the Communications Workers of America, remain skeptical of the plan and are having actuaries calculate the potential impact on their members' retirement plans.
"Based on the preliminary analysis by our actuaries, the state's belief that this will improve the bond rating may be unfounded," NJEA President Wendell Steinhauer said in a statement last week. "We will not rely on any assurances from the Christie administration because the administration has been consistently dishonest and unreliable when it comes to pensions."
Because lottery revenues are constitutionally dedicated to "education" and "state institutions," Christie's proposed cash infusion would primarily benefit the Teachers' Pension and Annuity Fund, the largest and most troubled component out of five in the overall pension system. The Public Employees' Retirement System and the Police and Firemen's Retirement System would also get a cut of the lottery money. But the pension funds for judges and State Police troopers would not.
Christie said earlier this year that the lottery plan would only move forward if public-worker unions agreed to another round of benefit reductions, following some cuts in 2011. But union leaders immediately ruled out his demand, and Christie seemed to back off.
"I understand the governor and others will continue to pursue additional pension and health benefit reforms to help reduce the cost of health care for our public employees, but I've been led to believe it's not connected to this bill," Sarlo said at the hearing Tuesday with Scudder.
The state lottery brings in roughly $1 billion a year in revenue to fund services for veterans and senior and disabled residents, among others. Under Christie's plan, the state's $71 billion pension system would absorb the lottery as an asset and receive monthly cash payments from the proceeds of its games.
The state's pension payment next year is scheduled to be a record $2.5 billion. But Scudder said that if the lottery transaction goes through before June 30, that payment potentially could be reduced to $1.5 billion. And the other $1 billion would be spent on the same services for veterans and senior and disabled residents currently supported by the lottery. For the first five years, the transaction would be "budget-neutral" in this way, he said.
For years six through 30, lottery revenues would keep going in while yearly budget contributions would inch up to accelerate the pension system's recovery, he said. "There is a level adjustment on an annual basis that allows for the funded ratio at the end of the 30 years to reach 90 percent instead of 80 percent," Scudder said. "The way that's accomplished is by essentially increasing total revenues into the pension between lottery net proceeds and the actuarial contribution, marginally, on an annual basis, on the order of $100 [million] to $300 million over that whole time period."
Hetty Rosenstein, the CWA state director, said a secure revenue stream of $1 billion, paid into the pension in monthly cash installments, would be a welcome change. New Jersey traditionally has waited till the end of the fiscal year to make its pension contribution, which has exposed public workers to last-minute cuts and shortages. Last year, Christie signed legislation to divide up pension contributions into four quarterly installments.
But $1 billion is far from the $5 billion that would be due to the retirement system in fiscal 2018 under normal circumstances, she said.
The $2.5 billion pension payment Christie is proposing next year is equal to 50 percent of the actuarially determined contribution, or the total amount actuaries say is needed to fully fund the benefits already earned by workers and retirees.
"This has an impact but it's not a huge impact," Rosenstein said of the lottery plan. A serious effort to repair the pension system would include more revenue, she said, which would be attainable if Democrats and Republicans scaled back an "absurd" tax-incentive program that has awarded $8 billion in subsidies through the Economic Development Authority since Christie took office.
"It will not solve the problem in and of itself, and it is the view of this administration that further pension reforms are necessary to get the pension on firmer ground," Scudder testified Tuesday. If lottery revenues do not come in as estimated during any given year, New Jersey taxpayers may have to offset that loss through a higher pension contribution from the state budget, he said. The draft legislation allows regular re-evaluations of the pension system as an asset, he added.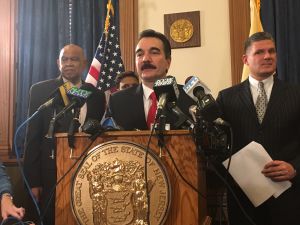 A March 24 report by S&P Global Ratings said that "a lottery asset transfer could lower future pension [contributions] due to the resulting higher value of pension assets and lower calculated unfunded liability" and that the strain on the state budget could decrease as a result.
The Christie administration's estimate that the plan would be "budget-neutral" for five years, according to S&P, "will depend on successive future years' actuarial calculations."
That report was amended after the Christie administration provided more information about the lottery proposal, S&P analysts noted. S&P's first assessment of the plan on March 16 was more skeptical.
"We believe the proposal could face substantial political challenges, since lottery system revenues currently fund education programs, psychiatric hospitals, centers for people with developmental disabilities and homes for disabled soldiers," S&P analysts wrote at that time. "Shifting the lottery system to the pension fund would raise the question of how New Jersey would replace funding for these critical service areas."
Those lines do not appear in the amended report.
Attorney General Chris Porrino, a Christie appointee confirmed by the Democratic-controlled state Senate, wrote in a legal opinion that the transaction likely would comply with the state constitution's command that lottery revenues go toward "state aid for education" and "state institutions."
"With respect to 'aid for education,' it is notable that no distinction between primary, secondary, and higher education is made, and that this broad term was chosen rather than a more limited term such as 'state educational programs' or 'state educational institutions,'" Porrino wrote. "This suggests that lottery net proceeds may be used to fund any state initiatives and programs that support education at any level."
He continued: "Based on these statutory definitions and contemporaneous usage, it is clear that, under the state institutions prong of the lottery clause, lottery net proceeds may be used to support state-run residential facilities that provide psychiatric, developmental, and public health services."
Porrino's opinion did not address the Police and Firemen's Retirement System, which would be one of the beneficiaries of the transaction.
"Given that this is a novel transaction and in light of the uncertainties associated with litigation in general, we are unable to say with absolute certainty how a reviewing court would decide a legal challenge to the proposed transaction," Porrino concluded. "However, based on our understanding of the proposed transaction and proposed act, we believe that they comport with the state constitution and other applicable state laws."
Christie described the lottery plan on Tuesday as a "gift" to New Jersey.
"The lottery proposal that we're making is a gift to all of you, to spend the last bit of political capital we have before we leave to improve the system for the next person and not through gimmicks, and not through games, but through taking a major asset of the state and committing it to fixing the single biggest fiscal problem we have," Christie said at a transportation conference in Monroe Township.