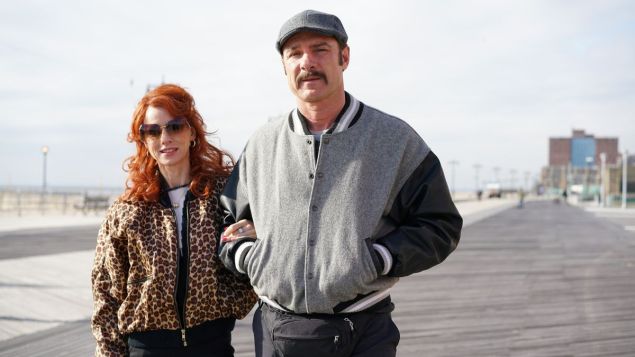 Chuck is another in a long line of boxing films about losers who just don't know when to stay down for the count. Think Requiem for a Heavyweight (which it excerpts, again and again, in film clips from the renowned classic starring Anthony Quinn) and, more recently, The Fighter, the brutal biopic with Mark Wahlberg as "Irish" Mickey Ward. This one is about Chuck Wepner, the one-time briefly crowned New Jersey heavyweight champ called the "Bayonne Bleeder", whose main claim to fame was 15 rounds with Muhammed Ali in 1975 (he lost) and eventually Sylvester Stallone's unofficial inspiration for Rocky (he wasn't paid a dime). It's a routine story, worth seeing for the galvanizing (pulverizing?) star performance by a smashing Liev Schreiber in the title role.
---

CHUCK ★★★

(3/4 stars)

Directed by: Philippe Falardeau

Written by: Jeff Feuerzeig, Jerry Stahl, Michael Cristofer and Liev Schreiber

Starring: Liev Schreiber, Elisabeth Moss and Naomi Watts

Running time: 101 mins.

---
A punchy fighter and a clown, Wepner was headed for a title by 1974, when he was chosen for the big bout with Ali the following year, but by the 12th round Ali had split both of his eyes and broken his nose, and Wepner lost by a technical knockout with 19 seconds to go. After that, the defeat spread over a span too vast for recovery.   Booze and broads sidetracked him. He wasted his earnings. His wife Phyllis (Elizabeth Moss), a U.S. post office employee who grew tired of his unfaithful womanizing but kept taking him back in a bloody heap out of love and sympathy, finally threw in the towel and divorced him, taking their daughter with her. He descended into a haze of drugs and ended up in prison for 26 months. Naomi Watts plays the tough lady bartender who picked up the pieces. They are still married to this day.
Mysteriously the broken pieces of a tragic puzzle began to fit when Sylvester Stallone heard about Chuck and fashioned a screenplay out of the shards of his life. When Rocky won the 1977 Oscar, another desperate chapter began to take shape. Although he had bragged to everyone in Bayonne that it was him on the screen, he never got any money for his story, so he struggled to meet Sly and get a part in the Rocky sequel. Out of guilt or compassion, or maybe both, the overnight star did give Chuck an audition for Rocky II. But the arrogance and cocaine took their toll, and although the name Rocky entered the lexicon, the name Chuck never did. It's kind of fun watching it all go to his head as he becomes the kind of celebrity he never became in the ring. Directed by Philippe Falardeau, it's not much of a story, but there is always the thrill of watching an unrecognizable Liev Schreiber, with bloody lips, cauliflower ears and a face battered and bloated like ground raw sirloin, chewing up the scenery in and hanging on the ropes. He's the whole movie, even if you have to wait until the end credits to see if he finds himself at last. "Sometimes life really is like a movie," says Chuck, looking back on the mess he made—"sometimes it's better."  Chuck is just the opposite. This time the movie is better than the life.