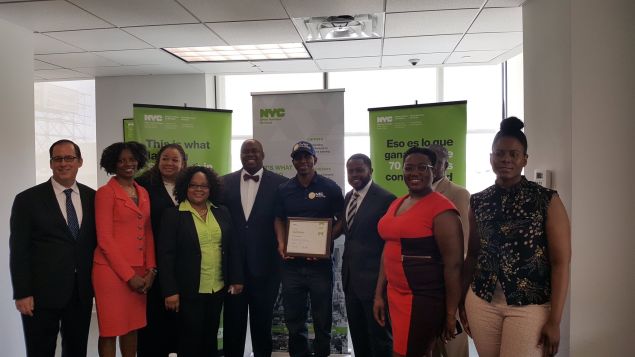 The city announced today that it now has 5,000 city-certified minority- and women owned businesses and enterprises—an increase of 500 since Mayor Bill de Blasio announced a plan in September to allocate 30 percent of city contract dollars to companies belonging to female and nonwhite owners.
The mayor's vision involved doubling the number of MWBEs certified by the Department of Small Business Services from 4,500 to 9,000 by 2019. Deputy Mayor of Strategic Initiatives Richard Buery—whom de Blasio appointed as the city's MWBE director in September—called the development a "milestone" and touted SBS' work.
"We've been working really hard to make it easier for folks to be certified, to get information out to the community to get people certified," Buery said at the formal announcement in the Bronx today. "And today we've reached a milestone because a few weeks ago, we certified our 5,000th minority and women owned business in New York City, number 5,000th."
The 5,000th MWBE is MC Transportation, a Bronx-based transportation firm owned by Miguel Cabrera, a native of the Dominican Republic who immigrated to the United States in 2009.
After he received his legal residency, Cabrera worked as a taxi driver and later opened his own transportation company in 2015. The company specializes in delivery services, commercial and residential moving services and construction waste and debris removal.
Buery and administration officials gave Cabrera his MWBE certificate and a letter from the mayor at an NYC Business Solutions Center in the Bronx.
"I'm excited to become MWBE-certified 'cause I realized that we have more opportunities to get contracts with the government," Cabrera said during the announcement. "Also, I'm learning how to run my business by the classes, the workshops that the city offers."
The city's new vision also included the creation of a new Office of Minority- and Women-Owned Businesses and Enterprises to be headed by Jonnel Doris, who is the city's senior MWBE advisor. And the city recently launched the Contract Financing Loan Fund, which enables eligible MWBEs to apply for low-interest contract financing loans of up to $500,000—part of a $10 million city fund for assisting historically marginalized entrepreneurs.
The New York City Economic Development Corporation recently awarded $80 million in contracts to three MWBE construction management firms. The mayor also met with bank executives to request that they give MWBEs access to more capital.
"This city works best when all people—regardless of race, religion or ethnicity—have the resources they need to reach their full potential," de Blasio said in a statement. "My administration is committed to providing those resources to business owners like Miguel, beginning with certification, as a way to help grow and sustain their business."
Tiffany Joy Murchison, vice chairwoman of the NYC MWBE Alliance and owner of TJ Murchison & Company, commended the effort she says the administration "has put forth." She also noted that Joycelyn Taylor, chairwoman of the alliance and CEO of Taylor Made Contracting LLLC, an MWBE-certified general contractor, is one of the beneficiaries of the loan fund.
"To see that 500 business owners have been certified within a couple of months is really exciting," Murchison told the Observer in a phone interview. "It's definitely the goal of the alliance to push that businesses are not only certified but that they actually do get contracts."
She noted that next steps involve passing legislation in Albany that would give the city the same tools and resources to which the state has access to help it better meet its MWBE goals—which she acknowledged the city has been pushing for—getting agencies on board with looking for qualified MWBEs and targeting companies in fields like marketing, information technology and consulting.
"Getting certified is the first step," she continued. "Being able to actually participate and bid on contracts is the next step."
She added that the alliance is pushing members that aren't certified to get certified and that it is partnering with agencies to make that happen.
Despite some advocates, elected officials and MWBEs heaping praise on the administration for making progress since de Blasio launched his new vision in September, some advocates, MWBEs, Black Institute founder Bertha Lewis and Comptroller Scott Stringer have been critical.
Lewis said some companies don't even want to apply for certification because there's no guarantee they'll be treated fairly.
"That means if you're certified, you may have contracts…but have you increased the number of contracts? No," Lewis told the Observer about the certification announcement. "So we just put more people in the pool, the same pool that folks can't get access to adequate contracts."
The city has awarded $3.54 billion of the $16 billion goal. At the end of the second quarter of fiscal year 2017, the city's prime and subprime utilization rate was up to 18 percent. In fiscal year 2016, it was 14.3 percent—an 8 percent increase from the previous fiscal year. During fiscal year 2016, the city awarded about $700 million in prime and subcontracts to MWBEs.
When the Observer pointed Lewis to the latest figures, she said that the Black Institute will be out with its new study "about these figures."
"Once again, they wanna talk about contracts that they promised," she continued. "They don't wanna talk about contracts like the comptroller actually counts spend, real dollars and then the mayor's people just wanna talk about, 'Well here's what we promised."
Stringer's analysis looks at the overall amount of money spent on projects while the city looks at the percentage doled out through contracts.
"It's definitely a step in the right direction on an issue that's critical to communities across the five boroughs—it should be applauded," he said in a statement provided to the Observer. "When we make strides on MWBEs, it means we're making progress in delivering real, meaningful, local wealth creation, so we can give every New Yorker a fair shot."