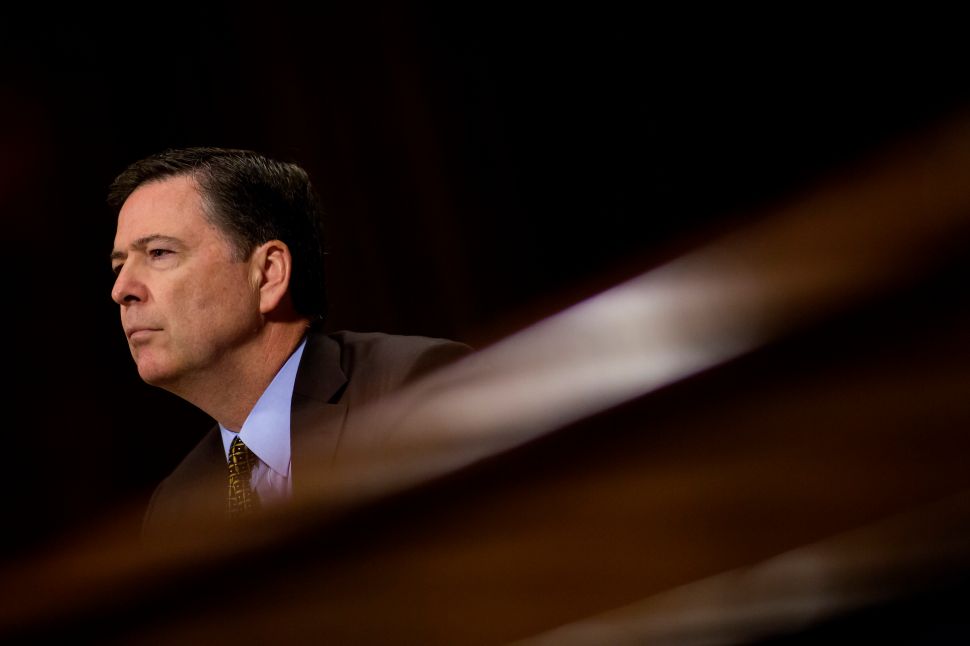 On May 9, the Trump administration announced that FBI Director James Comey had been fired from his position.
The announcement incited immense speculation and criticism from the Democratic Party and prominent Republicans alike such as Senator John McCain, despite their previous calls for Comey's resignation or firing when, just before the 2016 presidential election, Comey announced he was reopening the investigation into Hillary Clinton's private email server. At the time, Comey claimed his decision was based on new evidence discovered on former Congressman Anthony Weiner's laptop in a separate investigation.
Comey's reputation among Democrats and Republicans has always been widely predicated on current political trends. Republicans, including President Trump, lavished praise on Comey during most of the FBI investigation into Clinton's private email server. Democrats praised Comey for refusing to recommend charges against Clinton, only to criticize him for his letter about the investigation, which was released less than two weeks before election day.
Many of the criticisms toward Comey on both sides were warranted, as the FBI director had difficulty walking the fence between partisan politics. In Comey's hearing on the conclusion of the FBI's investigation into Clinton's private email server, he pandered to both political aisles. Comey claimed Clinton was "extremely careless" in using and handling a private email server, yet recommended no charges for wrongdoing. In both cases, he failed to provide the public with an adequate answer about the investigation.
Deputy Attorney General Rod Rosenstein, who was easily confirmed for his position by a 94-6 vote and served under Bush and Obama as Maryland's attorney general, cited Comey's handling of the FBI investigation into Clinton's emails as grounds for dismissal. "The Director was wrong to usurp the Attorney General's authority on July 5, 2016, and announce his conclusion that the case should be closed without prosecution. It is not the function of the Director to make such an announcement," Rosenstein wrote in a letter outlining his recommendation that Comey be fired.
Comey recommended that no charges be brought against Clinton, a decision that normally would be left to the Department of Justice. Rosenstein then criticized Comey for his letter, 11 days before the presidential election, that briefly reopened the investigation into Clinton's emails. Comey "ignored another longstanding principle: we do not hold press conferences to release derogatory information about the subject of a declined criminal investigation," Rosenstein added.
Comey's firing is reminiscent of Bill Clinton firing FBI Director William Sessions in 1993 due to ethical concerns after Attorney General Janet Reno issued the recommendation to do so. The National Constitution Center notes, "It is sometimes assumed that the President can oust an FBI director only 'for cause'—that is, for some misconduct in office. But, as a Congressional Research Service study of the director's office pointed out two years ago, 'there are no statutory conditions on the President's authority to remove the FBI director.' "
Democratic partisans recycled the Saturday night massacre analogy, referring to President Nixon cleaning house during the Watergate scandal. The same analogy was used by USA Today, Washington Post, MSNBC, Time Magazine, and other mainstream media outlets when Deputy Attorney General Sally Yates was fired. Nixon's attorney general and deputy attorney general both resigned from their positions; they were not fired as the analogy incorrectly infers.
The explanation cited by Democrats for Comey's firing was the investigation into ties between Donald Trump and Russia. If Comey influenced the election in favor of Trump as Democrats affirm he did, he certainly wouldn't be trusted to conduct a proper investigation into alleged Russian election interference. Nor would firing him stop Comey or his allies from leaking or spilling any criminalizing information if this were the case.
During a recent Senate hearing, Comey claimed "hundreds of thousands of emails" were found on the laptop of Clinton Aide Huma Abedin's husband, but FBI investigators clarified the number of classified email chains forwarded by Abedin to be just two. Despite another Comey error being exposed, Democrats and Clinton partisans are now asserting that Comey is a victim, while Andrew McCabe—whose wife ran for a State Senate position in Virginia with substantial financial backing from Clinton Foundation board member Terry McAuliffe—is now acting FBI director.